Press Releases
Youth Summer Reading Program Wrap-up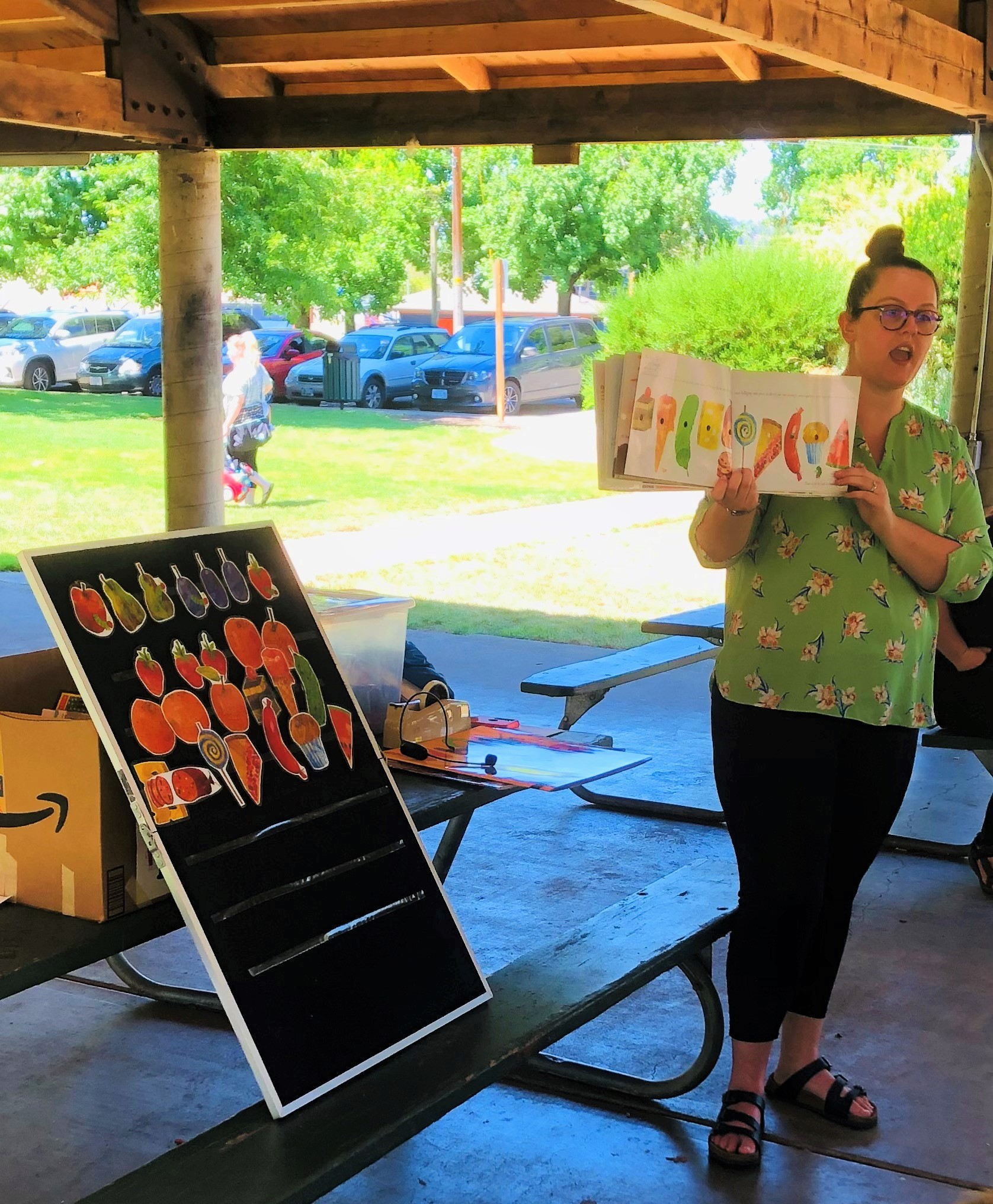 ROSEBURG, OR – Roseburg Public Library's Summer Reading Program is, without a doubt, Youth Service Librarian Aurora Ropp's favorite time of the year.
"I love doing fun programs, encouraging kids and teens to read for pleasure, and working to connect people with books they enjoy," said Ropp. "This summer still was different than usual. The building was open, but we were not able to have the extensive in-person programs that are common with summer reading. However, we still were able to do a lot of fun things!"
Roseburg Public Library had 13 weeks of summer reading with 13 elementary craft kits, seven teen craft kits and six Spanish Storytime craft kits available to patrons. The library gave away about 1,000 craft bags.
Library staff hosted four craft programs and a Storytime in person at the Stewart Park Pavilion, thanks to the City of Roseburg Parks and Recreation Department. Library staff also hosted a tie-dye program outside the library.
"I hope next year to be able to do more in-person events!" said Ropp.
Over the summer, library staff encouraged children to read about what they were interested in and maintain their reading skills. Children got reading logs to keep track of the time they read. Reading five, 10 and 20 hours earned participants a free book and trinkets. The library gave away more than 300 books in prizes.
In all, 81 children and 20 teens completed their 20-hour reading logs -- a 20% increase in participation for each group from last year. Library staff were glad for the increase and hope for even more summer readers next year, Ropp said.
Prizes were a fun part of the Summer Reading Program. Special big prizes were drawn from book review entries. A total of 83 youth submitted 920 book reviews. The staff thought that was an amazing response -- more than twice as many book reviews as the library got last year.
"We are thrilled so many children are engaging with what they are reading and willing to write a review sharing their thoughts," Ropp shared.
The library also had the opportunity to do more community outreach this summer with a grant from the Oregon Community Foundation. Library staff purchased a minivan and hired extra help, enabling staff to visit more Roseburg School District Lunchbox Express sites and distribute reading logs, prizes and crafts.
Library staff followed the Lunchbox Express bus weekly and made visits to Winchester Elementary, Sunnyslope Elementary and Jo Lane Middle schools. Staff distributed almost 500 craft kits and reading logs every week they went to those schools.
"Thanks to the teachers and staff for helping us reach more children and youth and encouraging them to read," Ropp said.
The final summer reading event offered by the library is the StoryWalk® that has been erected at six different parks around Roseburg throughout the summer.
"We have had great support from the community telling us how excited their kids are to walk and read, and financial support from Douglas County Cultural Coalition, Friends of the Roseburg Public Library, Altrusa of Roseburg and Steve and Kathy Hart has made the project possible," Ropp said.
Through StoryWalk®, library staff shared five stories with the community and a sixth is in the works as the StoryWalk® program will continue on Saturdays only through September from 9 a.m. to 6 p.m. at Stewart Park near the YMCA.
The library is taking a break from youth services programing in September, but will be back with online Storytime and craft kits twice a month in October.