Press Releases
Cooling center opens through Monday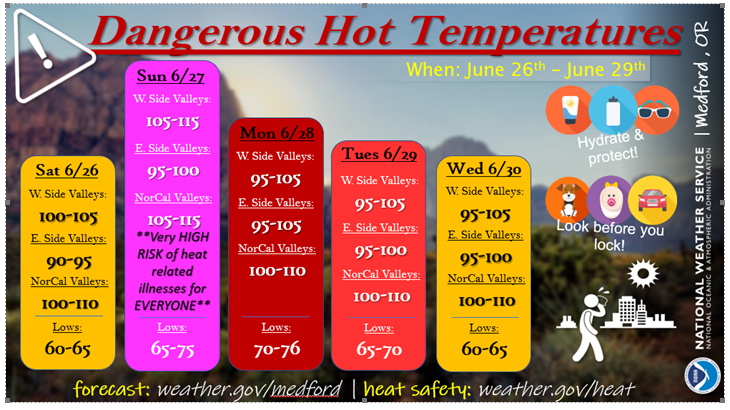 Courtesy of the National Weather Service
ROSEBURG, OR – The Roseburg Senior Center will be open to the public as a cooling center Saturday, Sunday and Monday as the National Weather Service has issued an excessive heat warning from 11 a.m. Saturday to 11 p.m. Tuesday.
The cooling center will be open Saturday from 8:30 a.m. to 9 p.m., and Sunday and Monday from 9 a.m. to 9 p.m. The National Weather Service has forecast a high of 103 Saturday, a high near 112 Sunday and a high near 98 Monday. Tuesday is expected to be about 92 degrees.
Regardless of age, anyone who needs a place to cool off can get out of the heat at the nonprofit senior center at 1614 SE Stephens St. in Roseburg. Water will be given out – some provided by Douglas Public Health Network -- and there are no age restrictions.
"This is an emergency. We're not turning anybody away," said senior center board member Doris Loveday.
The center's capacity is limited to 150 as long as everyone wears masks, and the center is attempting to round up extra masks for anyone who doesn't have one. If some people choose not to wear masks, the center is limited to 50 people, said Ruth Smith, vice president of the senior center board.
The Roseburg Public Library will be open to the public from 10 a.m. to 2 p.m. Saturday. Anyone who wants to cool off at the library is welcome to during those hours. Masks are required but there's no capacity limit.
In addition, the Fir Grove Splash Pad at Fir Grove Park, 572 NW Stewart Park Drive, is another free way to cool off in Roseburg. Its hours of operation are from 10 a.m. to dusk daily. The splash pad can be found behind the Umpqua Valley Arts Center, 1624 W. Harvard Ave.
Sunday's extremely high temperature forecast means everyone is at risk from heat-related illness, according to the National Weather Service.
During the heat wave, Roseburg Fire Chief Monte Bryan urges Roseburg residents to stay hydrated; minimize sun exposure or avoid it altogether; don't overexert in the sun, especially from late morning through early evening; limit alcohol, which dehydrates; and wear sunscreen if you do go outside.
Stay in an air-conditioned room if possible, and check up on relatives and neighbors who may be more at risk. Remember not to leave young children or pets unattended in vehicles under any circumstances.
Wear lightweight, light-colored, loose clothing. Taking a cool shower or bath is a better way to cool off than using a fan when temperatures are in the high 90s or above, according to the Centers for Disease Control and Prevention.
If you cool off in a creek or river in Roseburg, Bryan urges people to reduce water-related injuries by remembering water is still cold even though it's hot outside. Wear a life jacket, avoid entrapment under submerged objects like trees or rocks, and have a responsible adult present.
Bryan also asked residents to please be extra cautious about preventing fires during the heat wave because drier fuels are easily ignited by discarded cigarettes or such things as sparks from working outside or grinding metal.
"As the heat increases, the fire danger obviously increases and fuels dry out," he said.
Folks grilling outside, either with propane or charcoal, should maintain adequate distance between grills and combustible surfaces. A responsible adult should be present at all times, Bryan said.
Also remember to safely handle only legal "safe and sane" fireworks as the Fourth of July approaches. Don't use them around dry foliage or any kind of combustibles. A big parking lot far from any vegetation may be a good option.
The Oregon State Fire Marshal recommends keeping a bucket of water on hand to drown spent or used fireworks, having a charged hose nearby and never lighting fireworks near dry grass or areas that could catch fire easily.
Oregon law prohibits the possession, use or sale of any firework that flies into the air, explodes or travels more than 12 feet horizontally on the ground without a permit issued by the state fire marshal. Officials may seize illegal fireworks and charge offenders with a class B misdemeanor, with a fine of up to $2,500 per item.
Those who misuse fireworks or allow fireworks to cause damage are liable and may be required to pay fire suppression costs or other damage. Parents are liable for fireworks damage caused by their children.