Press Releases
Help spread joy to kids this holiday season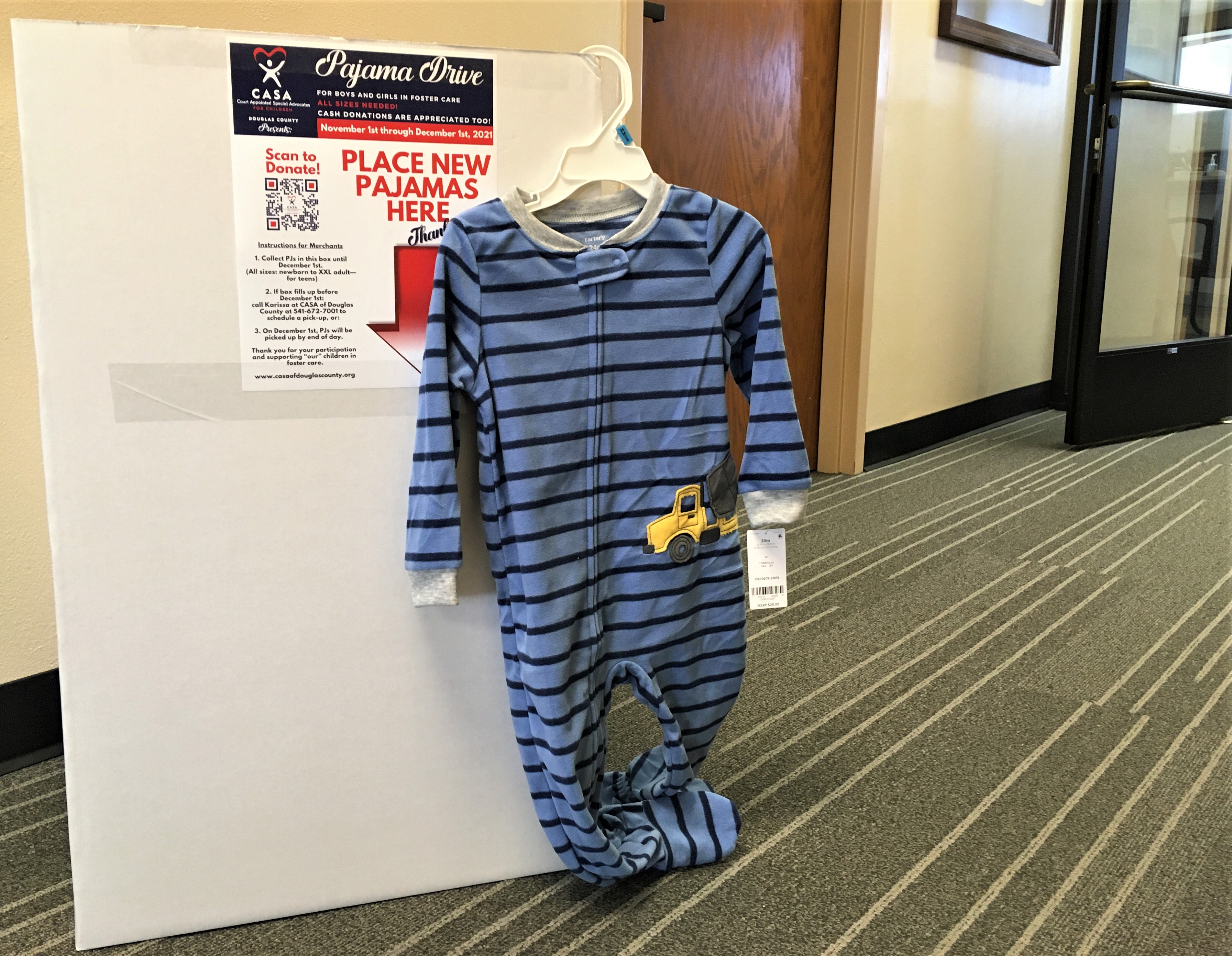 ROSEBURG, OR – City of Roseburg employees will help spread joy in the community through holiday gift-giving programs -- and are inviting city residents to take part this season.
City employees are buying children's pajamas for the Douglas County CASA (Court Appointed Special Advocates) pajama drive and gifts of children's clothing, toys and supplies for the Salvation Army Angel Tree Program. In addition, Roseburg Police officers will participate in a "Shop with a Cop" event on Saturday, Dec. 4.
To take part in the pajama drive, City employees and residents buy pajamas to fit children of all sizes from infant to teens. New pajamas are dropped off unwrapped at pajama drive boxes set up inside Roseburg City Hall at 900 S.E. Douglas Ave. or the Roseburg Public Safety Center at 700 S.E. Douglas Ave. on weekdays from 8 a.m. to 4:30 p.m., or at the front desk at Roseburg Public Library at 1409 N.E. Diamond Lake Blvd. during open hours starting Tuesday, Nov. 23.
The library will be open from 10 a.m. to 6 p.m. Tuesday, Nov. 23, and Wednesday, Nov. 24. Starting Tuesday, Nov. 30, library hours will be 10 a.m. to 6 p.m. on Tuesdays, Wednesdays and Thursdays, and from 10 a.m. to 2 p.m. on Saturdays. Pajamas for children must be dropped off by Friday, Dec. 3.
The Salvation Army Angel Tree Program will provide gifts of children's clothing, toys and supplies to more than 260 Douglas County children who might not have anything else for Christmas. From newborns to 15-year-olds, the kids who get these gifts are signed up by parents who have gotten assistance from the Salvation Army's Social Services Program.
To give to a child through this program, pick up an Angel Tree tag at City Hall administration weekdays from 8 a.m. to 4:30 p.m. Tags include the child's name, age and gender, as well as suggested gift items and sizes. Employees and residents can take as many tags as they like, but each tag must be fulfilled. Unwrapped presents and corresponding tags should be brought to City Hall administration by Tuesday, Dec. 7. Gifts can be delivered in gift bags. The City has 50 Angel Tree tags to be fulfilled.
Tags are also available from the Salvation Army at 3130 N.E. Stephens St. from 9 a.m. to 4 p.m. Tuesday through Friday, but please call in advance. To request a tag or for more information, contact Katrina Basso at the Salvation Army at 541-248-2587 or katrina.basso@usw.salvationarmy.org.