Press Releases
Join the Battle of the Badges Blood Drive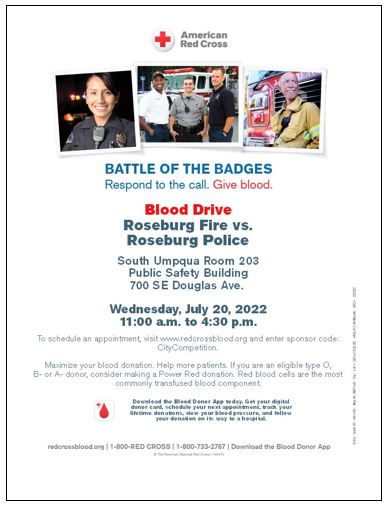 ROSEBURG, Ore. – Be a hero for your community: Join the Battle of the Badges Blood Drive at the Roseburg Public Safety Center on Wednesday, July 20.
The American Red Cross is hosting a summer blood drive featuring a friendly competition between Roseburg firefighters and Roseburg Police.
The public is invited to step up to also give blood this summer in what is often a slow time for blood donations with people travelling out of town for vacations, family reunions and other celebrations. Those who give blood will get a commemorative T-shirt plus a 50%-off coupon to the Douglas County Fair, according to Val Gordon, an account manager with the American Red Cross Blood Services' Pacific Northwest Donor Recruitment Department.
"We are having an extreme challenge getting donors to participate. This is our Battle of the Badges drive where our Fire Fighters compete against our Police Officers and donors vote for their favorite team," Gordon wrote in an email. "Our current blood levels are considered vulnerable."
As of Tuesday, July 5, more than 20 appointments remain available for a blood drive that will be held from 11 a.m. to 4:30 p.m. Wednesday, July 20, at the Roseburg Public Safety Center's South Umpqua Room, 700 SE Douglas Ave. in Roseburg.
You can schedule an appointment online at redcrossblood.org. Just enter the sponsor code: CityCompetition.
For more information, call 800-RED-CROSS (800-733-2767) or visit redcrossblood.org.