Press Releases
Kids and teens Summer Reading Program to begin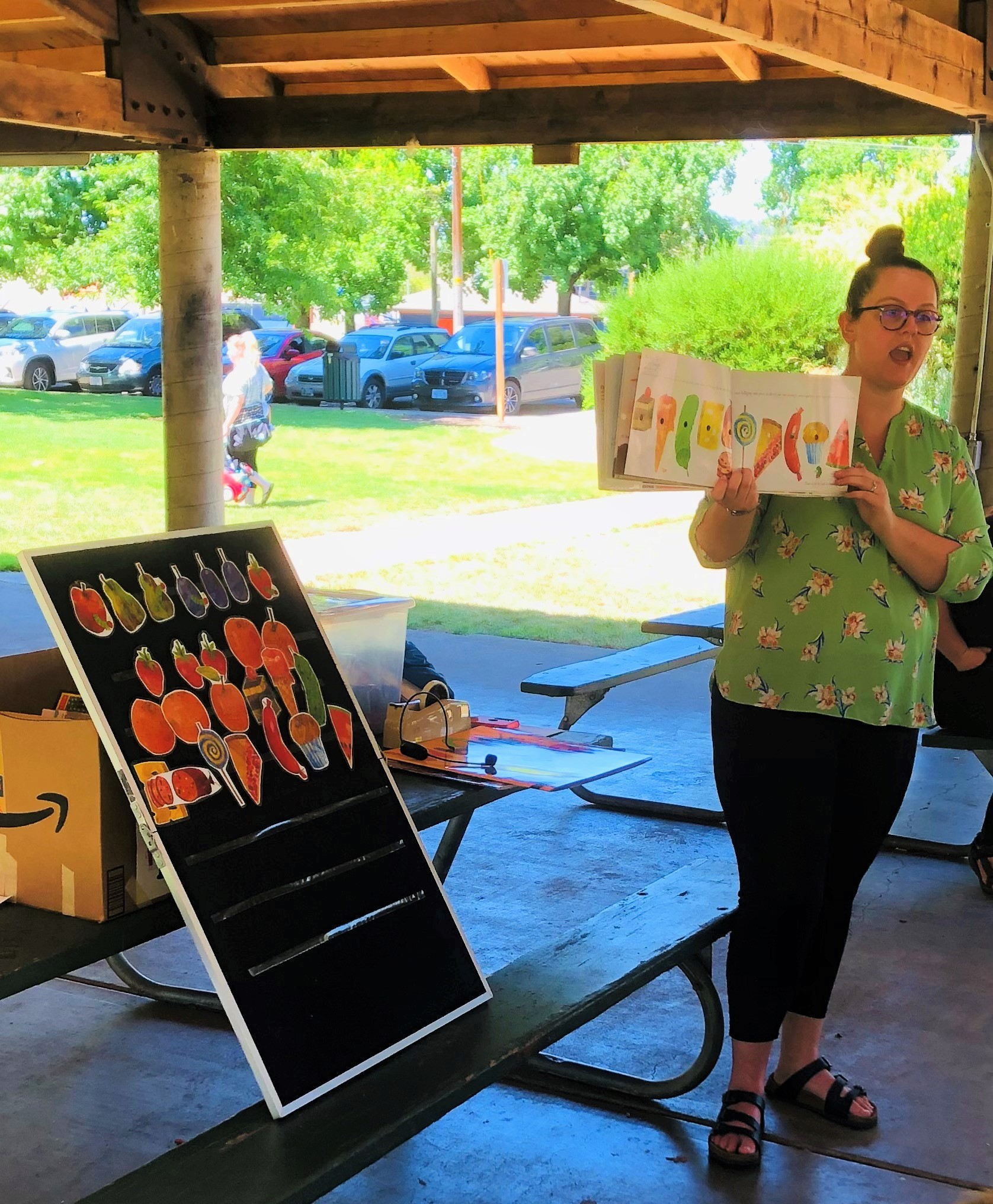 ROSEBURG, Ore. – Roseburg Youth Services Librarian Aurora Ropp's favorite time of the year is rapidly approaching – the Summer Reading Program!
Helping children find new books to read, leading library crafts and activities, hosting Harry Potter Day and reading in the sun are things Ropp looks forward to the most in summer.
"I am excited for child and teen participants to choose book prizes this summer! I hope they are as excited about the selection available as I am," Ropp said.
The foundation of the Summer Reading Program is reading. At Roseburg Public Library, children and teens will have a total of three logs to track their time reading this summer. When participants read, or are read to, for seven hours, they can turn in their log for a Frisbee, book, trinkets and the next log. Reading 14 hours and completing the second log will earn participants a Lego set in addition to a book and trinkets. Completing the final log – reading a total of 21 hours – will enter participants into the grand prize drawings for a Y Fliker scooter (the library is giving away three) and earn them a third book and more trinket prizes.
Participants can download reading logs on the library's website at www.roseburgpubliclibrary.org or pick up logs at the library, 1409 NE Diamond Lake Blvd., or YMCA of Douglas County, 1151 NW Stewart Parkway. Logs, craft kits and prizes also will be available when library staff follow Roseburg School District's Lunchbox Express to various parks on Mondays.
In addition to reading logs, the library will continue the popular book review raffle for larger prizes. Children and youth can write or draw about a book they read, or that was read to them, for a chance to win the prizes displayed in the lobby case. The library has some awesome prizes such as a kids play camping set, Lego sets, specialty crafting kits and other fun stuff.
The library also offers a Summer Reading Program for adults.
"The Summer Reading Program is a great opportunity for readers of all ages to engage with the public library. We offer something for everyone," said Library Director Kris Wiley.
Library staff also are restarting in-person events this summer with four regularly scheduled programs. Library staff will be at the Stewart Park Pavilion for Storytime every Wednesday from June 1 through Aug. 17 and a children's activity/craft every Friday from June 3 through Aug. 19. In the grass in front of the library every Saturday from June 4 through Aug. 20 (except Saturday, July 30), library staff will alternate weekly between a family activity and a teen activity. All programs begin at 10:30 a.m.
The library is partnering with Roseburg Parks and Recreation staff to provide pre-show entertainment for Movies in the Park at the Stewart Park Half Shell in June. On Friday, June 10, ventriloquist Steve Chaney will return with his comedy show, and on Friday, June 17, bilingual kids band Evan and Vanessa will perform. Both programs begin at 7:30 p.m.
Julia Masner will lead in-person Spanish Storytime near the Stewart Park playground at 10:30 a.m. on the following Saturdays: June 11, July 9 and August 13.
Library staff also are planning a second Harry Potter Day at the library from 10 a.m. to 1:30 p.m. Saturday, July 30. There will be wand-making, potions, an herbology project and Harry Potter trivia and prizes, and participants will be encouraged to dress up! This will be a fun activity for the whole family.
The library's StoryWalk® will be displayed at parks throughout Roseburg this summer. A new bilingual StoryWalk®, "Un Paseo de Noche" ("A Good Night Walk") by Elisha Cooper, will be the first story from Tuesday, May 31, through Saturday, June 4, at Stewart Park by the YMCA. The library also added "Is Your Mama a Llama?" by Deborah Guarino and Steve Kellogg.
Last, but certainly not least, the library will provide grab-and-go craft kits that will be available first-come, first-served at the library every Tuesday beginning June 7.
You can keep up to date about the Summer Reading Program on the library's website. The Events Calendar includes program details and the Summer Reading Program page has reading logs, book review slips and the prize list.
Roseburg's Summer Reading Program is made possible by the Oregon Association of Education Service Districts (OAESD), the Douglas County Cultural Coalition, the Roundhouse Foundation, the State Library of Oregon and Friends of the Roseburg Public Library.
For more information about the library, including how to get a library card, visit the library's website, email library@cityofroseburg.org or call 541-492-7050.