Press Releases
Law enforcement 'elves' sought for Shop with a Cop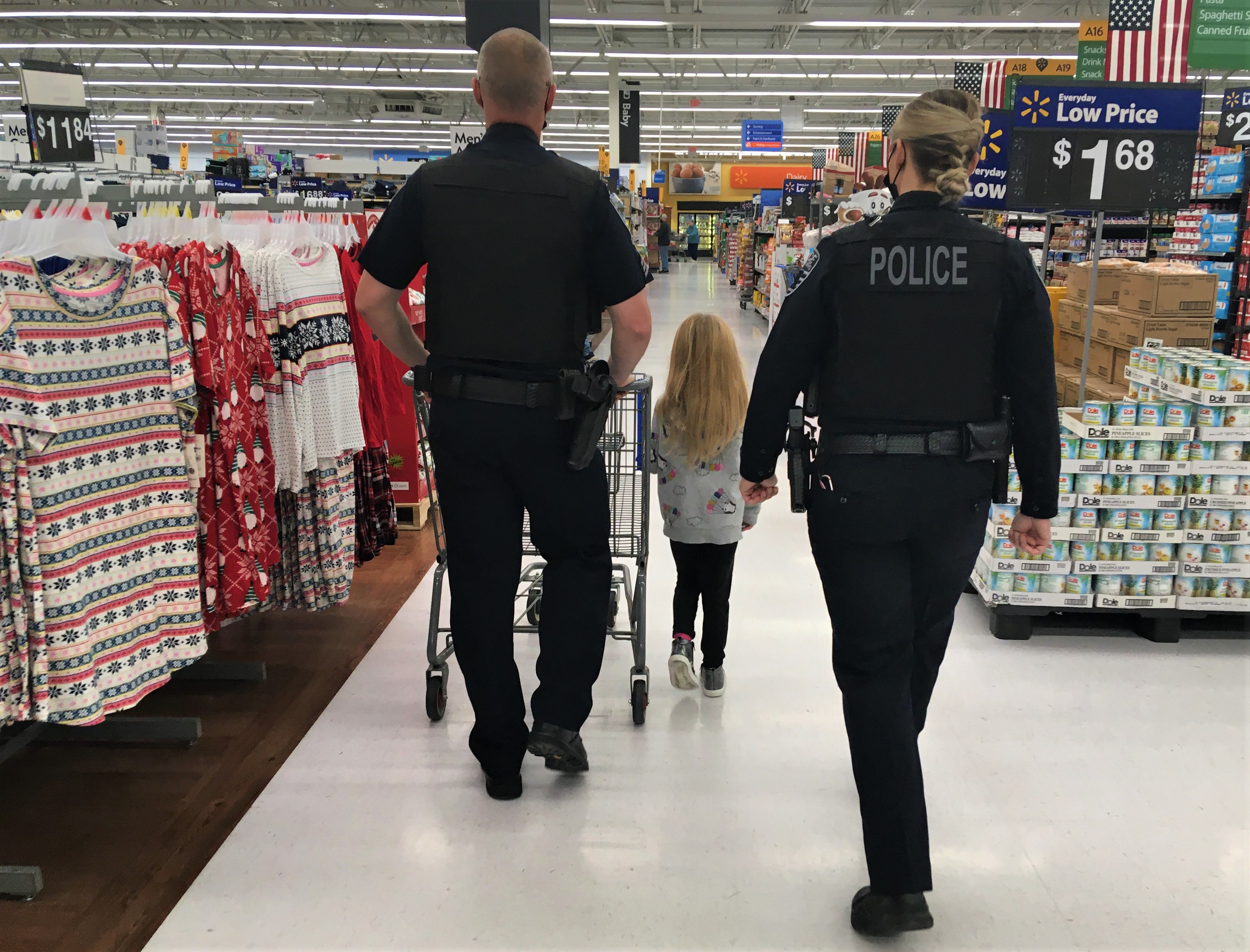 ROSEBURG, Ore. – Roseburg Police are seeking law enforcement volunteers to join them at the "Shop with a Cop" event for local children sponsored by local businesses and residents via Christmas for Kids of Douglas County and Walmart on Saturday, Dec. 3.
During the event, law enforcement officers are expected to take about 25 underprivileged foster children shopping to buy holiday presents for their families. Participating children also get to visit with Santa, who provides gifts including a stocking full of goodies to each child.
Police, parole and probation officers will meet at 9 a.m. that Saturday at Walmart, 2125 NW Stewart Parkway. The shopping spree is supported by a $2,500 donation from the nonprofit Christmas for Kids of Douglas County and other donations. Walmart donates wrapping paper, tape and scissors, as well as snacks for children.
Last year, 34 officers took kids shopping in the annual event. Ten Roseburg Police Department officers – including Chief Gary Klopfenstein, Sgt. Daniel Allen and Capt. Jeremy Sanders -- joined 24 officers from the Douglas County Sheriff's Office and Community Corrections, Oregon State Police, Cow Creek Tribal Police, and Winston and Myrtle Creek Police departments.
The holiday event is being organized by Andrea Zielinski, who is a Roseburg City Councilor and the human resources manager at FCC Furniture, and Roseburg Police Sgt. Daniel Allen.
On Friday, Nov. 18, Allen sent the request for volunteers to local law enforcement agencies and expressed gratitude to all the officers and other volunteers who helped make last Christmas special for so many children even after the last year or two have been so tough. The event is a great opportunity for officers to have a positive impact on the children and each other, Allen said.
"The goal is to not only help these children have a good Christmas, but to also give them a positive experience with law enforcement," he added. "Christmas for Kids has again donated to the cause and what a way for us to give back, be a positive influence to the children in our community and show the community that we support them."
Journalists who'd like to cover the event are asked to respect the children's privacy and not photograph participating kids' faces or otherwise identify the child unless the child has signed a release form provided by event organizers.
About six years ago, the event became primarily funded by Christmas for Kids of Douglas County, a nonprofit that grew from a 16-year-old waitress' desire to help two little boys more than 20 years ago. Amy Newport was working at Pete's Drive-in on West Harvard Avenue one summer when two small boys started showing up regularly to buy a milkshake together. They never had enough money, so Newport made up the difference from spare change in her tip jar, said Christmas for Kids of Douglas County Chairman Dale Pritchett.
As summer went on, she noticed the boys always wore the same clothes and shoes. When school started, Newport followed the boys home to meet their parents. She asked the couple if she could help the boys have Christmas. The parents agreed. Newport set out a Christmas fund collection jar at Pete's for them, Pritchett said.
The next year, she put out jars all over town and raised enough money to buy Christmas presents for 10 kids whose names she got from a local agency. After turning 18 the following year, Newport got a job with Roseburg Forest Products. As Christmas neared, Newport asked a foreman if the company might allow her to set out collection jars. Instead, the foreman suggested setting up an option for payroll deductions. They raised enough money to buy presents for about 150 kids that year.
Soon after, Newport and the foreman talked about the Christmas fundraising effort with Roseburg Forest Products founder Kenneth "Pappy" Ford. He suggested setting up a way for people to donate monthly and offered to match donated funds. By the next year, the fund was able to buy Christmas presents for about 350 children, Pritchett said.
From that, Christmas for Kids of Douglas County was born. Roseburg Forest Products and its employees are still some of their major supporters, along with about 12 local businesses, a lumber and sawmill workers' union, the Roseburg Optimist Club, Sunrise Enterprises and Greater Douglas United Way.
Newport has since gotten married and moved to Eugene. But her attempt to help two small boys one long-ago Christmas grew into a nonprofit that provided Christmas gifts to about 1,200 local children in 2021.
To donate, email info@c4kdc.org or call 541-680-5365 or 541-430-3453. For more information, check out the nonprofit's website at https://christmasforkidsofdouglascounty.org.