Press Releases
Mayor delivers State of the City 2023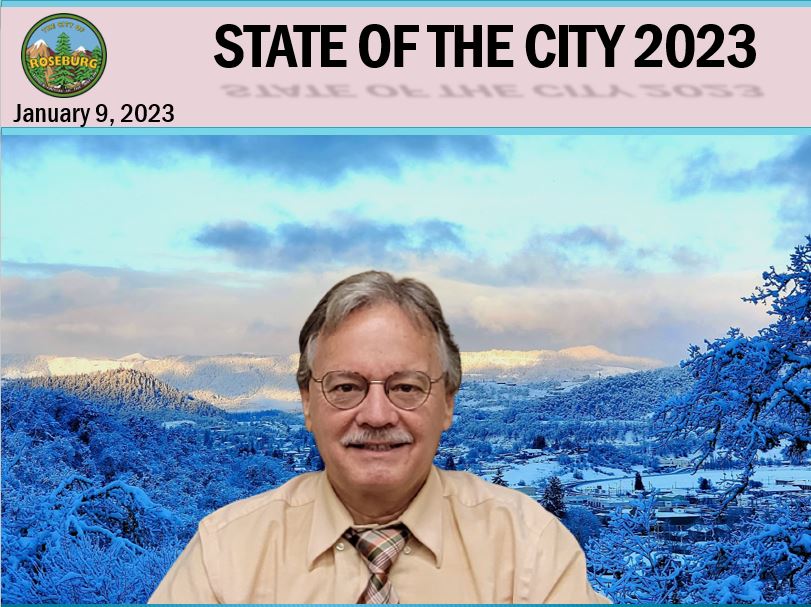 ROSEBURG, Ore. – Roseburg may grow and move closer to having a medical college and urban campground, according to a vision for the future laid out by Mayor Larry Rich Monday night in his State of the City address.
Rich presented the State of the City 2023 address at City Hall during the first City Council meeting of the new year.
In his speech, the mayor noted City highlights and accomplishments in the past year – including community-wide celebrations of Roseburg's 150th birthday, or sesquicentennial; the opening of the Roseburg Visitor Center and Gary Leif Navigation Center; and the use of the Roseburg Senior Center as an overnight warming shelter this winter.
Rich also called attention to promotions, the City's new online maps, and the return of Neewollah, flower baskets and holiday lights to downtown. In addition, the mayor threw a spotlight on the accomplishments of the City's departments and staff.
Before the close of his speech, Rich outlined major projects the City is working on in 2023 – including the navigation center's interior renovation, a possible urban campground for the unhoused, an urban growth boundary swap and grants to improve outdoor tennis courts and Sunshine Park trails.
You can read the mayor's State of the City speech online or watch a video of the City Council meeting to hear him deliver the address. The mayor's speech was accompanied by a PowerPoint presentation.
The full City's 2022 Year-End Report -- on which the State of the City address is based – also can be found online.
During the meeting, Rich welcomed new City Councilors Ellen Porter, Ruth Smith and David Mohr. Rich also appointed Councilors to chair the City's commissions and took Councilor nominations for Council president. Councilors Andrea Zielinski and Shelley Briggs Loosley were nominated.
The City Council chose Councilor Andrea Zielinski to serve as the new City Council president. Zielinski is the second woman to serve as president of the Council. Former Councilor Stacey Crowe was the first.
Roseburg City Council meetings are held at 7 p.m. on the second and fourth Mondays of each month. For more information, check out the Roseburg City Council webpage.