Press Releases
Neewollah: A Monster Tradition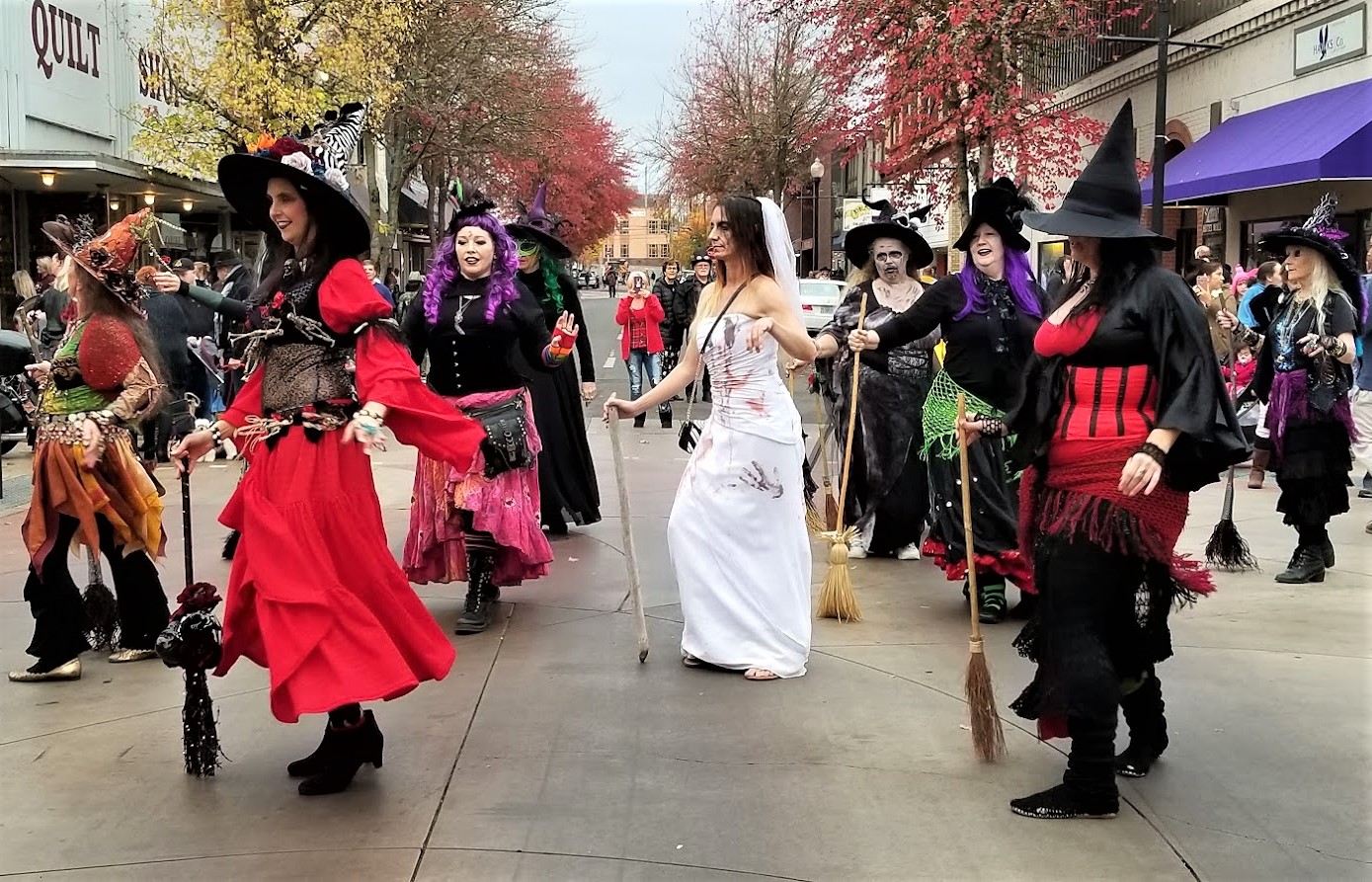 ROSEBURG, OR – Halloween night takes on another dimension in downtown Roseburg, where an enigmatic fete known as Neewollah is so enmeshed in the community that its origins are now shrouded in mystery.
In recent years, October 31 festivities in the heart of the city have featured flash mob zombies getting down to Michael Jackson's "Thriller," dancing witches shakin' their bacon and pirates doling out candy from aboard The Black Pearl.
This year, ghosts, witches, hobgoblins and DC Comics' Harley Quinn won't be the scariest things to haunt the beloved local event. The lurking COVID-19 pandemic is disrupting the annual celebration – yet Downtown Roseburg Association will hold a virtual costume "parade" and contest for the second year in a row, plus a new virtual house-decorating contest, which residents can enter through Nov. 3.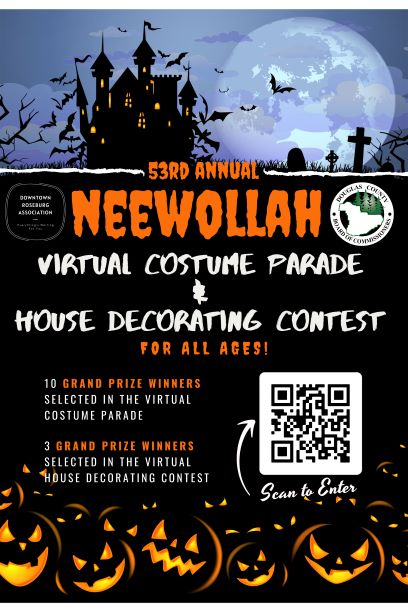 Neewollah last brought tiny ghouls and goblins parading through downtown in October 2019, before the coronavirus was even known to exist. Yet Roseburg's Neewollah has survived wars, recessions, postmodernism and the Internet era – and appears popular enough to survive COVID-19 as well.
In fact, Roseburg held its first Neewollah celebration nearly 90 years ago. The American Legion Umpqua Post 16 staged the first Neewollah with a carnival and "costume and stunts parade" starting from the Roseburg Oregon National Guard Armory at Oak and Main streets on Oct. 31, 1933, according to Roseburg News-Review clippings unearthed by local historian Dale Greenley.
" 'Neewollah' is the reverse spelling of Hallowe'en, and introduces a new form of frolic for the youngsters of the city, affording them an opportunity to enjoy a most delightful carnival," read one news clip.
While that story said the event was started several years earlier by the American Legion in Coos Bay -- known then as Marshfield – Neewollah actually began in Independence, Kansas, in 1919. Turns out Halloween 1918 – just days before the end of World War I – had seen notoriously rough pranks or "tricks," at least in Kansas. Independence city fathers created a "Neewollah" county fair akin to a fall Mardi Gras to provide a "healthy diversion" for young people's "natural energy" on Halloween, according to Neewollah.com.
That same spirit was behind Coos Bay's first "Nee-Wollah" in 1928 that included torchlights, noisemakers and pumpkins for every child in the parade.
"The name 'Nee-Wollah' is just the reverse of the name 'Hallowe'en.' What could be more fitting, as the event will just reverse the usual order of Hallowe'en? Instead of making this night one of mischievous deviltry, it will be one of good noisy fun," read a story published in The World newspaper Oct. 22, 1928.
By 1933, Neewollah was growing in popularity throughout the country, according to a Roseburg News-Review clip. The American Legion drum corps, Roseburg Municipal Band and Roseburg Junior Band led the evening parade formed by hundreds of "gaily costumed children" grouped by school. Band members, American Legion members and even downtown store clerks also wore costumes.
Roseburg's turnout exceeded expectations – and was reportedly "far greater than the first attempt in any other town in Oregon where Neewollah has been established," event Chairman E.A. Britton was quoted in the paper as saying the next morning.
"In Roseburg, the first one was a huge success. Roseburg's just took off," said Greenley, who believes the motivation to host Neewollah was much the same here as in Kansas.
"Halloween was all about tricks and turning over outhouses and putting buggies on top of houses," said Greenley, who is vice president of the Douglas County Historical Society and editor of the Umpqua Trapper, a quarterly historical publication.
In 1934, a late-night dance for adults was added to the festivities, and by at least 1935, floats and spooky noisemakers were entered in the parade. At one point, costume prizes from local merchants included things like a flashlight, wristwatch, baseball mitt and sweater, according to news clips.
By 1939, Roseburg's Neewollah parade was circling the armory arena; prizes were being given out for best goblin, witch, clown and other costumes; and afterward, the Boy Scouts put on a four-ring circus in the armory auditorium, according to a Nov. 1, 1939, Roseburg News-Review clip.
'Halloween was a big deal'
Greenley was born in 1946 and grew up in the 1950s on the west side of Roseburg kind of "in the country" and never took part in Neewollah.
"When I was a kid, Halloween was a big deal," he said. "We used to soap windows and throw eggs at things and make a mess. Throw toilet paper over things.
"I thought maybe they started it to make Halloween a fun event – but not a destructive fun event," he added.
There have been years when Neewollah wasn't held. News clips and former City Councilor/former Neewollah organizer Stacey Crowe indicate the celebration was cancelled during World War II.
Roseburg resident John Erickson remembers when he was in first and second grade in the early 1950s, wearing a costume with a papier mache fox head made by his mother and elaborate Robin Hood costumes his aunt made for him and brother Steve to march in the Neewollah parade. The brothers recall winning boxes of Cracker Jack for their costumes. John Erickson described the event as "just a mass of screaming kids – with all kinds of costumes."
"It was a big deal," he said. "Kids turned out by the hundreds downtown."
About 200 "weirdly dressed youngsters" marched in the 1963 Neewollah parade, which was sponsored by the Roseburg Junior Chamber of Commerce.
The Neewollah parade used to start on Main Street at 7:30 p.m. and wind through downtown. Recent parades of 300 to 500 kids and adults – and sometimes dogs on leashes -- have started at the county courthouse or across from City Hall at the corner of Jackson Street and Douglas Avenue about 5 p.m. and marched up Jackson Street to Lane Avenue, where Roseburg firefighters stand around a fire engine to greet children near the Elks Lodge. Kids then turn around to trick-or-treat at businesses on the way back. At least, that's the idea, Crowe said.
"But the reality is -- they start, and some continue with the parade, and some stop and get candy," she added.
Roseburg Police officers sometimes greet people from a squad car at Jackson Street and Washington Avenue.
Gary Quist, 67, also took part in earlier Neewollahs while growing up in Roseburg and remembers the joy on all the children's faces when he and wife Janice gave out up to 1,500 packets of jelly belly jelly beans each Neewollah as they stood in front of their Roseburg Book & Stationary store on Jackson Street. Now, entire families sometimes dress up for Neewollah – such as a clan who went as dinosaurs, another dressed as the Addams Family, and one dressed as Cruella de Vil and little dalmatians.
"There were costumes that moms and dads made that were absolutely phenomenal," said Gary Quist. "It's just a place where people can come and have a safe place for their kids to trick or treat and get candy."
People have dressed as the Tin Man from the "Wizard of Oz," walked on stilts or worn inflatable costumes, such as a guy costumed as a hippo. Recently, children have dressed as characters from Disney animated films or other movies, and a teen pageant winner who went as the princess "Elsa" from the movie "Frozen" brought tears to little girls' eyes, said Downtown Roseburg Association President Todd Boyd.
Some merchants and business owners really get into Neewollah. Since 2005, Richard Weckerle Jr. has been dressing like a big red dog and decorating the entrance to his mom's Country Lady Quilt Shop with Jack-o'-lanterns, hay bales and an inflatable graveyard archway.
"It's like an entrance to a cemetery to give it a little spook," he said. "We take the stance that everybody likes to be scared."
Neewollah has a "block party atmosphere" yet is "more of a sharing and caring time" when merchants can connect with residents, he added.
"I think from the business-owner aspect, it's to kind of remind people there are businesses downtown," Weckerle said.
Dancing witches, pirates and 'Thriller' zombies
Realtor Victoria Hawks dresses like a witch in a black skirt and blouse, shoes and beautiful witch's hat – and sometimes sports a mole on her face.
"I'm pretty much a Halloween person anyway," she said. "It's more fun for me than the kids. I love seeing them all. They're so cute."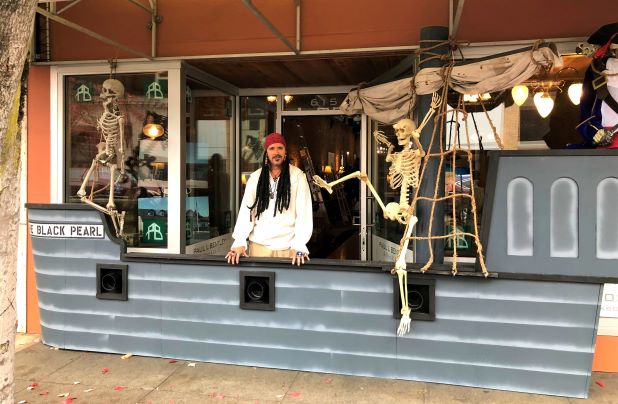 Architect Paul Bentley brings the Pirates of the Caribbean to the streets of Roseburg. A 20-foot wooden ship façade painted with the name "The Black Pearl" and hung with skeletons covers his Jackson Street storefront office. Bentley dresses as "Captain Jack Sparrow" in a dreadlock wig, rings on each finger, full theater makeup, a flintlock pistol and sometimes even a gold-capped tooth. Wife Terry dresses as a pirate wench or a mermaid and friends join them to give out candy from aboard The Black Pearl.
Bentley wears the costume downtown all day and even talks like Johnny Depp's "Jack Sparrow" character.
"We try to do it full on," said Bentley, who's acted in summer musicals. "I'm the crazy one. I really enjoy theater."
Most kids just love his costume. Parents take selfies with him. A few years ago, an ornery teen voiced dissatisfaction when Bentley gave him a handful of candy.
"Is that all I get?" the teen said. Bentley remembers pulling a plastic dagger out of his boot.
"I said, 'Arrgh, don't ever question a pirate or I'll gut you like a fish,' " Bentley said. "You can't be a pirate and take crap from somebody."
Street performances have cropped up in recent years. Ten years ago, about 25 FCC Commercial Furniture employees and friends surprised Neewollah with a flash mob dance to Michael Jackson's "Thriller."
Dressed as zombies, they blended into the tail end of the parade until their leader gave the signal. Someone cranked up the song on a boombox and the group began dancing in the middle of Jackson Street in front of Brix and the old Book & Stationary store. FCC's Vice President of Development Russ Cooley, who now lives in Austin, lurched around as a zombie Guy Fieri food critic and his young daughter, Sydney, danced as a zombie ballerina.
"What I remember is it was full of delight. People were just in awe that this happened in front of them," Cooley said. "We didn't want to scare any kids. We just wanted to have fun and make everybody smile."
A few years ago, about 10 to 12 women going by the name "Roseburg Area Dancing Witches" began entertaining crowds with performances of the "Witch Dance" throughout downtown, said Kelly Southern, one of the dancers.
Witches carrying broomsticks and dressed mostly in black, or harvest colors of brown and orange, perform a simple dance to German singer Peter Fox's "Schüttel Deinen Speck," or "Shake Your Bacon." The Witch Dance apparently began at a Walpurgisnacht or "Walpurgis Night" party in Wolfshagen im Harz, Germany.
"Groups of women do this all over," said Southern. "It's adorable. Everyone's dressed up so cute."
While the Neewollah parade is taking a break this year, residents and business owners said they hope Neewollah will be revived in 2022.
"To me, it's just kind of like small town USA -- where a small town can come together like that to support kids," said Bentley, who shared a message in the spirit of Neewollah:
"Tell 'em Captain Jack said, 'Do it. Otherwise: We do make 'em walk the plank.' "