Press Releases
Police to help 'Dress-A-Child' Saturday, Nov. 13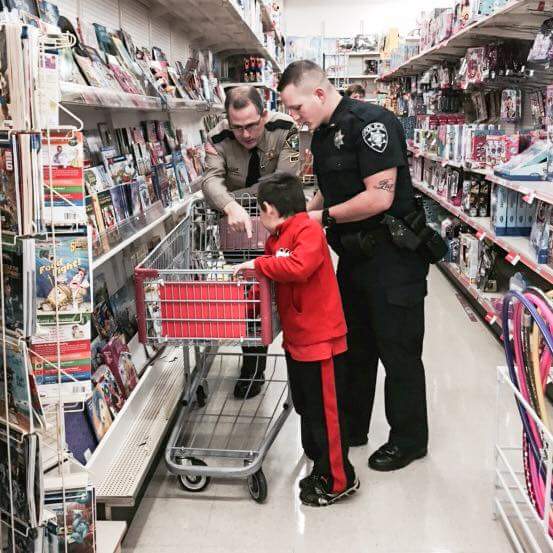 ROSEBURG, OR – Roseburg Police Chief Gary Klopfenstein and four other officers will shop for children's school clothing on Saturday, Nov. 13, when they volunteer in a local program to assist families in need.
Roseburg Police officers will be among more than 50 volunteer shoppers who participate Saturday in the Salvation Army's Dress-A-Child Program at the local Fred Meyer store, 929 N.W. Garden Valley Blvd.
Three officers have signed up for the shopping group that meets at the garden center door at 8 a.m. Chief Klopfenstein and another officer, as well as Chief Klopfenstein's family, are among shoppers who signed up to start at 10 a.m.
This year as the COVID-19 pandemic continues, volunteer shoppers will not be joined by the schoolkids who benefit from the program. Each shopper will be given a list of needs for a particular child and then shop to fill those needs. The Salvation Army works with each school in Douglas County to identify children who would be best benefited. The shopping is scheduled for fall rather than before the school year starts to give teachers time to assess who is in need, said Salvation Army Captain Edith Dye-Mabie.
"How a child dresses does effect behavior, attendance, and, subsequently, their academic performance," Dye-Mabie said. "Students who present in hand-me-downs are more at risk for low self-esteem. Those who come to class in ill- fitting or out-of-season clothing, they're not as focused as their peers."
The schools help distribute the items, which are not a holiday gift.
"We take that bag of blessings and they're delivered to the children later through the schools," said Dye-Mabie.
The annual program to provide school clothes for children who need them is supported by The Ford Family Foundation of Roseburg and the Fred Meyer store chain, which was founded in Portland during the Great Depression and which gives large discounts for this program, said Dye-Mabie.
"This would not be possible at all without The Ford Family Foundation," she said. "Fred Meyer -- I cannot tell you how fabulous they are. When we go in with over 50 shoppers, we tend to clean them out somewhat quickly."
A group of volunteers also shopped for children on Saturday, Nov. 6. Others will shop on Saturday, Nov. 20. For more information, contact Salvation Army Captain Edith Dye-Mabie at 541-248-2585.