Press Releases
Renovated Beulah Park to get grand opening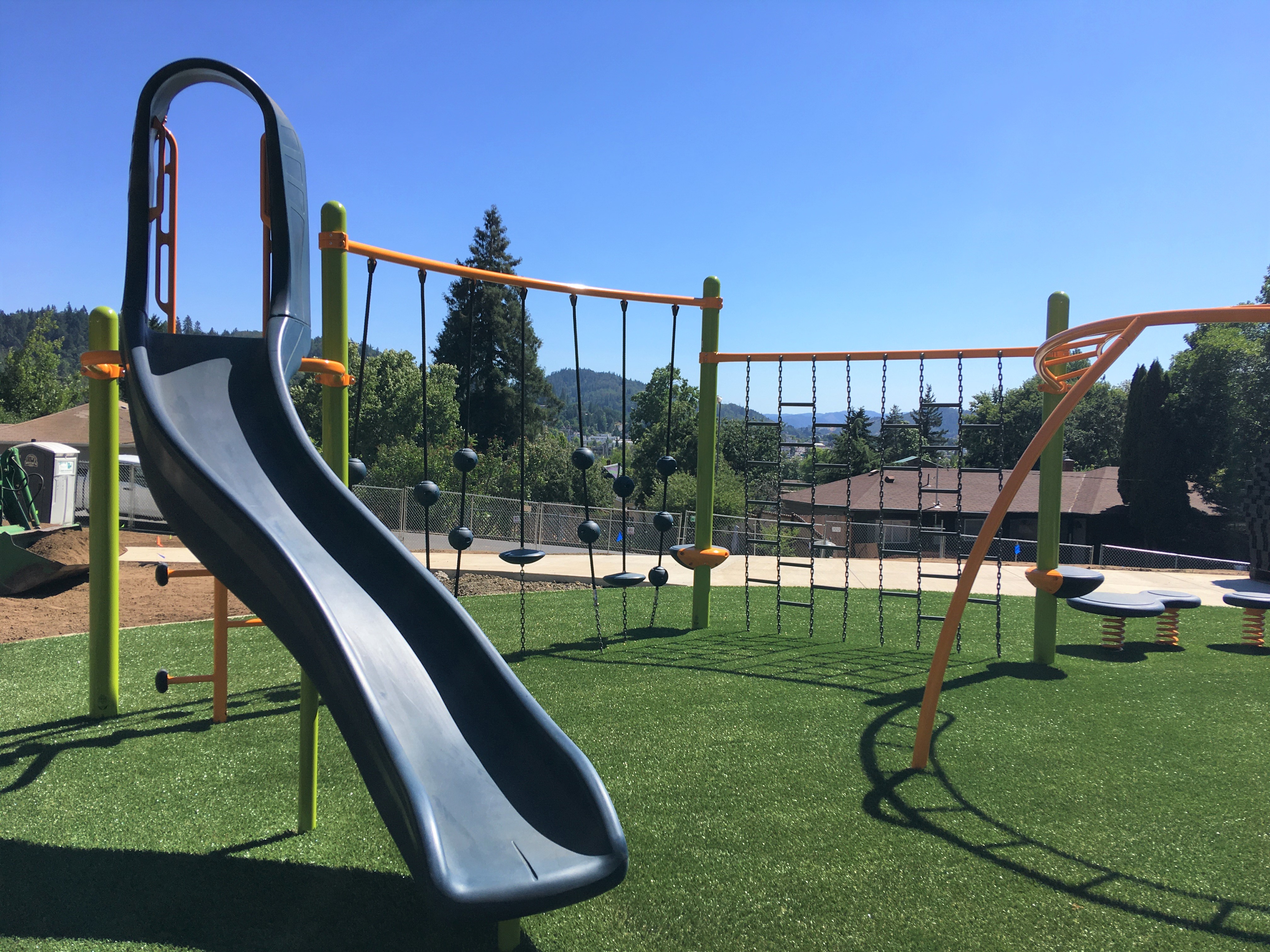 ROSEBURG, OR – Roseburg residents are invited to celebrate the unveiling of renovated Beulah Park at a grand opening set for Thursday, July 22.
A ribbon-cutting ceremony will be held at 9 a.m. Thursday at the 6.85-acre park, which is located in Northeast Roseburg at 1284 N.E. Beulah Ave. between Lincoln and Nash streets. Roseburg Mayor Larry Rich, Public Works Department staff, and city councilors such as Parks and Recreation Commission Chair Alison Eggers will be among those attending.
About 20 staff members from the Roseburg Public Works Department collaborated on various stages of the renovation, which began in late February and cost about $260,000. Employees from the department's divisions of Parks and Recreation, Water, and Streets were led by Engineering Technician Rick Castle, Parks and Recreation Program Manager Kris Ammerman, Design/Construction Manager Ryan Herinckx and Public Works Director Brice Perkins.
"We're really excited to bring this fun, nearly new park to the neighborhood," Ammerman said.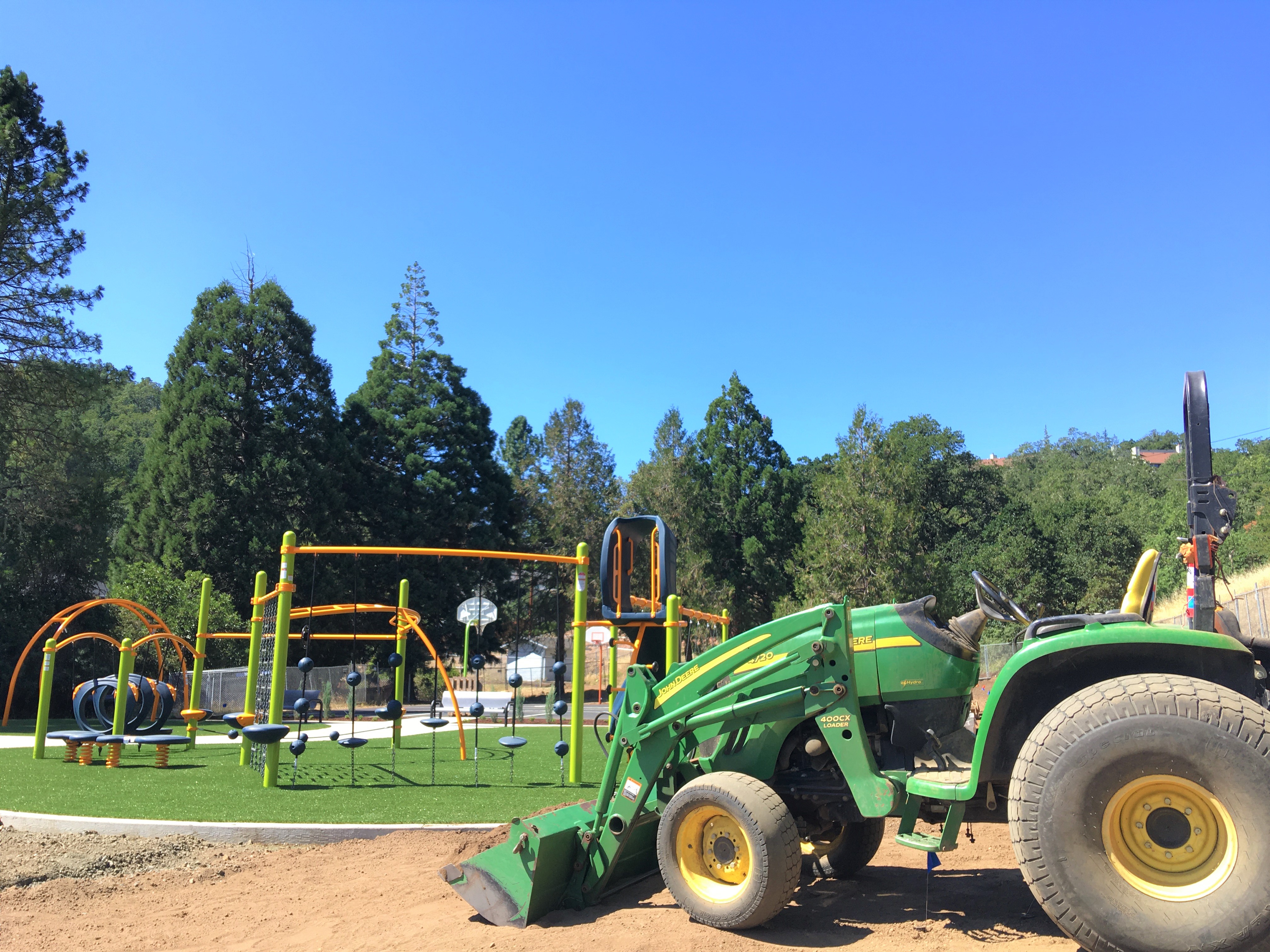 Tractor rests near new playground at Beulah Park July 15, 2021.
The renovated neighborhood park now has a new Americans with Disabilities Act-accessible playground, a resurfaced basketball court, new ADA-accessible walkways, upgraded site amenities and fresh landscaping.
Updated playground equipment in shades of limon green, tangerine orange and denim blue includes a 6.5-foot-tall climbing wall, a free-standing Oodle Swing, O-Zone Climber, Rush Slide, SwiggleKnots and TightRope bridges, Overhead Trekker Ladder, and two Wobble Pod Bouncers.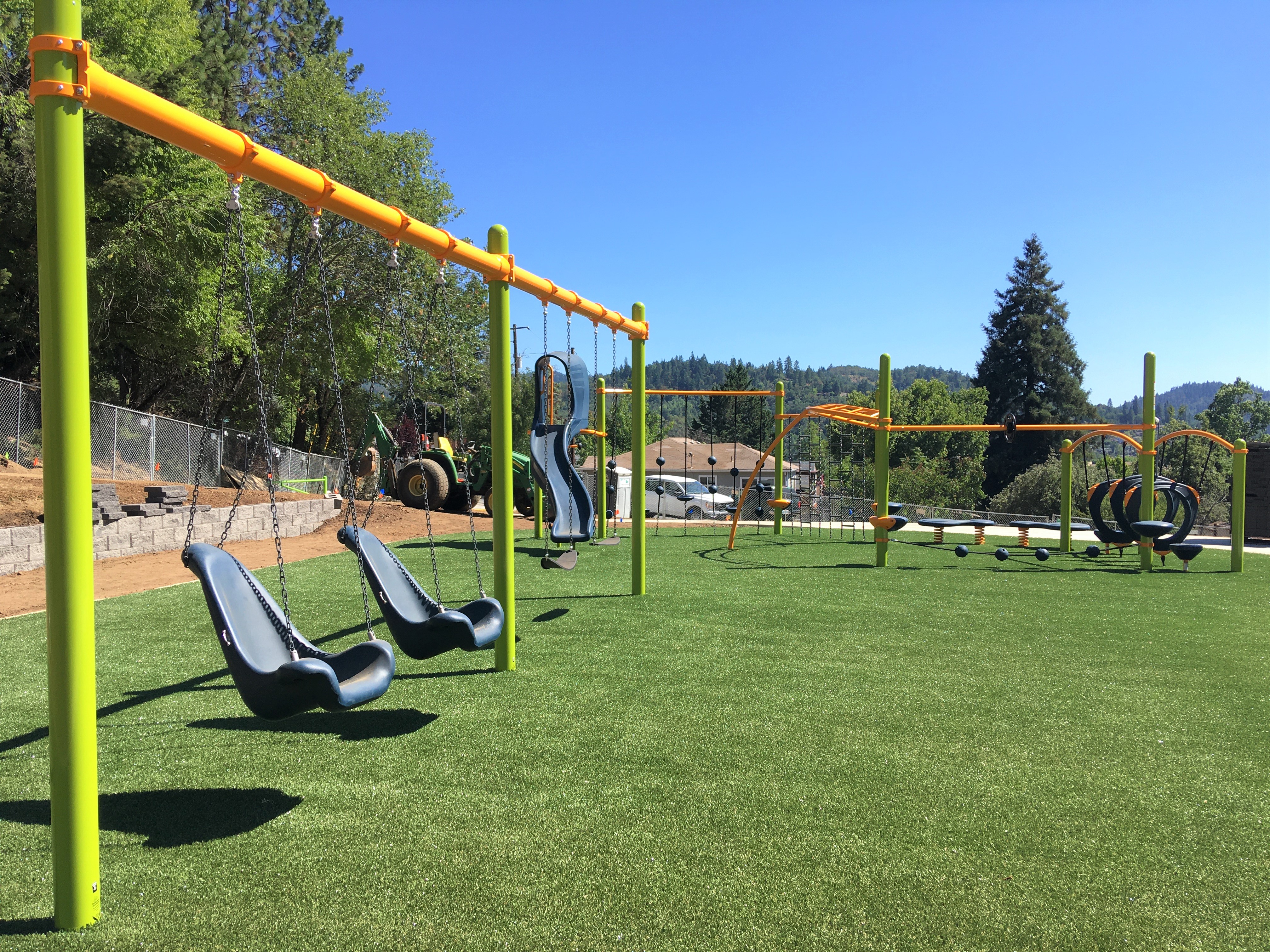 Bucket Swings in Beulah Park July 15, 2021.
The playground area's fall zones are protected with ForeverLawn artificial grass layered over safety foam. The basketball court was reduced in size to accommodate the new playground and other amenities, then resurfaced and restriped. However, the court is still a good size, Herinckx said.
"We had to shrink the basketball court to get enough real estate up there. It's not a lot," he added.
Beulah Park sits on a hillside that had to be graded so ADA-accessible walkways could be added from a new ADA parking spot and the sidewalk along the street. The park has gotten new landscaping, benches, two modern picnic tables and a reseeded area for natural grass. A multifunctional water fountain will be added.
Beulah is one of the city's oldest parks, having been in the City's inventory since the 1960s. Over the years, all of the original playground equipment had to be removed due to non-compliance. The last swing set was removed about five years ago, Herinckx said.
This project has been a long time coming, he added.
About $158,000 for the renovation came from an Oregon Parks and Recreation Department grant. City funds and labor covered the rest of the cost.
For more information, call the Public Works Department at 541-492-6730 or email pwd@cityofroseburg.org.
Oodle Swing in Beulah Park July 15, 2021.