Press Releases
Roseburg leaders meet with Gov. Kotek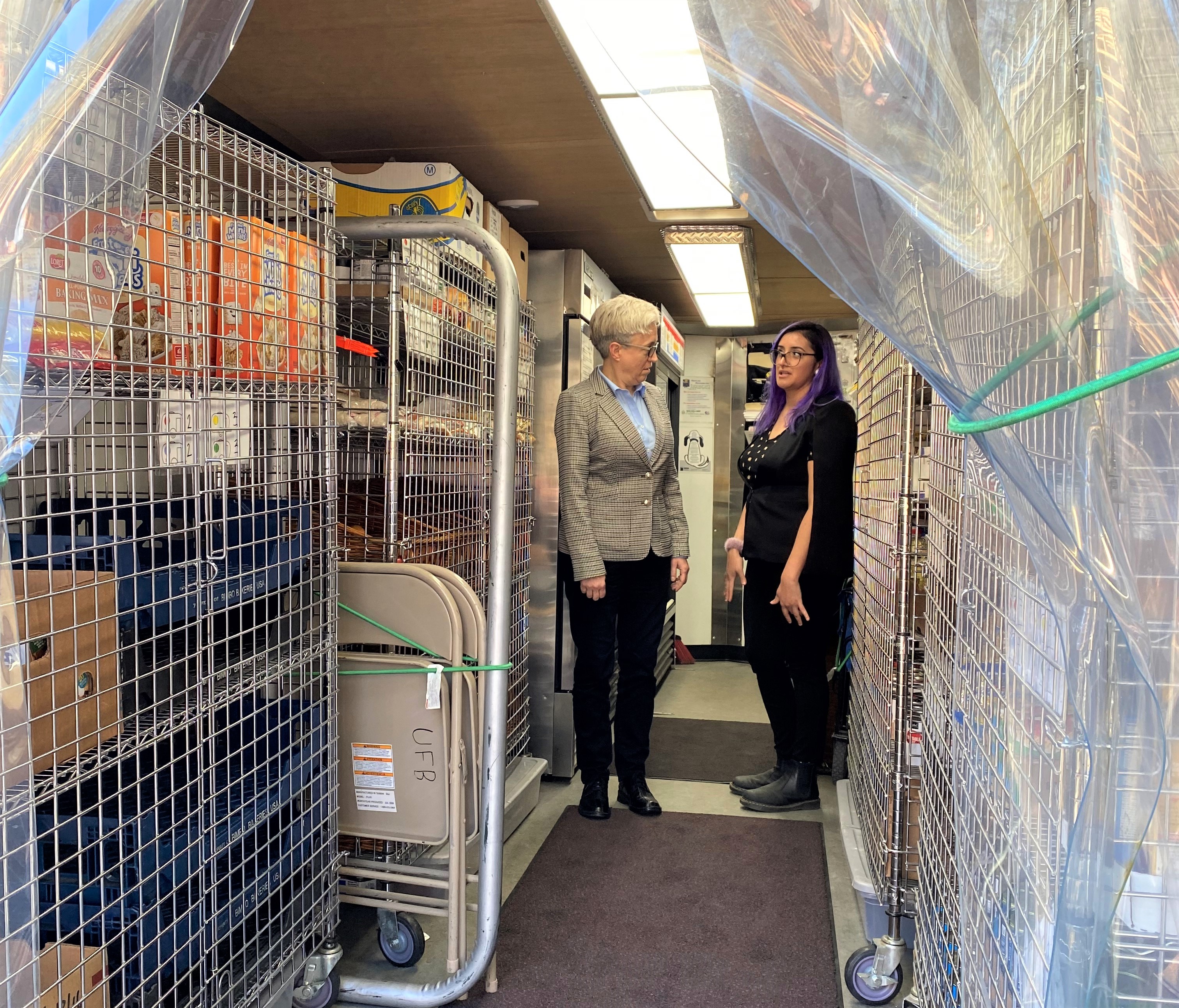 Gov. Tina Kotek and Lupe Saucedo tour Feeding Umpqua in Roseburg Friday, Feb. 17, 2023.
ROSEBURG, Ore. – City of Roseburg officials and other community leaders met with Gov. Tina Kotek Friday, Feb. 17, when the governor paid a visit to Douglas County for the second stop on her "One Oregon Listening Tour."
City Manager Nikki Messenger, Assistant City Manager/City Recorder Amy Sowa and Mayor Larry Rich were among the community leaders who were invited to attend sessions with the governor at Aviva Health and United Community Action Network's food bank, Feeding Umpqua. Messenger and Sowa sat in on group conversations focused on economic development, housing and homelessness.
Those who met with Gov. Kotek included local government leaders such as City Councilor Shelley Briggs Loosley, a representative of the Cow Creek Band of Umpqua Tribe of Indians, business leaders and nonprofit organization directors.
"I'm thankful the Governor took the time to meet with us and hear about the challenges and successes that are unique to Roseburg," Messenger said late Friday afternoon. "It was a great opportunity to tell our story and make recommendations on how the State can best assist us in moving our community forward."
Kotek was sworn in as Oregon's 39th governor on Monday, Jan. 9. She previously served as Speaker of the Oregon House of Representatives from 2013 to 2022. During that time, Kotek and the late state Rep. Gary Leif helped shepherd a bill through the Legislature that contained $1.5 million for the first City-owned overnight shelter and navigation center. The Gary Leif Navigation Center opened in June.
In December following her election, Kotek announced plans to visit every county in the state in an effort to build strong working partnerships. As part of that effort, the "One Oregon Listening Tour" will focus on housing, mental health, addiction care and education, according to the governor's website.
About a dozen community leaders joined Kotek and the first lady, Aimee Kotek Wilson, for a tour of the food bank, followed by a discussion of local housing and homelessness challenges. Sowa said the governor listened closely to local leaders' concerns, which voiced a consistent message.
"She was very attentive to what people were saying and seemed to understand a lot of the issues that were brought up," Sowa said. "I think it's good she's getting out – especially to rural communities, because, so often, it feels like we're not heard."
The mayor said he thought Kotek's afternoon meeting on housing and homelessness that he took part in was worthwhile and "very productive."
"I was impressed with her knowledge and understanding of the issues. She really listened and appeared to be genuinely interested in finding solutions," Rich said. "Today was more of a day to get acquainted with each other and understand the issues. It's really up to the legislators now on what they can move forward and what they can't."
Kotek and her team felt very welcomed to the city and appreciated the opportunity to hear from leaders, said Kotek's Press Secretary Elizabeth Shepard.
"We loved spending the day in Roseburg," Shepard said.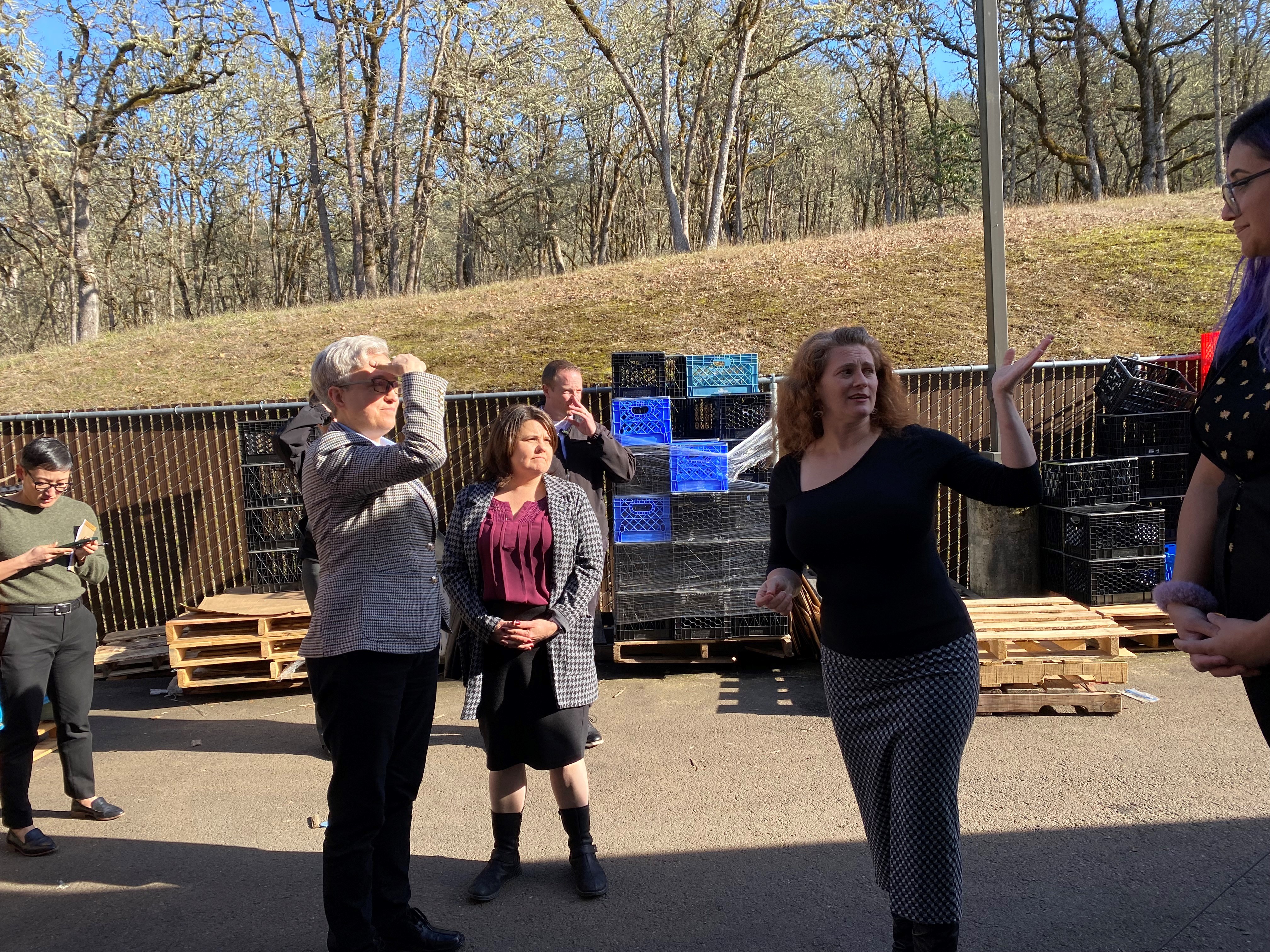 Gov. Tina Kotek and First Lady Aimee Kotek Wilson tour Feeding Umpqua with Manager Sarah McGregor.