Press Releases
Senior center issues plea for tarps, tents, volunteers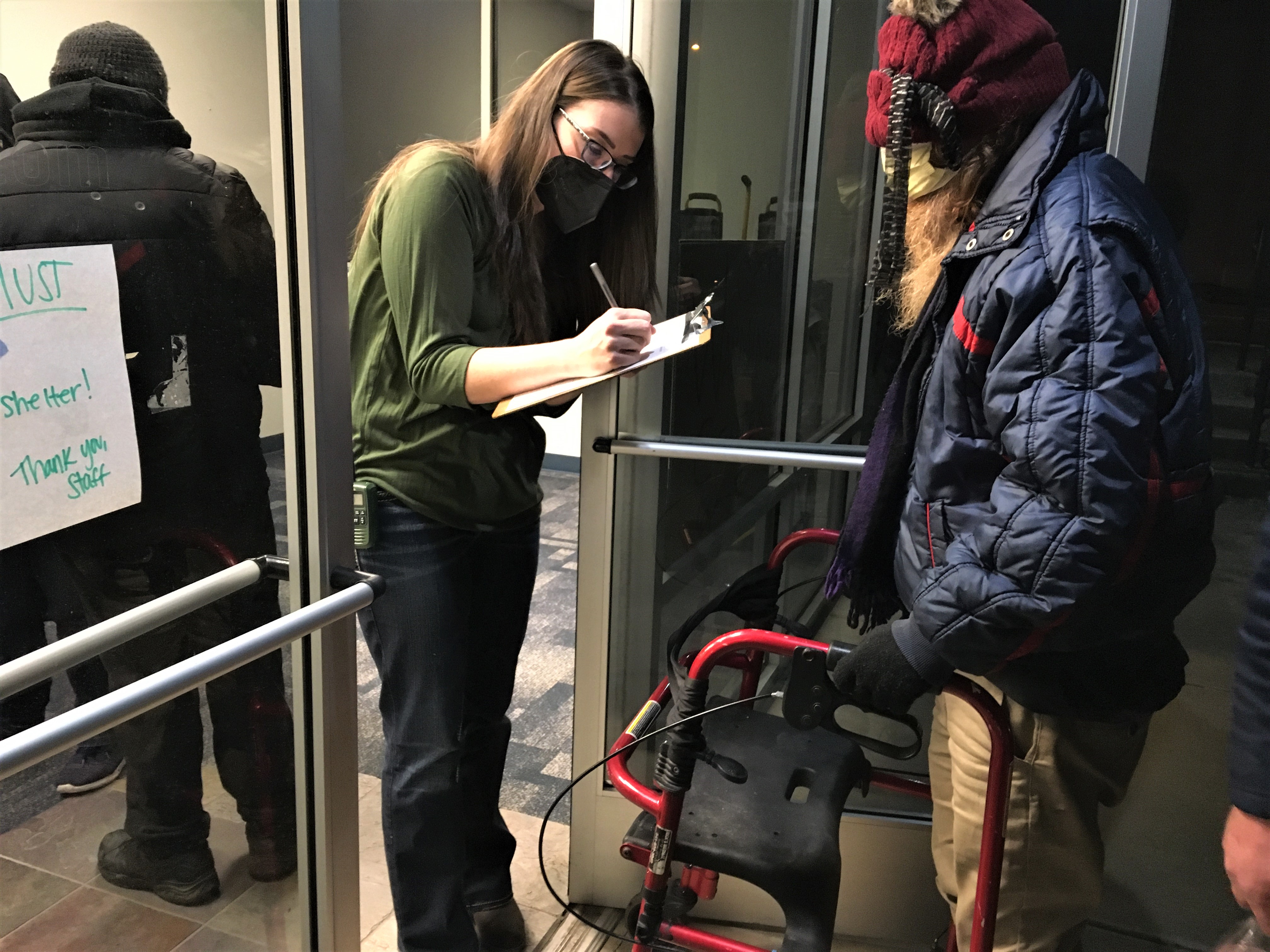 ROSEBURG, Ore. – Roseburg Senior Center volunteers are asking for the public's help with donations of tarps, tents and sleeping bags tonight – as well as able-bodied volunteers to help set up and tear down a holiday sale that hasn't been held for three years.
The senior center at 1614 SE Stephens St. is providing space for an overnight warming shelter tonight, but not Friday or Saturday nights because the Holiday Bazaar and Bake Sale will be held there from 10 a.m. to 4 p.m. Saturday, Nov. 19, and 10 a.m. to 3 p.m. Sunday, Nov. 20. The sale is a popular annual community event that couldn't be held for the last two years during the COVID-19 pandemic and its return has been planned for months, said senior center volunteers.
"We are desperately looking for tents, sleeping bags and tarps for this weekend. And handwarmers," said Ruth Smith, the senior center's former board president now serving as a liaison to the warming shelter temporarily housed there. "We need to give folks respite from the cold that they're going to have to sleep in."
Tarps, tents, sleeping bags and also trash bags are urgently needed to be dropped off at the center as late as 9 p.m. tonight so the items can be provided to unhoused clients who will leave by about 7 to 8 a.m. Trash bags are the "number one" item needed currently by the senior center itself to store shelter items, Smith said.
"We were hoping to get them (donations) in today if possible so we can get them out tomorrow when they're leaving," said Smith, adding that tarps are helpful if donations of sleeping bags and tents aren't available. "The tarp will block the wind and rain if there's any rain. But it does help them and their stuff stay dry."
In addition, senior center volunteer Linda Cornett, who chairs the Holiday Bazaar and Bake Sale, is asking for help from able-bodied people willing to help set up the sale at about 9:30 p.m. Friday, Nov. 18, and/or take down the sale starting about 3 p.m. Sunday, Nov. 20.
"I could use some muscles," said Cornett, who's among about 20 local artisans who will sell handmade crafts. Seniors donate baked goods to sell. While vendor tables cost only $30 in an effort to support small local artists, all proceeds from the sale will help raise money to repair the senior center's aging elevator.
People interested in volunteering to help set up and/or tear down the sale should contact Linda Cornett at 503-936-1005.
Tarps, tents, trash bags and sleeping bags can be dropped off until 9 p.m. tonight at the senior center, 1614 SE Stephens St. Donors also can drop things off at the Roseburg Dream Center, 2555 NE Diamond Lake Blvd., or Gary Leif Navigation Center, 948 SE Mill St. For more information about donations, contact Ruth Smith at 541-670-3188.
The National Weather Service is predicting lows of 30 degrees in Roseburg tonight and tomorrow and a low of 33 Saturday.
The City's severe event shelter policy allows for a warming shelter to be open, if possible, during severe weather:
• on nights when the low temperatures are predicted to be 30 degrees Fahrenheit or less;
• or when low temperatures are forecasted to be 32 degrees Fahrenheit or less with additional factors that could increase a person's risk of exposure to cold such as precipitation, wind, fog and sustained low temperatures.
However, as long as there's a City-approved available space and volunteers, an overnight shelter can be open in Roseburg even if the forecast calls for slightly warmer temperatures.
The shelter at the senior center has been used overnight by 20 to 30 guests each night this week, but there have been as many as 35 for dinner.
"Some people eat dinner but don't stay because they don't want to leave their stuff," Smith said. "They'll weather the storm. They're coming in, getting warm and getting fed, then heading back out."