Press Releases
Tourism grant application deadline nears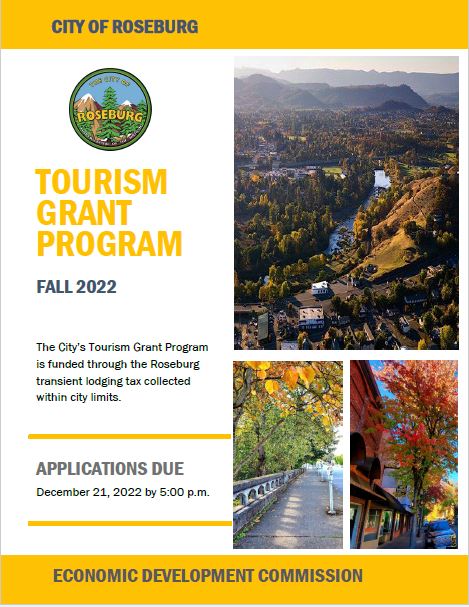 ROSEBURG, Ore. – With the deadline fast approaching and the holiday season about to kick into high gear, there's no better time for local businesses and organizations to apply for a City of Roseburg tourism grant.
Successful applicants may win grants of up to $5,000 or even more to help draw visitors to beautiful Roseburg and surrounding areas. The Roseburg Community Development Department and Roseburg Economic Development Commission will take applications for fall tourism grants until 5 p.m. Wednesday, Dec. 21.
"The Tourism Grant Program is a fantastic way to assist local organizations as they plan events and programs designed to bring tourists to the Roseburg area," said Roseburg Community Development Department Director Stuart Cowie.
The City's Tourism Grant Program is funded through the Roseburg hotel/motel lodging tax collected within city limits.
The City offers a spring and fall grant cycle. For the fall 2022 grant cycle, applications will be accepted from registered businesses, registered 501(c)(3) organizations and other 501(c) tax-exempt organizations, and governmental entities. Online applications can be found on the Roseburg Community Development Department's webpage.
Grants are typically awarded for such things as advertising, publicizing or distributing information to market special events and festivals designed to attract tourists or to attract and welcome tourists at tourism-related facilities; or capital improvement projects that have a substantial purpose of supporting tourism or accommodating tourism activities.
Past grants have been used to market such events as the Lavender Festival & Farm Tour, Great Umpqua Food Trail, Umpqua Velo Club's Vineyard Tour, Challenge of Champions bull riding tour, Ghosts of Roseburg Past self-guided audio tour, and Umpqua Valley Arts Summer Arts Festival. One grant was used to produce the Master National Retriever Club training catalog for the AKC Master National Hunt Test held in Roseburg in 2018. Another grant was used by Wildlife Safari to buy a portable stage, canvas tent and generator so the park could expand year-round events.
The commission is especially interested in events and projects that entice people to visit from Labor Day through Memorial Day, but all applications are strongly encouraged. The Economic Development Commission will review and consider all applications, and vote on submissions in early 2023.
"We look forward to reviewing applications and providing recommendations to the Economic Development Commission involving exciting new tourism possibilities," Cowie added.
For more information, contact the Community Development Department at cdd@cityofroseburg.org or 541-492-6750.