Press Releases
Artists sought for 'Tapes-Trees in the Park'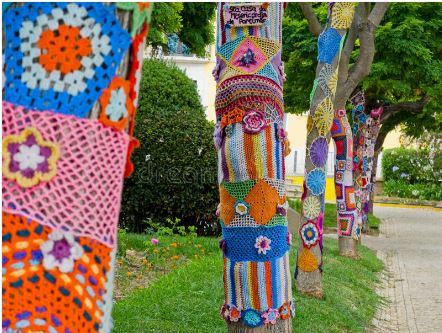 ROSEBURG, Ore. – The work of local fiber artists will get a place in the sun next summer, thanks to a colorful art project that will turn Fir Grove Park trees into an arboreal art gallery.
Roseburg Parks and Recreation has teamed up with Umpqua Valley Arts Association to launch a call for submissions for the upcoming "Tapes-Trees in the Park," which will showcase local artists' work on trees to coincide with UVA's 54th Annual Summer Arts Festival Friday, June 23, through Sunday, June 25.
Knitters and crocheters who've dreamed of making a scarf or sweater for a 30-foot-tall, long-necked friend are invited to sign up by Friday, March 31, and submit finished work a month later. Artists are encouraged to use leftover scrap yarn from past projects or check in for possible yarn donations at Roseburg City Hall, Roseburg Public Library, Umpqua Valley Arts or Little Hawk Yarns.
"It does take a long time to knit something that size. And it does take a lot of yarn!" said Roseburg Parks and Recreation Coordinator Tracy Moser. "We've already had 11 people sign up so far, so there's definitely interest."
Artists who register will be asked if they want to produce a small, medium or large rectangular fiber art project. Moser will then assign each person a tree and send the maximum dimensions to be covered – which could range from 45 inches by 20 inches all the way up to 105 inches by 72 inches and contain 3-D yarn embellishments of flowers, leaves, bees, butterflies, birds or other items. Moser said she also will send a photo of the assigned tree "for inspiration."
People can volunteer to cover more than one tree. Pairs or groups of knitters or crocheters can team up to create an artwork for a big tree. Moser has identified at least 36 trees that could be covered in a fiber art gallery that will be set up along an accessible paved path at the north side of Fir Grove Park. Tree species and trunk sizes vary.
The goal is to get at least that stretch of path decorated, said Moser, who has begun an effort with UVA Community Outreach Director Sarah Holborow to recruit knitters and crocheters at senior care centers and other locations. There's also a bench that could be covered and one tree that splits into three trunk sections.
"That could be a fun project for three people," Moser said.
Starting in early 2023, UVA will sponsor free workshops and affordable classes for people who want to sign up for the project or just learn a new skill set. Some lessons are expected to be offered at local senior care centers. UVA is donating yarn and can offer scholarships.
"UVA is honored to partner with other community organizations to bring arts and culture opportunities and experiences to Douglas County," said UVA Executive Director Emily Brandt.
Artists are being asked to sign up by Friday, March 31, by calling Moser at 541-492-6899 or emailing parks@cityofroseburg.org. Please turn in artwork by Friday, April 28. All participants will get free admission to the 54th Summer Arts Festival.
Those who'd like to donate yarn for the art project can drop yarn off at:
• Roseburg City Hall, 900 SE Douglas Ave.: 8 a.m. to 12 p.m. or 1 p.m. to 5 p.m., Monday through Friday;
• Roseburg Public Library, 1409 NE Diamond Lake Blvd.: 10 a.m. to 6 p.m., Tuesday through Thursday; and 10 a.m. to 2 p.m., Friday and Saturday;
• Umpqua Valley Arts Center, 1624 W Harvard Ave.: 10 a.m. to 6 p.m., Tuesday through Friday;
• Little Hawk Yarns, 544 SE Main St.: 10 a.m. to 6 p.m., Tuesday through Friday; and 10 a.m. to 3 p.m., Saturday.
Once fiber art projects are submitted, Moser and helpers will take the artworks out to Fir Grove Park and stitch them around the trunk of each tree with the hope that the works can remain in place for three months if the elements don't interfere.
Moser and Holborow hope the project is a fun way to bring people together. Experienced knitters and crocheters are welcome to volunteer to help teach at workshops and classes. There may even be a buddy or mentor program that pairs experienced fiber artists with kids or inexperienced yarn artists.
"We're hoping this project might connect generations – where our local youth might learn a new skill set from grandparents or a nearby senior buddy," Holborow said.
For more information, call 541-492-6899 or email parks@cityofroseburg.org.