Press Releases
Beware phishing emails threatening shutoffs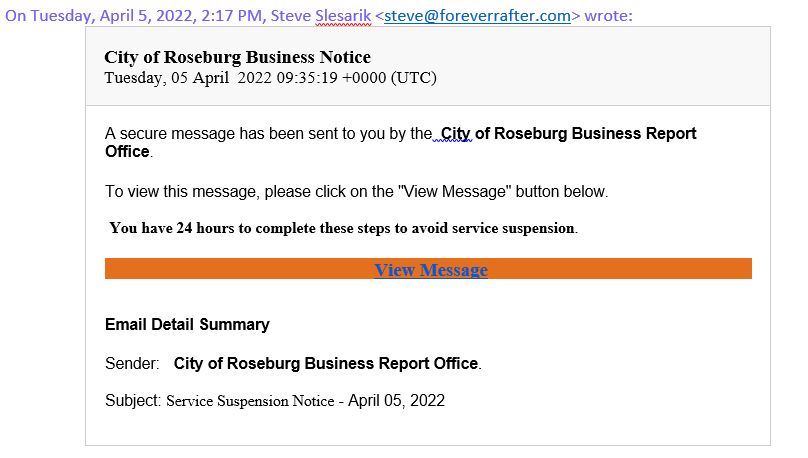 ROSEBURG, OR – City officials are urging Roseburg residents and business owners to beware of a phishing email scam being sent out Tuesday, April 5, purportedly from the City.
The emails threaten "service suspension" within 24 hours and claim to be a "City of Roseburg Business Notice" sent by the "City of Roseburg Business Report Office" – but the email address shows up as "Steve Slesarik ."
The emails read, "A secure message has been sent to you by the City of Roseburg Business Report Office. To view this message, please click on the 'View Message' button below. You have 24 hours to complete these steps to avoid service suspension." The subject is listed as "Service Suspension Notice."
Residents should ignore and delete the emails. Do not click on the "View Message" button. The "sender" of the message likely got hacked, according to Roseburg's IT staff. At least 10 residents or business owners contacted the City Tuesday to ask about the emails – and learned the emails were part of a phishing scam arising from outside City government.
The City of Roseburg doesn't even have a "Business Report Office." If a resident becomes delinquent with utility payments, the City mails out a paper late notice. If the issue isn't addressed, a paper notice is hung on the property's door on a Thursday, explaining that shutoff could occur the following Wednesday if no action is taken by the resident. The City never sends emails that threaten an immediate shutoff in service, said Roseburg Finance Director Ron Harker.
The paper notices from the City provide contact information so residents can call the Roseburg Finance Department and work out a payment plan if needed.
"We'll always work with people," Harker said. "We would never contact them in this manner."
Any emails that come from the City have an address ending in @cityofroseburg.org. Those include emails from utility billing, ub@cityofroseburg.org; accounts payable, ap@cityofroseburg.org; and finance, finance@cityofroseburg.org. People who sign up for automatic online payments and opt to get email notifications will get an email from noreply@municipalonlinepayments.com, but those emails would direct people with questions to contact the City at ub@cityofroseburg.org, Harker said.
For more information about the phishing emails, contact City administration at info@cityofroseburg.org or 541-492-6700.