Press Releases
City to hold 150th Time Capsule Ceremony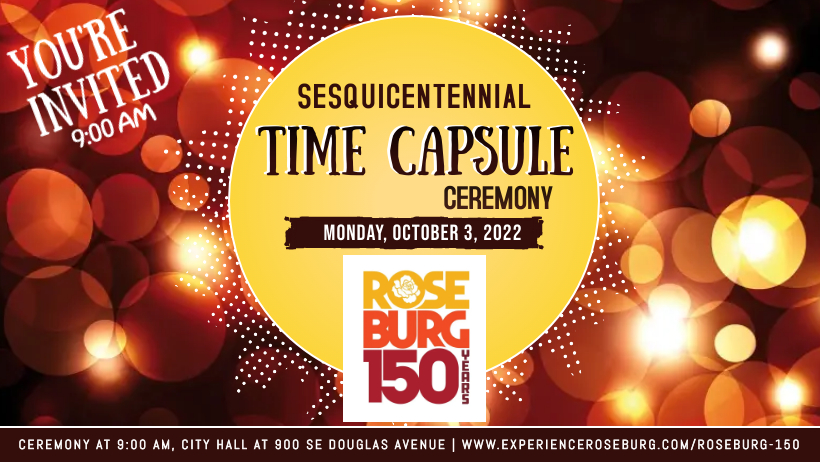 ROSEBURG, Ore. – The City of Roseburg will hold a Roseburg Sesquicentennial Time Capsule Ceremony on Monday, Oct. 3, outside City Hall.
City residents are invited to the ceremony, which will be held at 9 a.m. to mark the 150 years that have passed since Roseburg was incorporated by the Oregon Legislative Assembly on Oct. 3, 1872. Brief speeches will be made by Mayor Larry Rich, City Manager Nikki Messenger and possibly others.
The time capsule will be buried by the Roseburg Public Works Department with a marker explaining the capsule should be opened in 50 years on Oct. 3, 2072, to celebrate Roseburg's Bicentennial.
At the ceremony, artifacts and memorabilia from diverse groups, organizations and businesses will be placed inside a capsule being designed by Roseburg designer Paul Whitworth, owner of Whitworth Design, and built by Roseburg metal fabricator Bryson Steele, owner of Built By Steele. The stainless steel time capsule will be 24" by 16" by 16."
The items will include a Roseburg 150 Sesquicentennial journal that will be displayed with the time capsule at the Sunday, Oct. 2, Roseburg 150 Party in the Park and available for residents to sign in the large pavilion at Stewart Park.
Roseburg, population 23,701, sits in Southern Oregon's Umpqua Valley and is the Douglas County seat. The city first known as Deer Creek was founded Sept. 23, 1851, at the confluence of Deer Creek and the South Umpqua River when Aaron Rose and his family established a homestead that later served as a grocery store, roadside inn and tavern.
Rose donated three acres of land and $1,000 for construction of the Douglas County Courthouse after voters approved moving the county seat from nearby Winchester to Roseburg. The town's name was later changed to honor Rose.
Community organizers are planning a month of Roseburg 150 Sesquicentennial events, starting on Sunday, Oct. 2, in Stewart Park with the Roseburg 150 Fun Run/Walk at 8:30 a.m. and Roseburg 150 Party in the Park from 12 – 4 p.m.; Roseburg Sesquicentennial Time Capsule Ceremony at 9 a.m. Monday, Oct. 3, at City Hall; Blocktober Fest from 11 a.m. to 6 p.m. Saturday, Oct. 8, in downtown Roseburg; and Roseburg 150th Birthday Dinner at the Elks Lodge Saturday, Oct. 15. The Experience Roseburg Mural Project began in August. And "Ghosts of Roseburg Past," a self-guided historic walking tour of downtown, will be launched in October.
Learn more at RoseburgTurns150.com or in the City Connection e-newsletter story. Be sure to check back for additional events at RoseburgTurns150.com.