Press Releases
City parks to get little community libraries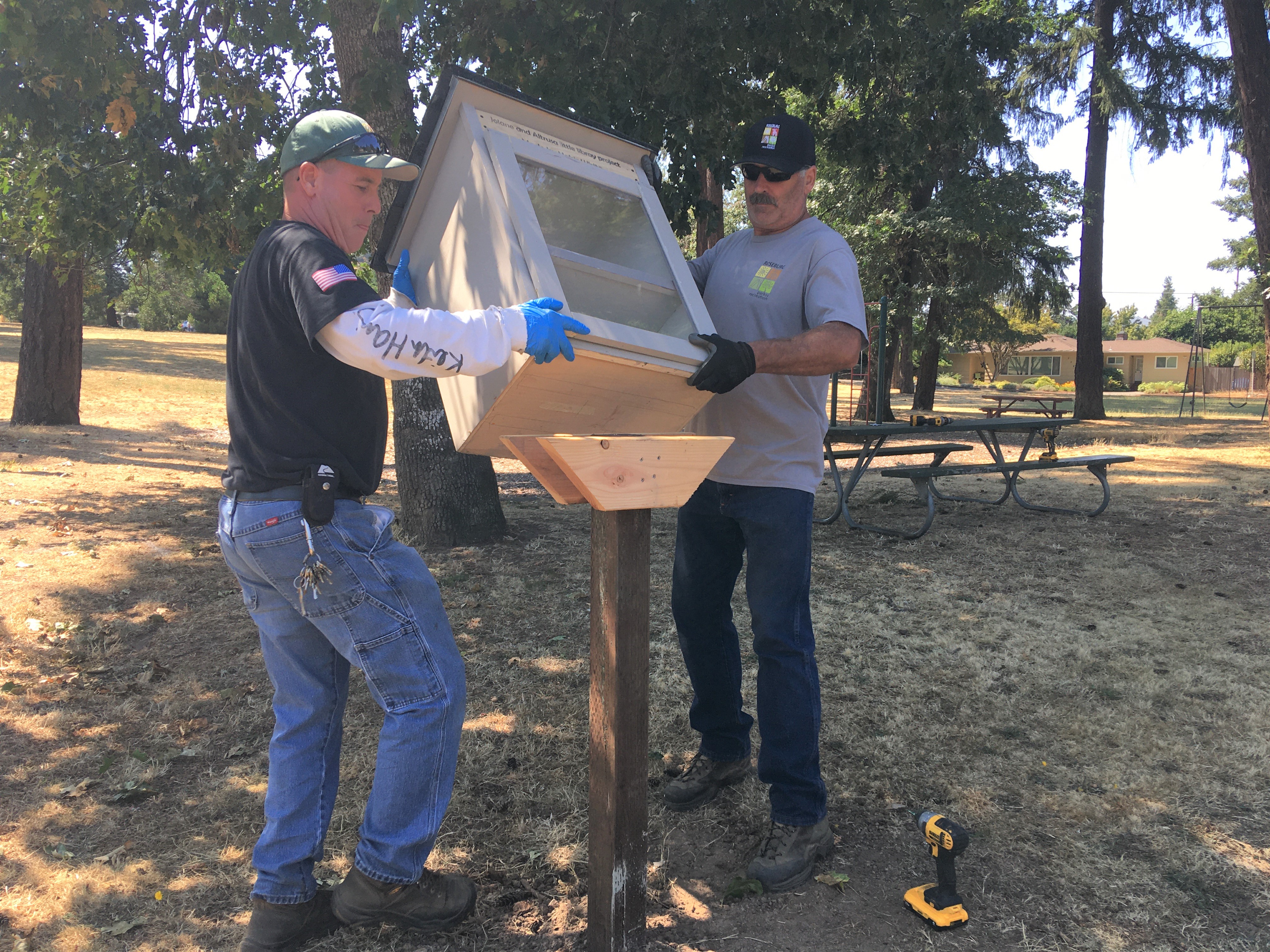 ROSEBURG, Ore. – Little community libraries are being installed at five Roseburg parks, thanks to a community-driven literacy project involving wood shop students and a local nonprofit.
Roseburg Parks and Recreation staff will set up five small, wooden book-sharing boxes that will be available 24-7 for people who'd like to take a free book or leave one for someone else to enjoy in a community give-and-take. Books don't need to be checked out but can be returned after someone is finished reading.
The free community libraries are being set up in Brown, Commercial Street, Eastwood, Laurelwood and Thompson parks, said Roseburg Park Program Manager Val Ligon. Two were installed at Brown and Laurelwood parks by a Roseburg Parks and Recreation crew on Thursday, Aug. 25. The others are expected to be installed by the end of August.
"Hopefully, it'll be a nice little asset to the neighborhood," said Ligon, who watched the installation at the north end of Laurelwood Park Thursday with Roseburg Public Works Director Dawn Easley.
Organized by Altrusa International of Roseburg, the book-sharing boxes were built by 10 Joseph Lane Middle School eighth graders taking an advanced wood shop class with teacher Matt Hall. The students built five community library cabinets. Each structure bears a handmade sign that identifies the student builders.
Easley said the school's and students' involvement benefitted the project while teaching the kids the importance of contributing to Roseburg and its neighborhoods.
"I think that makes it even better – to give back to the community," she said. "I feel like there'll be more accessibility for some young people to be able to get books."
The project was chaired by retired Hucrest Elementary School teacher Shirley Northcraft, who's also a member of the literacy committee of Altrusa International's Roseburg chapter. The nonprofit works with partners to expand residents' easy access to books year-round. The free community library boxes will be open 24 hours a day seven days a week and are accessible to all people in an effort to remove barriers to accessing books.
"Altrusa actively looks for opportunities to provide free books for young readers in our community and likes partnering with parents, teachers and caregivers to enhance literary," Northcraft said by phone.
She reached out to Jo Lane Middle School and City parks staff to organize construction and arrange locations in areas that don't have other neighborhood book-sharing boxes.
Members of Altrusa's literacy committee will stock and maintain the library boxes at no cost to the City. Altrusa members also are seeking donations of materials that can be left in the boxes.
"We encourage neighbors to participate by donating gently-used books to the free community libraries," Northcraft said.
Parents can visit one of the little community libraries to sign up their young children for Dolly Parton's Imagination Library, a book-gifting program that mails a high-quality book each month to children from birth to age five. Application forms can be found in a pocket in the community library cabinets, Northcraft said. Parents can also register their children online via the Roseburg Public Library website: www.cityofroseburg.org/departments/library.
The little community libraries also contain journals so residents can jot down suggestions and feedback to help Altrusa members understand what kind of books area residents are most interested in reading.
For more information, contact Altrusa International of Roseburg at roseburgaltrusa@gmail.com.