Press Releases
Discover Roseburg geocaching kick-off Feb. 5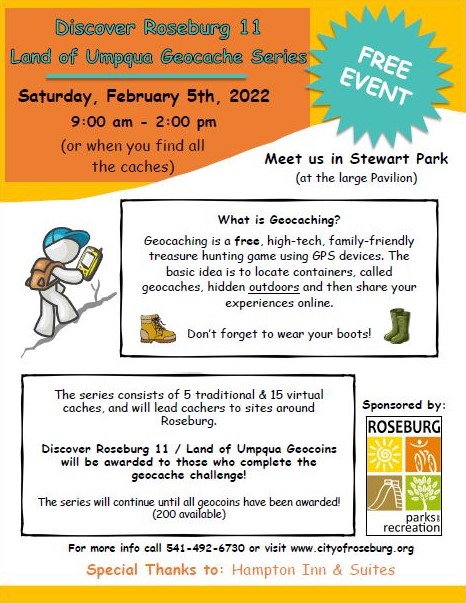 ROSEBURG, OR – Explore Roseburg with friends and family in a high-tech geocaching treasure hunt on Saturday, Feb. 5.
Hosted by Roseburg Parks and Recreation, the Discover Roseburg 11 Land of Umpqua Geocache Series is a free event designed to draw people outside so they can experience more of the city and its business community.
Roseburg Parks and Recreation staff will give out verbal instructions and coordinate-containing "passports" at the annual kick-off event at 9 a.m. Saturday, Feb. 5, at Stewart Park's large pavilion. The event, expected to last until about 2 p.m., will be held a day after five geocaches are hidden around town, said Roseburg Recreation Coordinator Tracy Moser.
Participants must bring a smart phone or other device equipped with a Global Positioning System, or satellite-based radio navigation system, and a pencil to sign tiny log sheets at each geocache. Sturdy shoes or boots are recommended.
Using a GPS to follow coordinates printed on the passports, participants will hunt for five geocaches, or small containers, hidden around Roseburg plus 15 virtual geocaches that will lead people on a scavenger hunt. Participants can share experiences searching for caches online at geocaching.com.
"Each year, we hide five actual geocaches, so the virtual geocaches give them more to go looking for," Moser said.
People who find all 20 geocaches can redeem their passports for a limited-edition collector's geocoin or metal token with a trackable ID number. Only 200 geocoins will be available. This geocache "challenge" will continue until all the geocoins have been awarded.
An Oregon resident reportedly stashed the first documented GPS-located cache near Beavercreek, Ore., in 2000. Roseburg Parks and Rec has been sponsoring geocache events for more than a decade. Passports to past challenges remain available at City Hall, so residents have time to practice before the new series launches Feb. 5.
After the kick-off event, passports can be picked up or dropped off at Roseburg City Hall's front lobby at 900 S.E. Douglas Ave. from 8 a.m. to noon or 1 p.m. to 4:30 p.m. An alternative, after-hours pickup/drop-off spot is Hampton Inn and Suites, 1620 N.W. Mulholland Drive in Roseburg. For more information, check out the Parks and Recreation "events" webpage or the City's Facebook page, or contact Roseburg Parks and Recreation at 541-492-6899 or tmoser@cityofroseburg.org.