Press Releases
Kitchen help sought for shelter, senior center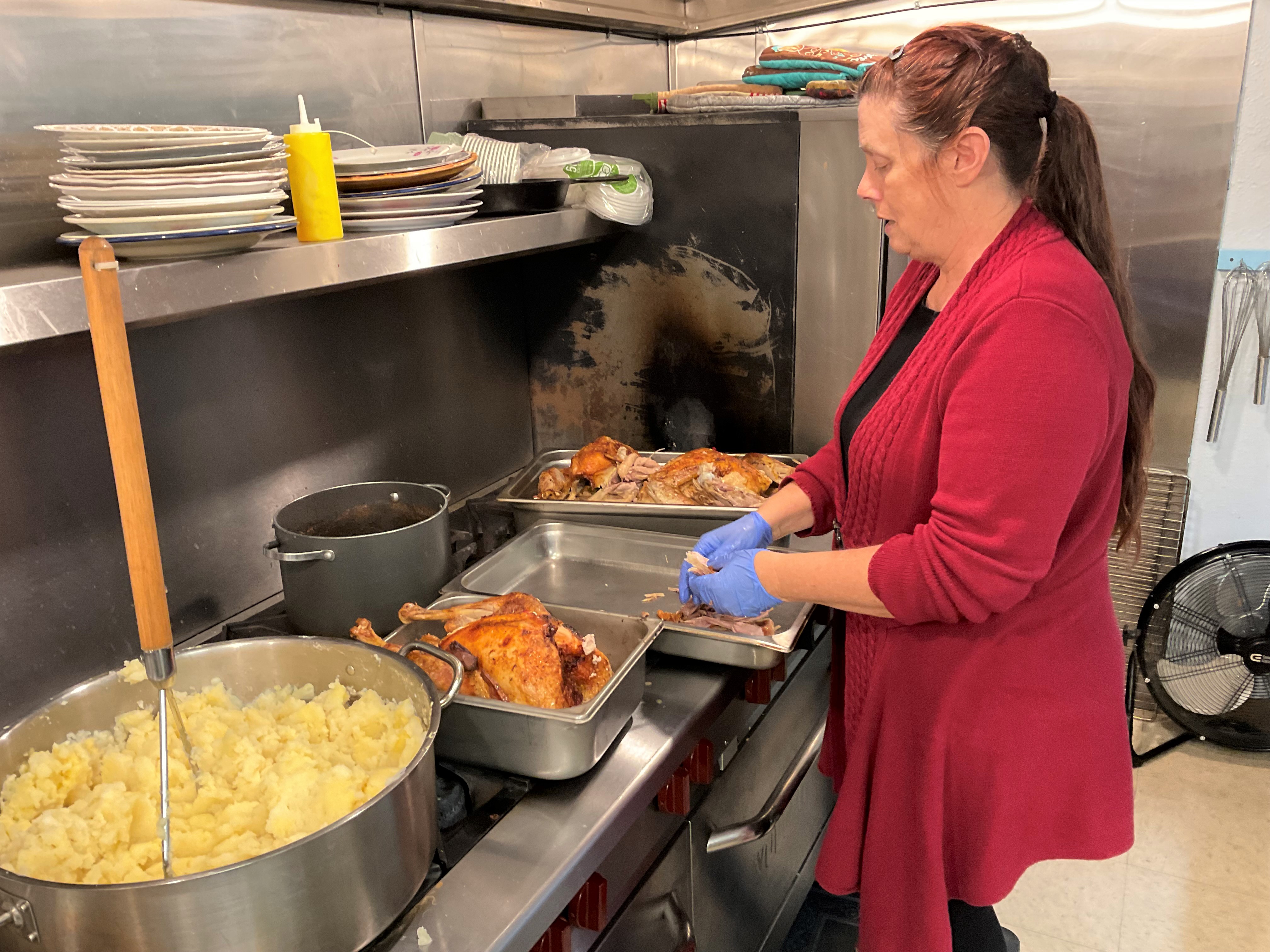 Roseburg City Councilor Ruth Smith prepares dinner for Roseburg Warming Center guests at the Senior Center Thursday, Jan. 19, 2023.
ROSEBURG, Ore. – The Roseburg Warming Center and the Roseburg Senior Center can use kitchen volunteers to help prepare meals for homeless guests and the senior center café, which is currently only open for Friday buffet lunches.
The warming center, which is open overnight inside the senior center, can use kitchen volunteers at about 4 p.m. Saturday, Jan. 21, through Tuesday, Jan. 24. The senior center café currently is only able to offer Friday buffets for local residents over 50 due to a lack of volunteer help Mondays through Saturdays.
On Thursday, Jan. 19, volunteers Doris Loveday and Clint Smith worked six hours to cook a turkey dinner with all the trimmings for warming center guests that night and a buffet lunch for senior center clients the next day. City Councilor Ruth Smith, who's a Senior Center volunteer, arrived Thursday afternoon after finishing work as a NeighborWorks Umpqua resident service coordinator to finish prepping dinner for homeless guests escaping the cold that night.
Standing at the stove mashing potatoes, the senior center's past president said she is hoping to recruit kitchen volunteers to get the Senior Center café reopened to serve weekday lunches and Saturday breakfasts – plus kitchen volunteers for the warming center on an as-needed basis. The senior center prepares hot dinners and breakfasts and serves the meals to unhoused guests when the temporary overnight shelter is open on especially cold nights.
"We're hoping to be able to reopen the senior center café," Smith said.
Until Jan. 1, the senior center's kitchen and café was managed by Loveday, who is Smith's mother. A new manager took over briefly but retired for health reasons and the cafe shut down in early January. Friday buffets resumed last week.
In 2011 shortly after returning to Roseburg, Loveday began the senior center's food services by offering hot dogs with Friday night bingo. She made $13 a night for the nonprofit senior center. She expanded that into a café and bakery after recognizing a need for nutritious meals because some seniors brought unhealthy food items to daily activities. Members later voted to have soup and sandwiches available to purchase.
For more than a decade, Loveday volunteered 60 to 70 hours a week to manage the café, which now charges $7 for the Friday buffet and will charge $6 for Saturday breakfast and all other lunches once those resume. The nonprofit venture, which was run entirely by volunteers, brought in $52,000 a year and a roughly $30,000 annual profit for the center under Loveday, who is now 78.
"She's been a volunteer this entire time. She hasn't received any money for this," Smith said.
Smith's husband, Tommy Smith, operates the free senior center shuttle to pick up unhoused clients when the overnight warming shelter is open.
On Thursday, unhoused guests Mark Van De Walker, 61, and Jésus "Jesse" Morales, 64, transformed the senior center's dining room into the overnight shelter by putting away senior center tables and setting up 60 cots. Morales also offered to return Friday afternoon to help Smith prepare enchiladas for the warming center's Friday night dinner.
"We've got to do it – for everybody," Van De Walker said.
To volunteer for warming center kitchen help on an as-needed basis when the shelter is open, sign up at: https://www.facebook.com/Warming.Center.Onward.
To volunteer at the senior center café and bakery Mondays through Saturdays, call the senior center at 541-671-2634.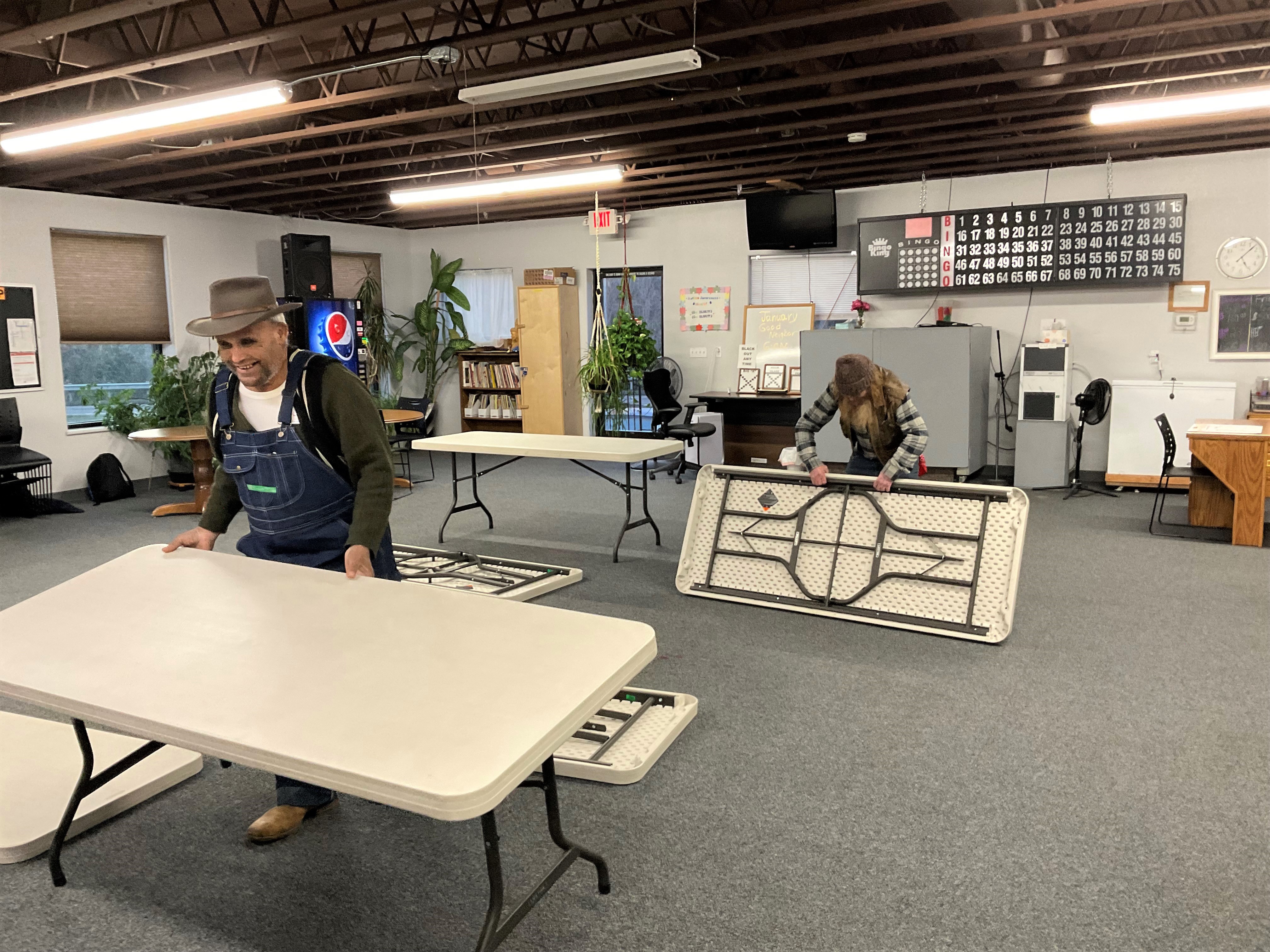 From left, Jésus Morales, 64, and Mark Van De Walker, 61, help set up the warming center Thursday, Jan. 19, 2023.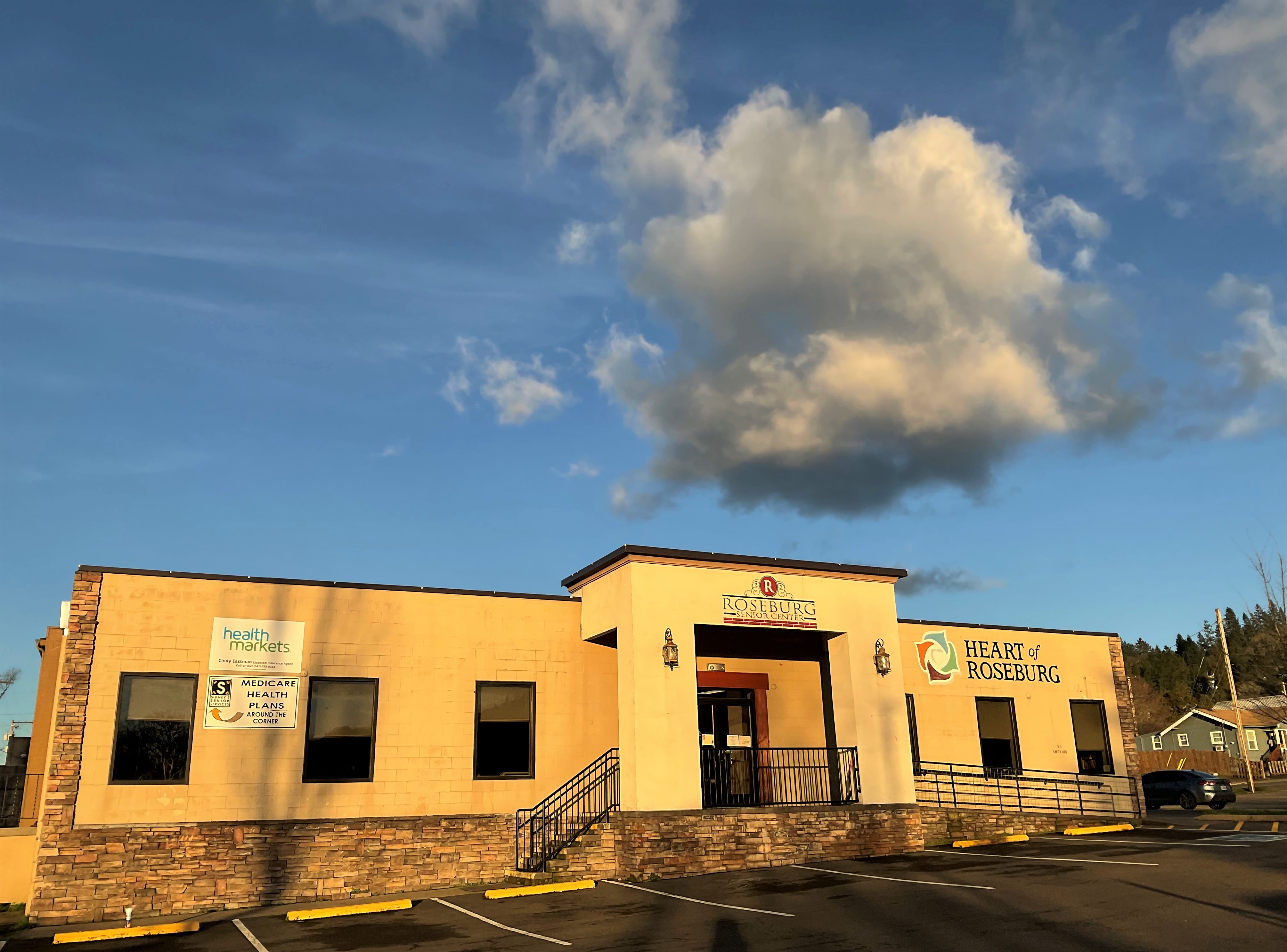 The Roseburg Warming Center is a temporary overnight shelter housed in the Roseburg Senior Center.