Press Releases
Low-impact fitness is back!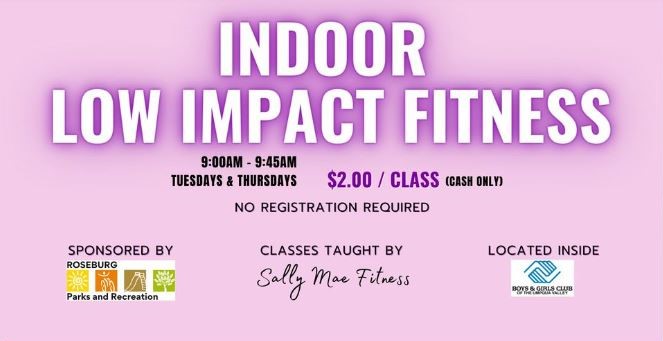 ROSEBURG, Ore. – Affordable, low-impact fitness classes are returning to Roseburg starting next month.
Roseburg Parks and Recreation is partnering with the Boys & Girls Club of the Umpqua Valley to offer adults – especially older residents – a chance to get in shape and stay fit while socializing two mornings a week.
Starting Tuesday, April 4, classes will be taught from 9 to 9:45 a.m. Tuesdays and Thursdays in the gym at the Boys & Girls Club, 1144 NE Cedar St. in Roseburg. Classes will initially be held indoors and move outdoors after Memorial Day on Monday, May 29. The last indoor class will be held Thursday, May 25.
The classes are geared toward older adults, but low-impact fitness will benefit any adults who want to focus on strengthening muscles; improving balance, flexibility and mobility; and performing activities of moderate intensity, such as brisk walking. Personal trainer Sally Mae Willoughby of Sally Mae Fitness will start each class with warm-up stretching, which will be followed by light exercise and walking. All equipment is provided.
"We are super-excited to bring back our very popular Low Impact Fitness class," said Roseburg Parks and Recreation Program Manager Val Ligon. "Come celebrate with us as we welcome Sally, our new instructor, who is sure to bring lots of FUN and energy to the program!"
Classes cost just $2 – cash only, please. No registration is needed, so there are no commitments -- just drop in when you can! Participants are asked to wear comfortable clothes and good walking/running shoes, sneakers or gym shoes. Also, please arrive a few minutes early to sign in and be ready to start at 9 a.m.
Roseburg Parks and Rec began offering low-impact fitness classes in 2010, but the classes were put on hold during the COVID-19 pandemic.
For more information, contact Roseburg Parks and Recreation Coordinator Tracy Moser at tmoser@cityofroseburg.org or 541-492-6899.