Press Releases
May your days be merry, bright & fire safe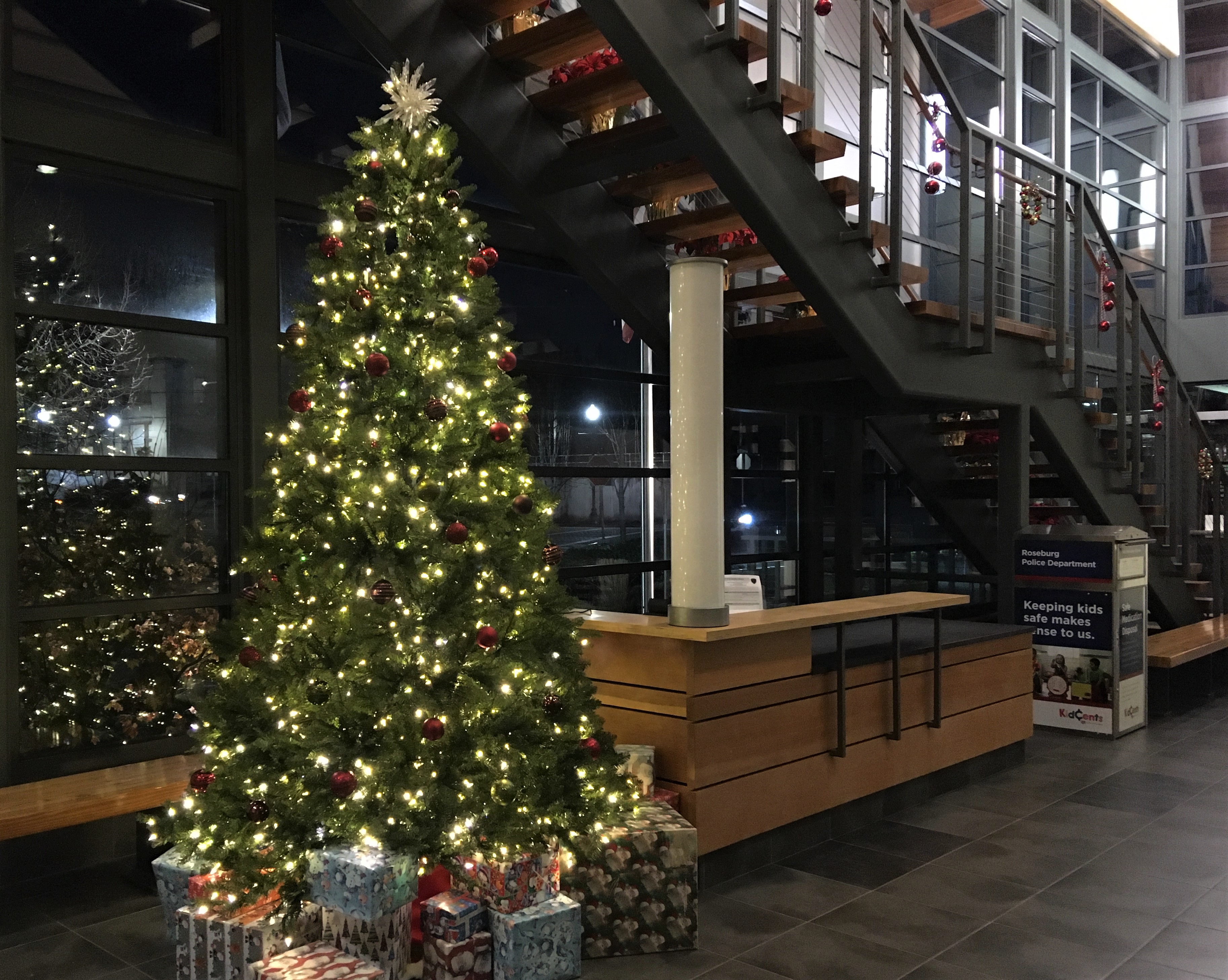 ROSEBURG -- Few things can warm the soul on a dark winter's night like glowing candles and a Christmas tree illuminated with jewels of light. But this holiday season, don't let the most wonderful time of the year turn into a fire disaster.
December may be the merriest month, yet that's also the month when candle use causes the most home fires. Half of all home decoration fires in December are started by candles. Christmas sees more candle fires than any other day -- three times the daily average. Three out of every five candle fires start because a candle is placed too closely to something else that can burn, according to the U.S. Fire administration.
Christmas trees and holiday decorations also are involved in yuletide home fires.
Each year from 2014 through 2018, U.S. fire departments were called out to an estimated average of 770 home structure fires sparked by holiday decorations that led to an average two deaths each year, 30 annual injuries and $11 million in yearly property damage. In those same years, an average of 160 home fires began with Christmas trees – causing an annual average of two deaths, 14 injuries and $10 million in property damage per year, reports the U.S. Fire Administration.
Lighting equipment or electrical distribution was involved in 45% of home Christmas tree fires. Tragically, a father and six of his children aged 4 to 12 were killed in Michigan on Dec. 22, 1990, after new electrical lights ignited a dry tree and fire spread at lightning speed throughout the home. About 22% of holiday tree fires break out because a heating source such as a candle or some type of equipment is too close to the tree.
In December 2017, fire broke out from an oil-burning menorah left unattended overnight during Hanukkah and killed a woman and three of her children at their three-story home in Brooklyn.
The Roseburg Fire Department offers these tips to enjoy your holiday candles and tree safely this year:
Holiday Candle/Menorah Safety
• Place candles in a sturdy candle holder before lighting and at least 12" away from anything that can burn;
• Place non-flammable menorahs on a sturdy, non-flammable surface such as stone, marble, glass or metal, or use aluminum foil to cover a wooden surface;
• Never leave a burning candle or menorah unattended. Blow out candles before leaving the room or going to bed;
• Keep burning candles out of reach of children and pets. Never leave a child alone in a room with a lit candle;
• Adults should watch candles placed on or near tables, altars or shrines. Don't place lit candles in windows where curtains or blinds can catch fire;
• Candles that must burn continuously should be enclosed in a glass container and placed on a metal tray, in a sink or in a deep basin filled with water. Consider using battery-operated flameless candles;
• A parent should decide when a child is mature enough to light a candle under adult supervision;
• Don't pass handheld candles from one person to another. At a candle-lighting service, have each person with an unlit candle take turns dipping their candlewick into a candle flame;
• Young children should never hold lit candles. Battery-operated flameless candles are a suitable alternative;
• Matches and lighters should be stored in a locked cabinet out of reach of children;
• Homes should have working smoke alarms on each level, outside each sleeping area and inside each bedroom;
• Test smoke alarms monthly and replace dead batteries. For the most protection, interconnect smoke alarms;
• Replace smoke alarms when they are 10 years old;
• Plan and practice fire escape drills that include two ways out of every room and an outside meeting place.
Christmas Tree Safety
• When choosing a live tree, choose fresh over cheap and dry, and look for a trunk with sap and flexible green needles that don't break or fall off when touched;
• Before placing the tree in a stand, cut 1" to 2" from the base of the trunk. Ensure the tree is sturdy enough to resist toppling by kids or pets;
• Water a live tree daily to keep it from drying out;
• Buy an artificial tree that's labeled or certified as flame-resistant and don't use electric lights on it;
• Keep a live tree at least 3 feet away from heat sources including fireplaces, radiators, heat vents, space heaters, lights and TVs; and don't block room exits;
• Only use decorations that are flame-retardant or not flammable;
• Use low-energy holiday lights with labels from a recognized testing laboratory, know if they're designed only for indoor or outdoor use, and use clips, not nails, to hang them;
• Check holiday lights each year for frayed wires, bare spots, loose bulb connections, gaps in insulation, broken or cracked sockets, and excessive kinking or wear before putting them up. Discard lights with any problems. Never try to fix them;
• Don't link more than three strands of holiday lights together unless the directions indicate that's safe;
• Connect strings of lights to an extension cord before plugging the cord into the outlet;
• Periodically check holiday light wires – wires should not be warm to the touch;
• Always unplug lights before going to sleep or leaving home;
• Bring outdoor electrical lights inside after the holidays to prevent hazards and make them last longer.
After Christmas, recycle or dispose of the tree. Dried-out trees are a fire hazard and should not be left in the home or garage, or placed just outside the home.
For $15, Roseburg Disposal will pick up customers' bare Christmas trees left by the curb with a trash can. Trees must be cut in half if more than 4 feet tall, said Roseburg Disposal Office Manager Jamie Stewart.
Roseburg Disposal is setting up 10 large recycling bins where residents can drop off whole trees for free Monday, Dec. 27, through Monday, Jan. 10:
Legion Field in Stewart Park, Roseburg
Kline Street, at Hucrest School, Roseburg
Corner of Calkins Road and Jefferson Street, Roseburg
Totem Market, 5581 N.E. Stephens St., Winchester
Sherm's Thunderbird Market, 2553 N.W. Stewart Parkway, Roseburg
Kowloon Restaurant, 2686 N.E. Diamond Lake Blvd., Roseburg
Former Umpqua Auction, 1028 N.E. Stephens St., Roseburg
Old Safeway site, 480 S.E. Rose St., Roseburg
Redeemer's Fellowship/Old Harvard Avenue Cinema parking lot, 3031 W. Harvard Ave., Roseburg
Gaddis Park, Roseburg
For more information about Christmas tree and holiday candle fire safety, contact Roseburg Fire Department at fireprevention@cityofroseburg.org.