Press Releases
New Movies in the Park lineup announced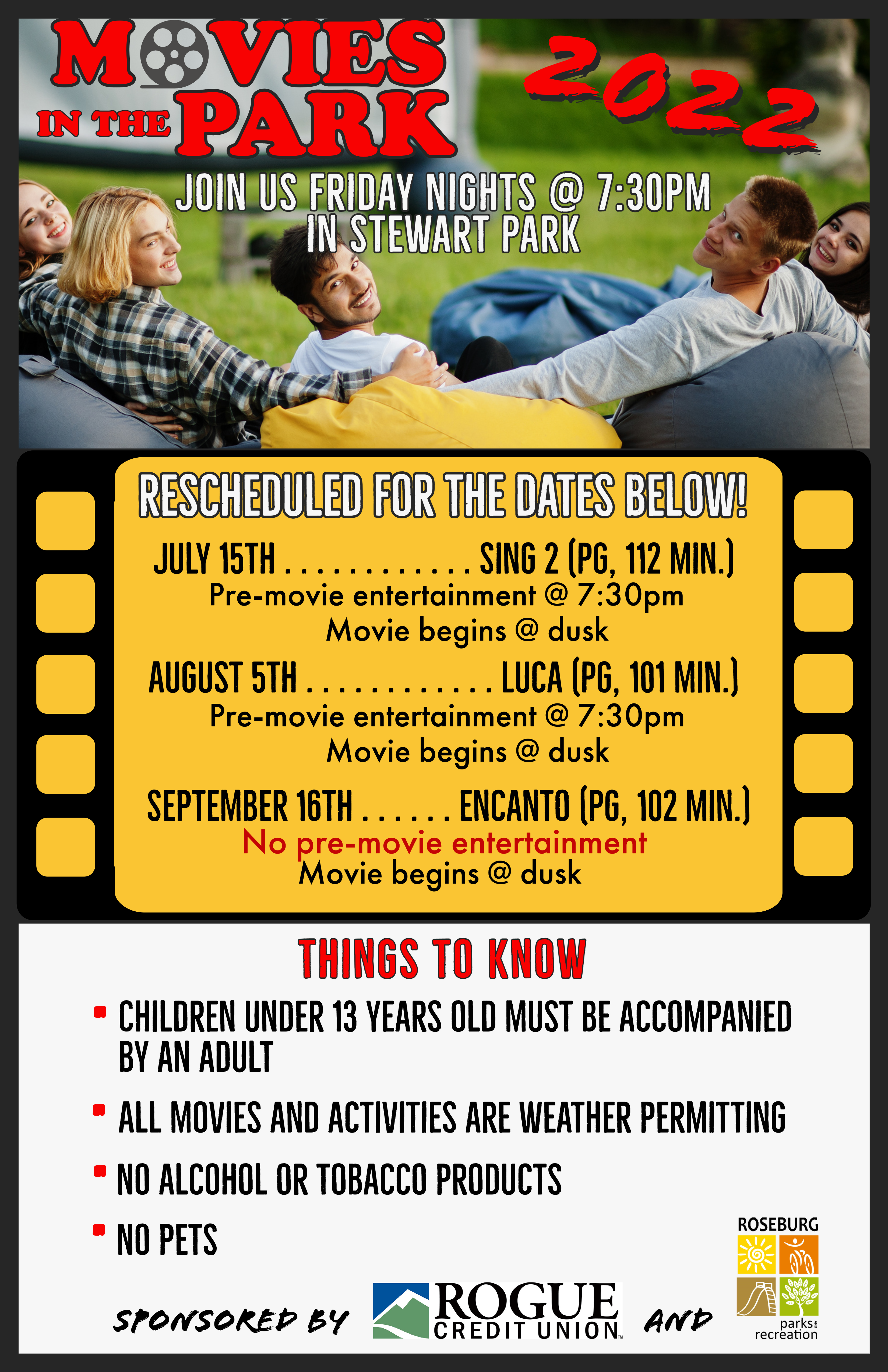 ROSEBURG, Ore. – The Roseburg Parks and Recreation Department on Wednesday, July 6, announced new show times for three of this summer's Movies in the Park, which were rained out in June.
The free movies, which are hosted by Roseburg Parks and Recreation and sponsored by Rogue Credit Union, have been rescheduled as follows:
Friday, July 15: Sing 2
Friday, Aug. 5: Luca
Friday, Sept. 16: Encanto
These are all PG-rated animated films that can be enjoyed by the whole family in Stewart Park near the Half Shell stage. Pre-show entertainment will begin at about 7:30 p.m. on July 15, when Wildlife Safari offers an animal meet-and-greet, and on Aug. 5. Movies begin at dusk. On Friday, Sept. 16, the movie will begin about 7:30 p.m. and no pre-show entertainment will be offered.
All movies and entertainment will be held if the weather cooperates and are subject to change. This annual series is held at the Stewart Park Half Shell every Friday evening in June, but an unusually wet June this year led to three movies being cancelled.
"We were extremely disappointed the weather did not cooperate for us this June," said Roseburg Parks and Recreation Coordinator Tracy Moser. "However, we are excited to be able to spread these movies out over the entire summer."
Popcorn and snacks will be available to purchase before the movie starts, or guests can bring their own food and drinks. No alcohol or tobacco is allowed in the park. Please leave pets at home. Children under 13 must be accompanied by an adult.
Bring a blanket and your friends and family, and come have some fun at Movies in the Park.
For more information and details about the pre-movie entertainment call 541-492-6730 or visit the Roseburg Parks and Recreation Facebook page or www.cityofroseburg.org/parks-and-recreation.