Press Releases
Police K9s Unleashed event Sunday, May 22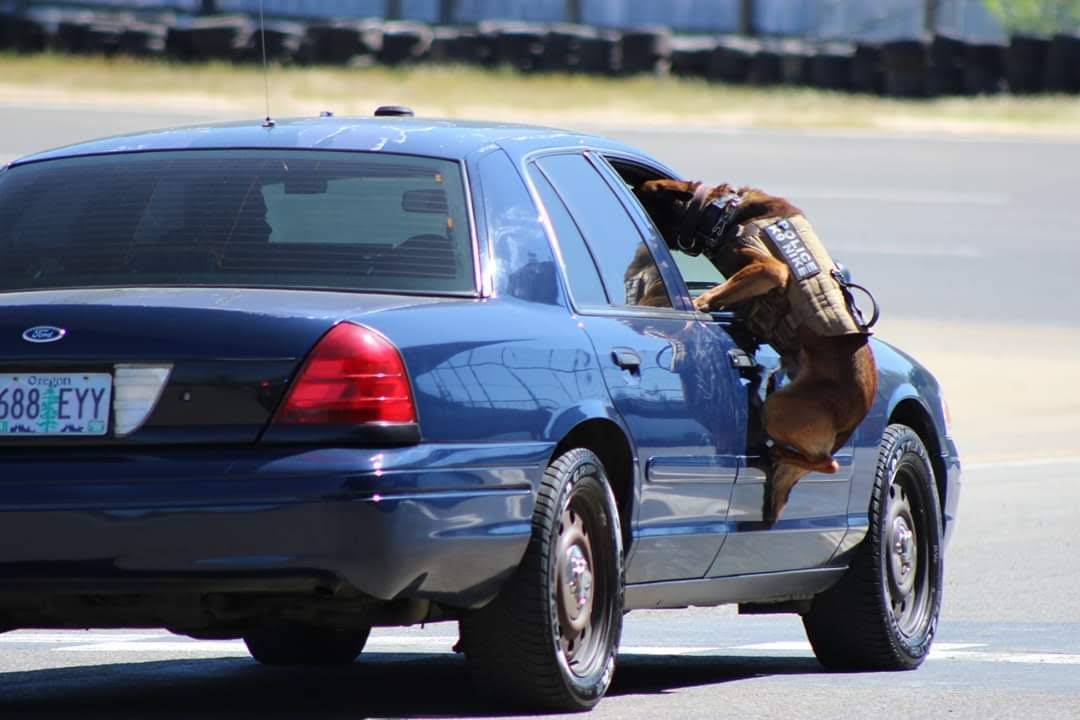 ROSEBURG, Ore. – Police K9s will be "unleashed" Sunday, May 22, at the Douglas County Fairgrounds in Roseburg to show the skills and athleticism they use daily to help law enforcement partners keep their communities safe.
At least seven Police K9 teams from Roseburg Police Department and four other local law enforcement agencies will take part in free live demonstrations being held for the first time in three years after COVID-19 restrictions were lifted.
The nonprofit Friends of Umpqua Valley Police K9 Programs will host its seventh "Police K9s Unleashed" event at the fairgrounds' Douglas County Speedway, 2110 Frear St. in Roseburg, from 3 p.m. to about 4 p.m. Sunday. Parking is free.
Teams consisting of one police officer and one canine will come from Roseburg, the Douglas County Sheriff's Office, Winston, Reedsport and Springfield. The dogs are highly trained canine law enforcement partners who live, train and work with their police officer handlers.
"They're a furry police officer," said Koree Tate, the nonprofit's vice-chair.
The event will be held on the county racetrack to allow the use of moving vehicles and other scenarios with dogs in pursuit. The event features multi-agency teams on the track and inner field demonstrating searches, captures, vehicle pursuit and other live-action skills. Police officers protected by bite suits pose as suspects who attempt to flee the scene or even attack a police officer. Demos will show what happens when an officer partner "unleashes" a K9 to pursue a suspect or stop an attack. Dogs may leap into a suspect's car window in their best effort to do their duty.
Large crowds of at least 750 to 1,000 people usually attend the K9 demos in Roseburg. A video of retired Roseburg K9 Axel demonstrating his ability to stop a would-be attacker at the last "Police K9s Unleashed" event in April 2019 got nearly 7 million views on TikTok, a video-sharing app.
Most of the dogs on the teams are German shepherds or Belgian Malinois – such as crowd favorite Nike, a popular and athletic Belgian Malinois returning to Roseburg with its new Winston police partner. Nike recently transferred from Roseburg after his partner here left law enforcement.
Roseburg's K9 taking part in the event is Trapper, a springer spaniel who works on the Douglas Interagency Narcotics Team and whose help in drug busts is well-known in law enforcement circles. Reedsport Police Department is sending Penny, a dog dual-trained for patrol and narcotics detection. Other dogs expected at the event include Zoro, Ozzy and Eros with the sheriff's department; and a Springfield dog.
The event also will be used to remember the service and sacrifice of Douglas County Sheriff K9 Grim, who died of cancer on September 17, 2021, after more than eight years on the force. Grim won the first place "Top Dog" award in the 2016 and 2017 Springfield Police K9 Competition. Working with handlers Jon Dorland and Oscar Rosas, Grim made 111 finds and captures and 114 assists with arrests and other incidents during his law enforcement service.
The event will be held rain or shine, with most seating under cover. The Tom Reitz food truck will be onsite with food and drink options to purchase while enjoying the show.
T-shirts will be on sale at the event to commemorate the 10th anniversary of the nonprofit Friends of Umpqua Valley Police K9 Programs. The silver/gray T-shirts feature all current local K9s from Roseburg Police, Douglas County Sheriff, Winston Police and Reedsport Police. Other items available for sale include K9 plushie stuffed dogs and stadium blankets.
The event is free. However, the nonprofit accepts donations for training, medical kits, leashes, harnesses, bite suits and other needs. For more information, check out www.uvk9.org or the Friends of Umpqua Valley Police K9 Programs Facebook page, or call 541-492-6838.