Press Releases
Proposed City budget to be considered May 9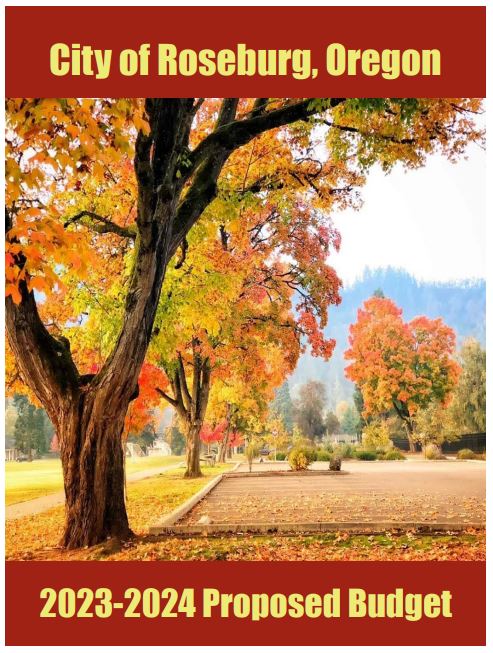 ROSEBURG, Ore. – The public can provide input and learn about the City's proposed new annual operating budget when the Roseburg Budget Committee meets next week.
The 16-person committee -- comprised of eight City Councilors and eight Roseburg residents -- is set to meet at 6 p.m. Tuesday, May 9, at Roseburg City Hall, 900 SE Douglas Ave. The Budget Committee will discuss the proposed budget and may also meet at 7 p.m. Wednesday, May 10, and possibly Thursday, May 11, as needed until the budget is approved.
Residents can watch the meeting in person or via Facebook Live. The public can provide comments in person or via Zoom or email on agenda items such as the proposed $104,307,207 budget for fiscal year 2023/2024 or during a public hearing on possible uses of about $305,000 in state Local Government Shared Revenue funds.
During the meeting, City officials such as City Manager Nikki Messenger, Finance Director Ron Harker and other department heads will give a PowerPoint presentation overview of the proposed budget and answer questions.
The meeting agenda can be found on the Budget Committee's webpage here. The public also can see the FY 2023/2024 Budget document and the PowerPoint presentation online. In addition, the public can inspect or get a copy of the budget document at City Hall on weekdays from 8 a.m. to 12 p.m. or 1 to 5 p.m.
The Roseburg Urban Renewal Agency Budget Committee – comprised of the same 16 members – will meet directly after the City budget is approved. That meeting also will be open to the public and livestreamed via Facebook.
The public can provide comments:
• In person at the meeting by signing the audience participation sign-in sheet before 6 p.m. Tuesday, May 9;
• By emailing comments to info@cityofroseburg.org by 12 p.m. the day of the meeting;
• Virtually during the meeting after contacting City Recorder Patty Hitt at info@cityofroseburg.org or 541-492-6866 by 12 p.m. the day of the meeting. You will then be provided a Zoom link. Once on Zoom, click "join webinar." Virtual attendees will be held in a waiting room until called on to speak.
To make comments virtually or by email, each person must provide their name, address, phone number and the agenda item on which they'd like to speak. People who want to comment on a topic that's not on the meeting agenda can do so during the "Audience Participation" agenda item. Each speaker is limited to six minutes of public testimony.
For more info, contact City Administration at info@cityofroseburg.org or 541-492-6866.