Press Releases
Roseburg Fire Chief Monte Bryan retires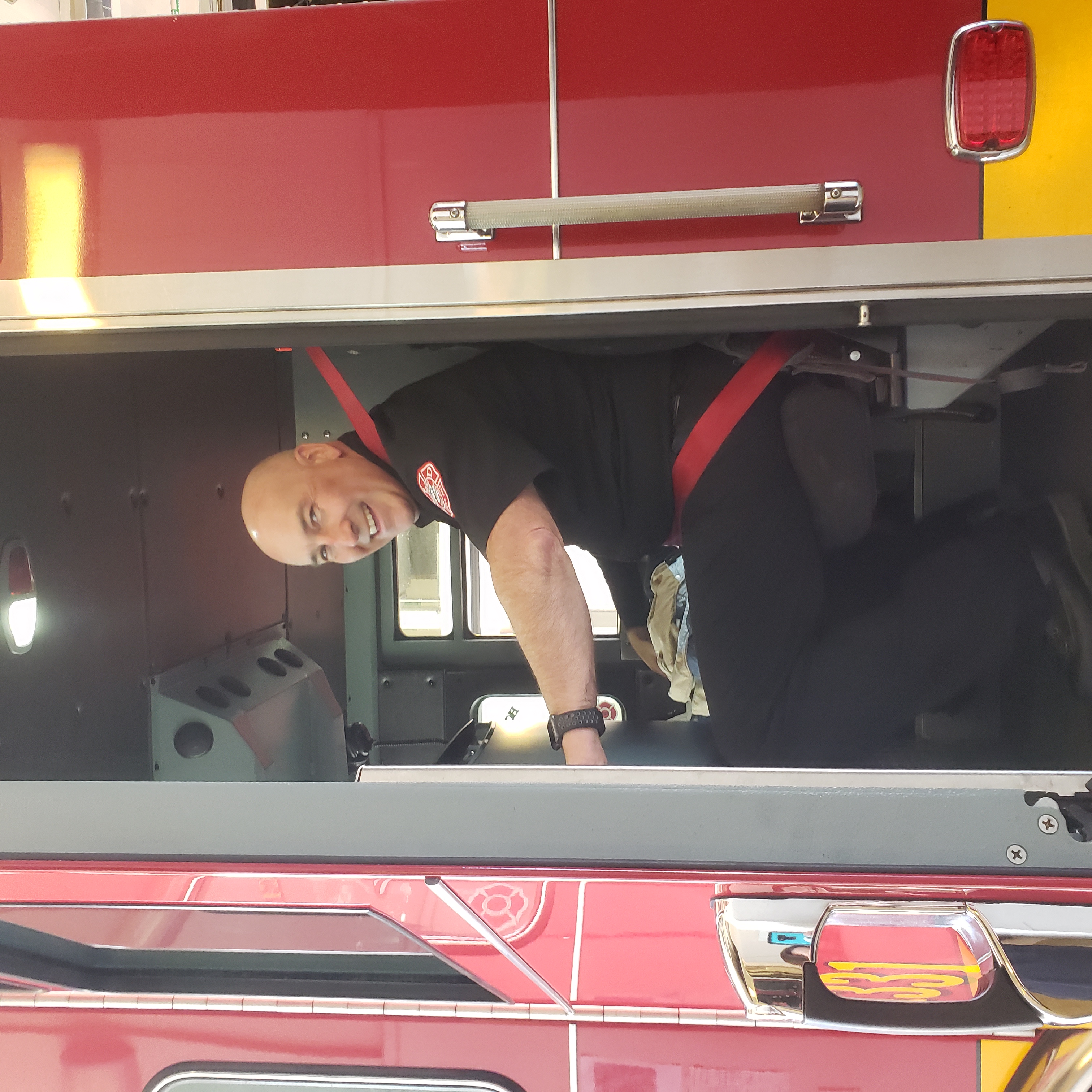 ROSEBURG, Ore. – Roseburg Fire Chief Monte Bryan retired from the City Thursday, June 30, after more than 27 years of service that encompassed both of the City's public safety departments.
Bryan said serving as the fire chief since April 1, 2021, has been a great learning experience, so retiring now after nearly three decades with the City is bittersweet.
"I love working for the City," he said in an interview Wednesday, June 29. "I've been very fortunate."
In fact, for years, Bryan carried in his pocket a fortune cookie message that he got one day.
"It said, 'Serious trouble will bypass you.' That's been the story of my career," he said. "I've been fortunate -- just was able to do the jobs that I wanted to. And this afforded me the opportunities to do those."
Bryan previously served as the Roseburg Fire Marshal after originally joining the Roseburg Police Department in 1995.
City Manager Nikki Messenger, Mayor Larry Rich and other City Council members publicly thanked Bryan for his service at the Council meeting Monday, June 27.
"He's been an excellent employee. He's an even better person that everybody has enjoyed spending time with, being around. And he's a great teammate," Messenger told the Council. "We're really going to miss him."
Bryan grew up in Eastern Oregon in tiny Halfway and got a bachelor's degree in sociology from Eastern Oregon State College – now Eastern Oregon University – in La Grande. Although he originally set his sights on a career with the FBI, once he joined the Roseburg Police Department and began a career in municipal law enforcement, he never looked back.
"I liked it. I didn't want to leave," said Bryan, who's spent more than half his life working for the City of Roseburg.
After joining RPD as an entry-level patrol officer, Bryan later worked as a school resource officer, tactical team officer, sniper and police corporal. He joined the Roseburg Fire Department in 2007 as the deputy fire marshal – a job that was the law enforcement arm of the fire department but allowed him to be home more when he and his wife had three young children.
"It was a change that I thought would be good for my family," he said.
Serving as the fire department's public information officer and emergency management coordinator, he worked as the deputy fire marshal until being promoted to Fire Marshal in June 2015. During that time, Bryan served on a public information officer team responding to the Umpqua Community College shooting on Oct. 1, 2015, and worked with journalists from all over the country who came to Roseburg or called or emailed seeking information. A joint information center was set up at the Roseburg Public Safety Center. The night after the shooting, Bryan directed so much traffic from arriving responders and journalists that he slept only 30 minutes.
"It was pretty crazy," he said. "It was a sea of reporters."
Bryan has also taught fire science instruction at UCC since March 2014. He stepped up to become fire chief in April 2021 after then-Chief Gary Garrisi retired. Bryan then worked as both Roseburg Fire Marshal and Fire Chief for three months until he hired Brian Jewell as the City's new Fire Marshal and swore Jewell in on July 1, 2021.
Leading the Fire Department during the COVID-19 pandemic has been "challenging but extremely rewarding," he said.
"What's been nice about it is I have had an opportunity to exercise the leadership skills I learned as a police corporal and in my time with other groups. It's been nice to finish my career in that role again," Bryan added.
The most enjoyable part of his service with the City has been the people he's been able to work with – both at the City and in the community, he said. Bryan said he enjoyed working with folks at both the Police and Fire departments and that he was able to forge great relationships at the school district, the local and statewide emergency management community, local businesses and many other community partners.
At Bryan's retirement party at the Public Safety Center Thursday, Assistant Fire Chief Tyler Christopherson said some of Bryan's top attributes are that he genuinely cares about people and drives people to be their best. Christopherson gave Bryan a wooden flag containing Bryan's RPD and RFD badge numbers.
Fire Department Staff Assistant Amy Rice remembered Bryan as a leader, teacher, mentor and coach to many. Messenger thanked Bryan's family, who attended the party, for sharing him with the city and presented him with a pocket watch engraved with the words, "City of Roseburg 1995 – 2022."
Bryan will now pursue his passion for emergency management and serve as the emergency management director for the Cow Creek Band of Umpqua Tribe of Indians, a sovereign nation and tribal government based in Roseburg. Bryan said he's looking forward to not having to wear a uniform every day.
Growing up in rural Eastern Oregon, Bryan learned early on the importance of being prepared and self-reliant – and he's excited to turn his career focus to emergency management now. He feels as if he's been preparing for this new job for his entire career and shared that it took an opportunity like this with the Cow Creek Band to get him to leave the City.
"It's always been important to me to look at public safety as just that: public safety. Law enforcement and fire service are two aspects of that, and have cultural differences, but our mission is the same," he said. "One of the coolest things about emergency management is it bridges the gap between those two disciplines."
Retired Roseburg Fire Chief Gary Garrisi will fill in as interim Fire Chief starting Friday, July 1. The City will begin a formal recruitment process to find a new fire chief later this summer, Messenger said.
At right, Roseburg Police Tactical Officer Monte Bryan. Deputy Fire Marshal Monte Bryan investigates at 1509 SE Marsters Ave.
Fire Chief Monte Bryan Bryan speaks at Station 2 push-in ceremony on Jan. 6, 2022.