Press Releases
Roseburg offers new business development lands map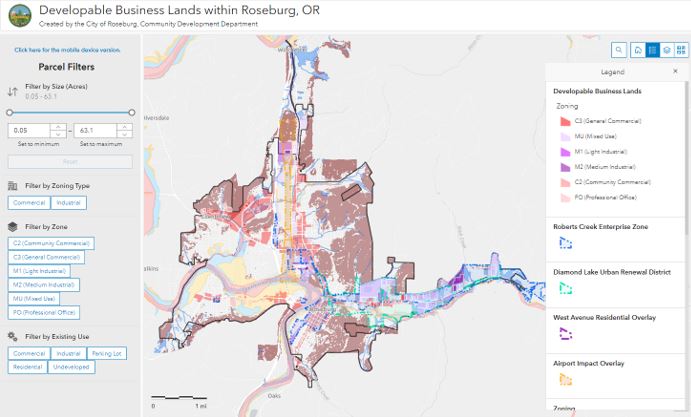 ROSEBURG, Ore. – Looking for the right piece of land where you can build your dream business in Roseburg?
You might want to check out a new map created just for you.
The Roseburg Community Development Department now offers an online interactive map that shows commercial and industrial parcels available for development within the city.
The Developable Business Lands Map can be used to find vacant or partially undeveloped parcels or those with redevelopment potential that are already zoned for business use – designated as commercial, industrial or mixed-use. The map, which can be found on the City website's "Economic Development" webpage, also provides users with additional information about each site.
The map targets parcels that are vacant or could be redeveloped.
Real estate developers, business owners and entrepreneurs may find this tool useful to identify options for locating a business within Roseburg.
The map allows users to filter out parcels based on size (acreage), zoning and existing use. Users can then browse a list of narrowed-down locations to find parcels that best match what they are looking for. Users may also search by address if they already have a specific site in mind.
The tool brings together information on infrastructure, economic incentives, limitations and more for the first time. Previously, members of the public only had access to the City Zoning map on the City website. With the new map, users can see City zoning, special regulatory districts and the locations of challenges that could limit construction such as the floodplain, wetlands and steep slopes. Those features can be turned on or off easily on the interactive map.
Users can also pan and click through the map to view satellite imagery and on-the-ground photos, or open pop-up boxes with site-specific information. In addition, the map provides links to Google Maps Street View and the Douglas County Assessor's Office, which can give more insight into a parcel's physical conditions and property tax information.
"We wanted to make something that takes public information from local, county and state agencies and puts it in one place," said Kate Bentz, the City's RARE AmeriCorps service member who has worked as a long-range planning assistant in the Roseburg Community Development Department since September.
The original data for the map came from a Vacant Commercial & Industrial Lands Inventory conducted by the City in 2017.
Bentz, who previously reworked the City's Floodplain Information webpage into an interactive map, updated the City's existing commercial and industrial lands inventory by cross-checking each site one by one. She removed outdated information, pulled in new data sources and designed the map using cloud-based geographic information system mapping software from Esri called ArcGIS Online.
However, users should note the disclaimer that explains the map is not a land survey and advises users verify all information contained in the map before making decisions. The disclaimer also states that a site's inclusion doesn't guarantee the land is available to buy or lease. The map may not be suitable for legal, engineering or surveying purposes.
The Developable Business Lands Map has a detailed display that includes additional controls for map filters. Yet the map remains accessible and available in two formats that are optimized for desktop computers and mobile devices. The map also includes a full tutorial to walk new users through all the features.
"We hope that members of the public find this tool to be helpful in exploring Roseburg and gaining a better understanding of what to expect when they find a commercial or industrial property that they want to develop," said Bentz. "Our goal is to give people the info that they might need before calling us and applying for permits."
For more information, contact the Roseburg Community Development Department at cdd@cityofroseburg.org, kbentz@cityofroseburg.org or 541-492-6750.