Press Releases
Police Chief Gary Klopfenstein awards Medal of Honor to Sgt. Douglas Walton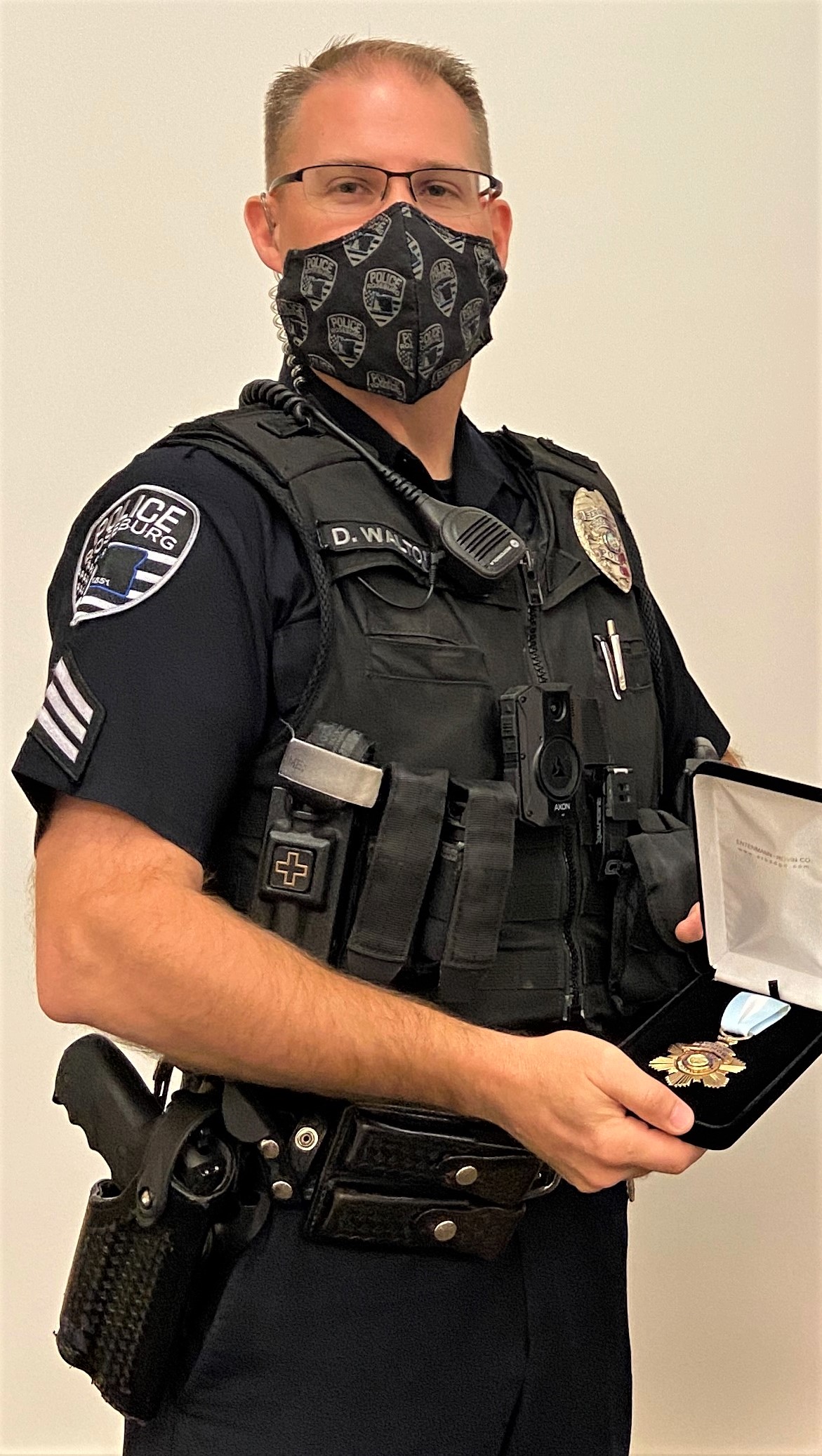 Roseburg Sgt. Doug Walton
ROSEBURG, OR – On February 22, 2021, at 2:56 pm, Roseburg Police officers responded to a report of a shooting at the Budget 16 Motel at 1067 N.E. Stephens St. in Roseburg.
Off-duty Roseburg Patrol Sgt. Doug Walton was across the street at OK's Auto Supply gas station getting fuel for his personal vehicle. Upon witnessing the shooting, Sgt. Walton immediately called to report the incident. Sgt. Walton remained on the phone and provided updated information that was shared with responding law enforcement.
The investigation later revealed Spring Mack and Jessica Ashley both sustained serious gunshot injuries. Michael Benson was pronounced deceased at the scene and it was determined he succumbed to a gunshot wound.
Sgt. Walton observed Devin McNamara fleeing the motel parking lot and armed with a handgun seemingly out of ammunition. Sgt. Walton saw McNamara flee to a nearby residence and then return, armed with two rifles that he pointed at passing motor vehicles. McNamara then entered Sgt. Walton's pickup and another vehicle at the gas station. Sgt. Walton continued to provide Douglas County Emergency Communications with updated information.
After the failed vehicle thefts, McNamara was no longer in possession of the rifles. McNamara made his way to the fuel pumps where he grabbed a pump nozzle and began to release gasoline. Fortunately, an employee at OK's Auto Supply, Tony MacDonald, recognized what McNamara was doing and shut off the emergency fuel switch.
When the opportunity presented itself, Sgt. Walton tackled McNamara to the ground and kept him physically restrained until patrol officers arrived and took him into custody.
Throughout this chaotic event, Sgt. Walton exercised excellent judgment and decision-making. Sgt. Walton was the first to report the incident to on-duty police, and he did so while communicating to those around him what was happening and helping them remain safe. He followed department procedure and remained a "professional witness" until he recognized an opportunity to bravely detain McNamara.
"Sgt. Walton's actions during this incident were heroic, and very likely saved lives. His selfless actions showed outstanding and exemplary courage to uphold the very oath he swore upon: to protect and serve others," said Roseburg Police Chief Gary Klopfenstein.
Chief Klopfenstein additionally met with Tony MacDonald and presented him with a letter of gratitude and a department "challenge coin" for his actions.