Press Releases
Ward 2 councilor sworn in Wednesday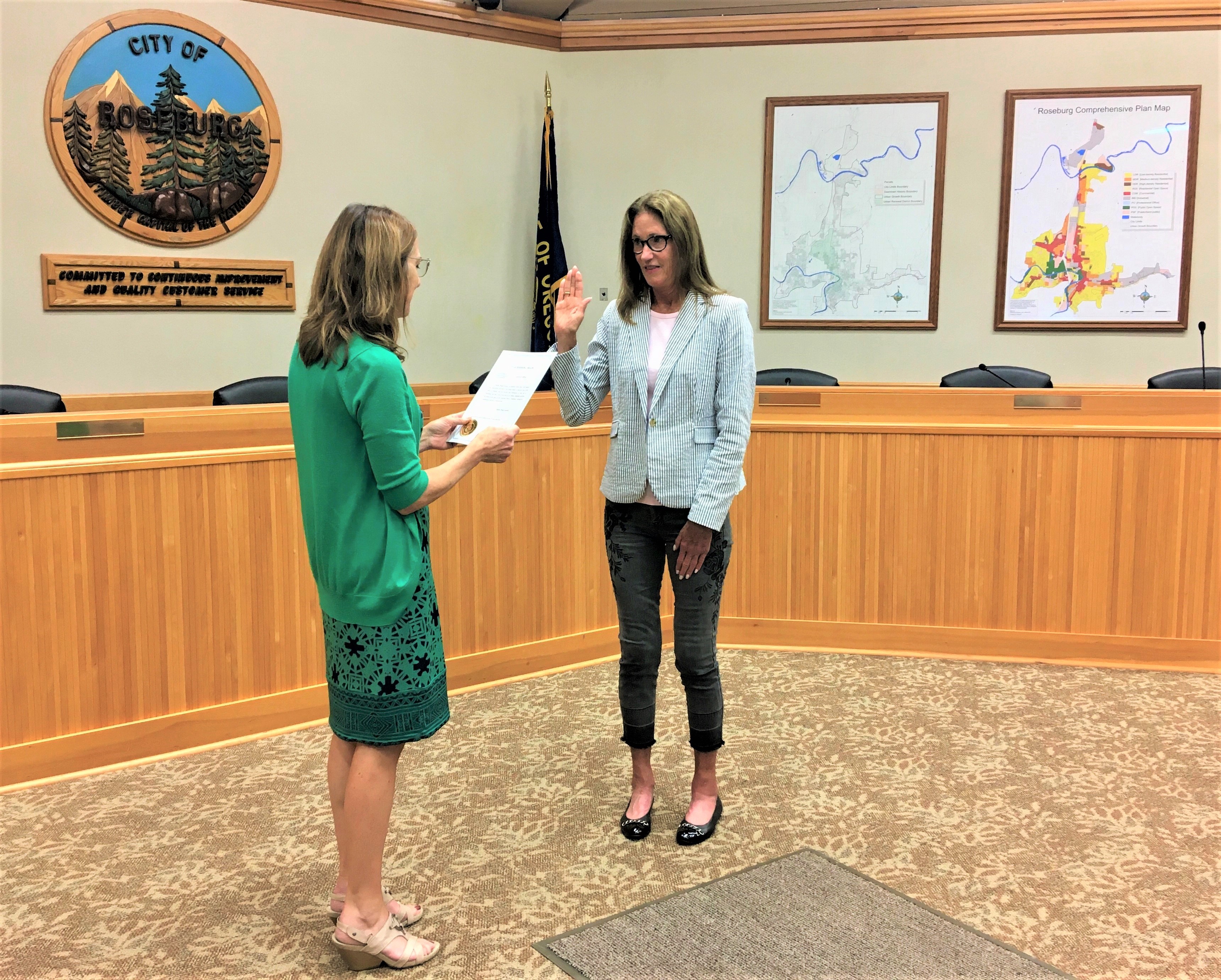 ROSEBURG, OR – Roseburg City Council's newest councilor, Shelley Briggs Loosley, took the oath of office Wednesday, June 23.
City Recorder Amy Sowa administered the oath of office to Briggs Loosley in a swearing-in ceremony held at Roseburg City Council Chambers at 11 a.m. Wednesday. Briggs Loosley joins Councilor Andrea Zielinski in representing Ward 2, as each city ward is represented by two council members.
"I'm excited to use all my skills from the last 40 years in Roseburg," Briggs Loosley said shortly after the ceremony.
On June 14, the City Council appointed Briggs Loosley to replace Councilor Sheila Cox, who resigned in early May for family reasons.
A member of the Roseburg Homeless Commission, Briggs Loosley is board chair for the YMCA, board president for the Family Development Center in Roseburg and a board member for the Boys & Girls Clubs of the Umpqua Valley. She previously directed the Roseburg Visitors and Convention Bureau, and formerly served on the boards of Adapt, Peace at Home Advocacy Center and Mercy Foundation.
In her application, Briggs Loosley said she's eager to work on any project to make Roseburg an even better place to live.
"The council provides an opportunity to have broad influence over the future of our community," she said in her application. "I want to leverage my extensive connections and experience to enhance the livability of our community for everyone."
Briggs Loosley will serve for the rest of Cox's term, which runs through Dec. 31, 2022.
Roseburg City Council meetings are held at 7 p.m. on second and fourth Mondays of each month. Meetings are currently held via Zoom and livestreamed via Facebook.
For more information, check out the City website: https://www.cityofroseburg.org/your-government/mayor-council.