Press Releases
Winchester Street lane closure, detour in July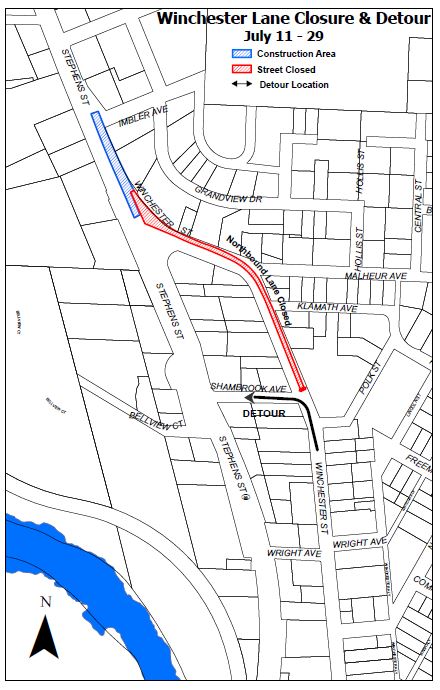 ROSEBURG, Ore. – Drivers may want to find alternate routes this month starting Monday, July 11, to avoid possible traffic congestion when the northbound lane of Northeast Winchester Street is closed so traffic can detour safely to Stephens Street during sidewalk ramp construction.
The Roseburg Public Works Department appreciates motorists' understanding and patience throughout the closure and detour, which is part of a larger construction project to update all sidewalk ramps on about a mile-long stretch of NE Stephens Street to comply with current standards in the Americans with Disabilities Act (ADA).
From Monday, July 11, through Friday, July 29, the northbound lane of Northeast Winchester Street will be closed at Shambrook Avenue. There, northbound traffic will detour onto Shambrook and then over to northbound Stephens Street. At that point, the far right lane of northbound Stephens Street will be reserved to accommodate only detoured traffic and closed altogether at Winchester Street, which will narrow northbound Stephens Street to only one lane there.
An around-the-clock closure and detour are needed to help traffic safely reroute around the Stephens Street lane closure so two sidewalk ramps can be reconstructed at Imbler Avenue and Stephens Street. Northbound traffic on Winchester Street normally merges onto Stephens Street, aka Oregon Route 99/Oakland-Shady Highway, but the Imbler Avenue ramp construction closures would not allow enough roadway for drivers to safely merge, according to the Public Works Department.
Public Works crews have already set out message boards and other signage to alert drivers to the street and lane closures and detour.
Drivers should expect lane closures and brief delays throughout NE Stephens Street this summer during sidewalk ramp construction. Contractors will reconstruct and update 27 existing ADA ramps on NE Stephens Street between NE Wright Avenue and NE Oakland Avenue. The project is expected to cost $337,092 and be completed in September. Project funding will come from the city's Transportation and Sidewalk Improvement Funds.
The work will be performed on weekdays starting as early as 5 a.m. and wrapping up by 5 p.m. Throughout the project, there will be lane closures in the right-hand lane for both northbound and southbound traffic. In September, roughly the same section of roadway will be resurfaced at night.
The City asks motorists to use caution when traveling through the work zone. For project updates, please follow the city's social media channels on Facebook and Nextdoor, and visit the city's website, www.CityofRoseburg.org. For more information, please contact the Public Works Department at 541-492-6730 or pwd@cityofroseburg.org.