Alerts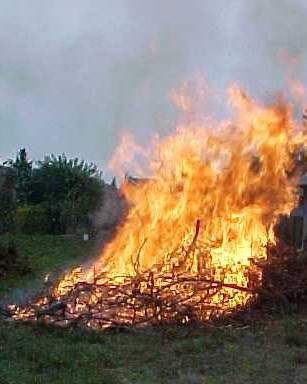 Burn Permits -- Spring 2023 - 03-24-23 (Photo)
2023-03-24 11:37:34
The City of Roseburg Fire Department will begin issuing residential burn permits, beginning on April 15, 2023 and ending on May 15, 2023.
These permits are issued for seven (7) days at a cost of $75.00. Residential yard waste is the only material that may be burned. Prohibited items include standing berry vines, paper, wood, plastics, tires, standing grass, weeds, construction material, and material from lot clearing. Burning may not be done on vacant lots or the property of another. Fires must be monitored by a competent adult and extinguished prior to darkness. Tools to control or extinguish the fire must be on-site whenever there is material burning.
Burn barrels are never allowed inside City limits, and anyone burning trash or burning without a permit may be subject to a fine and/or legal action. Additionally, due diligence must be exercised while burning, even with a permit, as fire can quickly get out of control, and the person responsible for the fire may be subject to fines, legal action, or restitution.
If possible, residents are urged to utilize alternatives to burning, such as composting, chipping, mulching, or transporting the debris to the Douglas County Landfill. More information on these options can be found at https://douglascounty-oregon.us/449/Wood-Yard-Waste
To request a burning permit in the City of Roseburg, call (541) 492-6770 between the hours of 8 a.m. and 5 p.m., Monday through Friday. This information, as well as the burn permit request form is also available on the city website at https://www.cityofroseburg.org/departments/fire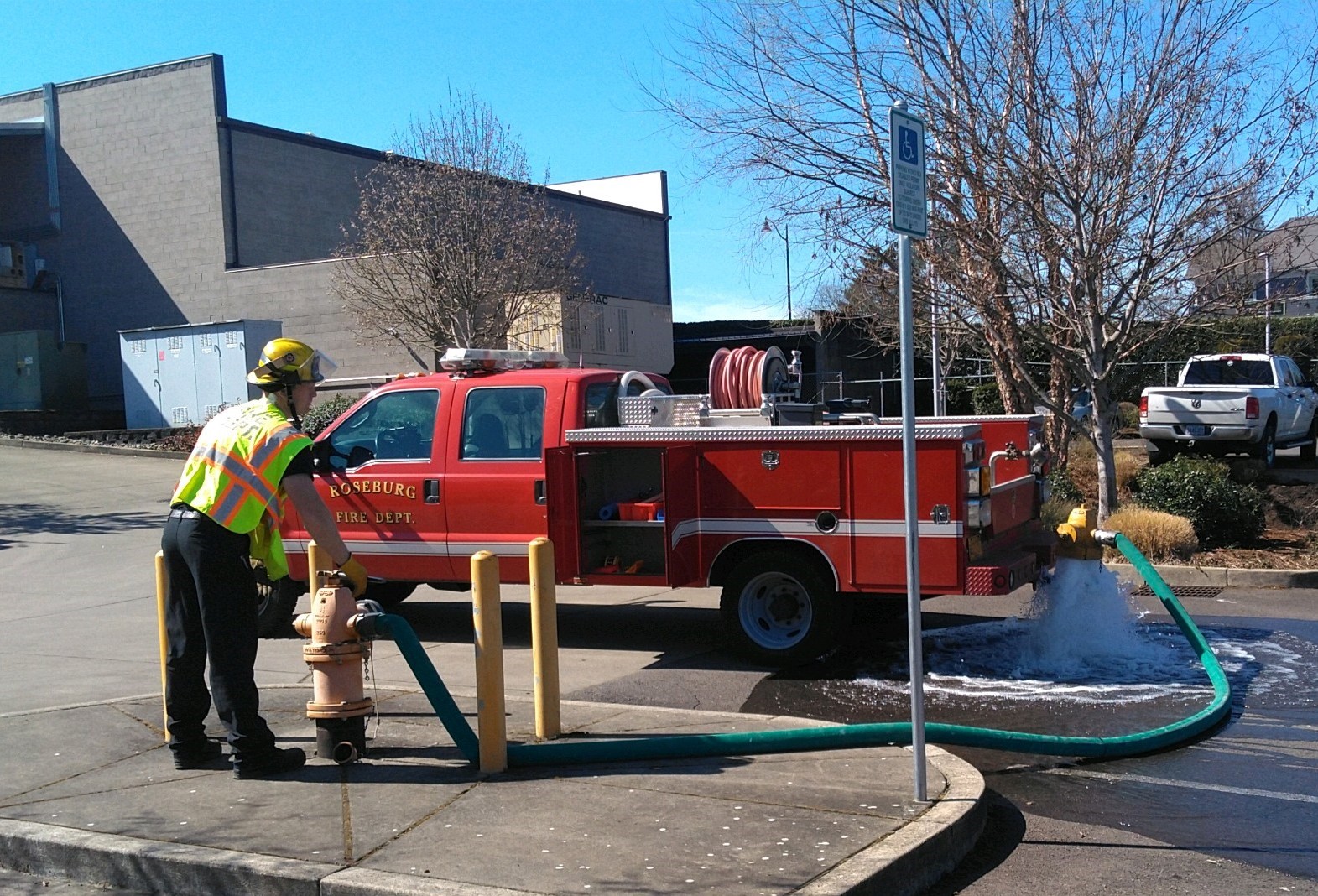 Annual Hydrant Flushing - April 1 to June 30, 2023 (Photo)
2023-03-22 11:35:01
The Roseburg Fire Department will be flushing fire hydrants from April 1, 2023 through June 30, 2023. Hydrant flushing will be conducted from 8:00 am to 5:00 pm, seven days a week.
The Fire Department realizes that hydrant flushing may cause some inconvenience, however, the flushing program is necessary to ensure the proper functioning and delivery of adequate water from the water mains when needed for fire control. The community's cooperation with this hydrant-flushing program is appreciated.
During the flushing process, customers may experience low water pressure or discolored water. While the water is safe to drink, customers may prefer to wait until it runs clear before drinking or washing clothes and dishes.
Update - Residential Structure Fire - 1576 SE Overlook Avenue - 3-15-23
2023-03-15 17:07:16
UPDATE – Firefighters have completed the search at 1576 SE Overlook Avenue. It was determined that the homeowner was not home at the time of the fire.
_____________________________________________________________________________________
At 3:00 a.m. on March 15, 2023, Roseburg Fire Department personnel responded to a reported residential structure fire at 1576 SE Overlook Avenue. Multiple callers notified Douglas County Dispatch of smoke and flames visible in the area of Fisher and Overlook Avenue.
A reporting party notified dispatch they were unaware if any residents were inside the residential structure. Occupancy of the structure is unknown at this time and under investigation.
Upon arrival on scene, firefighters found heavy smoke and fire coming from the west side of the residential structure. Firefighters made an exterior attack only due to scene conditions. The structure sustained significant structural and water damage.
A total of 17 firefighters assisted with firefighting operations. Other agencies assisting with the fire included Douglas County Fire District #2, Umpqua Valley Ambulance, Roseburg Police Department, Pacific Power, and Avista Utilities. A fire investigator was on scene and the fire remains under investigation.