Alerts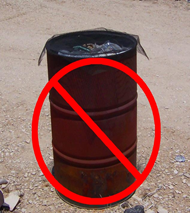 Residential Burn Permits - Fall 2023 - 9-21-23 (Photo)
2023-09-21 11:10:15
The City of Roseburg Fire Department will begin issuing residential burn permits, beginning on October 1, 2023 and ending on October 31, 2023.
These permits are issued for seven (7) days at a cost of $75.00. Residential yard waste is the only material that may be burned. Prohibited items include standing berry vines, paper, wood, plastics, tires, standing grass, weeds, construction material, and material from lot clearing. Burning may not be done on vacant lots or the property of another. Fires must be monitored by a competent adult and extinguished prior to darkness. Tools to control or extinguish the fire must be on-site whenever there is material burning.
Burn barrels are never allowed inside City limits, and anyone burning trash or burning without a permit may be subject to a fine and/or legal action. Additionally, due diligence must be exercised while burning, even with a permit, as fire can quickly get out of control, and the person responsible for the fire may be subject to fines, legal action, or restitution.
If possible, residents are urged to utilize alternatives to burning, such as composting, chipping, mulching, or transporting the debris to the Douglas County Landfill. More information on these options can be found at https://douglascounty-oregon.us/449/Wood-Yard-Waste
To request a burning permit in the City of Roseburg, call (541) 492-6770 between the hours of 8 a.m. and 5 p.m., Monday through Friday. This information, as well as the burn permit request form is also available on the city website at https://www.cityofroseburg.org/departments/fire
For the latest information regarding the City of Roseburg Fire Department, please visit our website at www.cityofroseburg.org or like us on Facebook at www.facebook.com/roseburgfire.
Roseburg Fire Department Announces Hiring of First Female Fire Marshal (Photo)
2023-08-24 16:02:05
The City of Roseburg Fire Department is pleased to announce the hiring of new Fire Marshal Cheryl Flick.
"Today is a remarkable day for our fire department and our community as a whole. We celebrate a significant milestone in our journey- the appointment of our first female Fire Marshal. As we stand on the edge of progress, it is essential to reflect on how far we have come as an organization. Our fire department has a legacy built upon dedication, courage, and unwavering commitment to service. Today, that legacy takes a bold step forward." said Fire Chief Tyler Christopherson.
Chief Christopherson added, "As we welcome her into this new role, let us remember that diversity is our strength. Our fire department is an organization that values different perspectives, backgrounds, and experiences. With each new addition to our team, we expand our knowledge and enrich our capabilities."
Cheryl joins more than 11,000 women across the United States who work as career firefighters and officers in the fire service, including the Oregon State Fire Marshal Marianna Ruiz-Temple.
Fire Marshal Flick received advanced education from Oregon State University, Chemeketa Community College, and Lane Community College. She holds certification as a Fire and Life Safety Plans Examiner, Commercial Building Inspector, and Commercial Mechanical Inspector, in addition to several more certifications from the State of Oregon and the International Code Council.
Before starting with the Fire Department, Fire Marshal Flick worked as a full time Plans Examiner for Douglas County Building Department. Cheryl also worked as a Building Inspector for Douglas County before accepting her past role as Plans Examiner. Fire Marshal Flick has previously worked for the City of Corvallis and the City of Salem in various inspector roles. Cheryl's strong work ethic, experience in customer service, and ability to effectively communicate fire and life safety code will be valuable in her new role.
In her new position as Fire Marshal, Cheryl will serve as a fire inspector, arson investigator, fire safety educator, instructor, and more. She will oversee the Fire Prevention Division and supervise the Deputy Fire Marshal, as they work together to improve fire and life safety within our community.
When she is not studying fire code and working in her new position as Fire Marshal, Cheryl spends her free time with her family. They enjoy camping, hiking, and riding all-terrain vehicles. Please join us in welcoming Fire Marshal Flick to the department. She will serve our community well.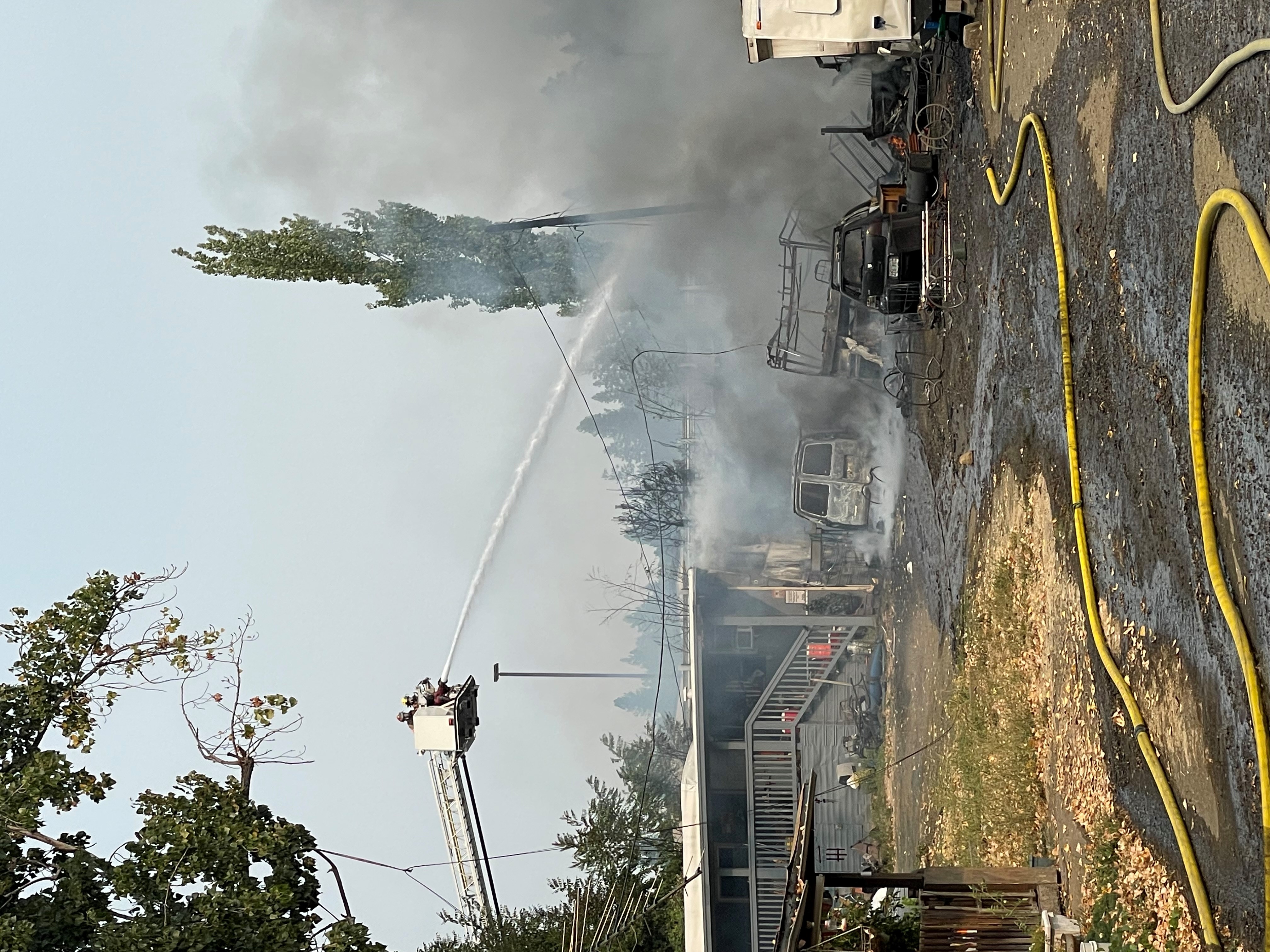 Recreational Vehicle Fire with Multiple Exposures -- 1713 SE Mill Street -- 8-21-23 (Photo)
2023-08-22 08:10:56
At 3:57 p.m. on August 21, 2023, Roseburg Fire Department personnel responded to a reported recreational vehicle on fire. Firefighters arrived on scene to find heavy fire coming from a recreational vehicle that had extended into several exposures, including a nearby manufactured home. Upon arrival, firefighters also found active power lines down in the driveway, which delayed firefighting efforts until Pacific Power could arrive.
Once power was disconnected from the property, firefighters quickly extinguished the fire, completed a primary and secondary search, and completed overhaul. The fire involved two recreational vehicles, two passenger vehicles, and a manufactured home. The owner of the primary recreational vehicle was able to escape out of the vehicle prior to firefighters arriving on scene. Two neighboring residents were also able to escape the secondary recreational vehicle as well.
The two recreational vehicles and two passenger vehicles were a total loss. The nearby manufactured home sustained extensive structural and water damage. Three adults were displaced due to the fire; however, no one was injured in the fire. The American Red Cross has been in contact with the displaced residents.
A fire investigator was on scene and the cause of the fire was determined to be in relation to the resident performing mechanical work on the recreational vehicle. Twelve firefighters assisted with firefighting operations. Other agencies assisting with the fire included Avista Utilities, Pacific Power, American Red Cross, and the Roseburg Police Department.
For the latest information regarding the City of Roseburg Fire Department, please visit our website at www.cityofroseburg.org or like us on Facebook at www.facebook.com/roseburgfire.