Alerts
Stand-off with armed subject
2022-09-18 12:34:26
On September 17th, at about 9:00 pm, Roseburg police officers attempted to stop on a white, 2018 Nissan Sentra that was being operated by Jeff Reece (40), of Roseburg, after observing him commit several traffic violations and almost striking two pedestrians as he sped through a stop sign. Reece failed to stop for officers and a vehicle pursuit was initiated but due to Reece's speeds through a neighborhood, the pursuit was terminated. A short time later, officers located Reece stopped in his vehicle in the middle of the Stewart Parkway Bridge.
Officers had prior information Reece was in possession of multiple firearms and Reece refused to exit his vehicle and made threats to shoot himself. Members of the Roseburg Police Department Emergency Response Team, Douglas County Sheriff's Office Tactical Response Team and a S.W.A.T. member with the Oregon State Police responded, along with the Roseburg Police Department Hostage Negotiation Team.
After about an hour of negotiation, a less-lethal impact weapon was deployed and DCSO K9 Eros was used to take Reece into custody. While taking Reece into custody, officers located a 9mm handgun concealed in Reece's pocket. A search warrant was later served on Reece's vehicle and an additional rifle was recovered.
Reece was evaluated on scene by medics and transported to the Douglas County Jail where he was booked on multiple charges.
The Stewart Parkway Bridge was closed for about two hours and the several civilians who had been initially evacuated from their vehicles were allowed to return. One lane of the bridge was re-opened to allow traffic to flow until officers were able to clear the scene. The bridge was fully opened about four hours after the incident started.
OSP, DCSO, Roseburg FD and Bay Cities Ambulance assisted with this incident.
Traffic Enforcement Patrols
2022-08-08 12:23:54
During July through September the Roseburg Police Department will have some extra patrols out working traffic enforcement, with a specific focus on safety belt use, distracted driving and speeding. These focused patrols are made available due to grants received from Oregon Impact and the Oregon Department of Transportation.
In 2017 alone, seat belts saved an estimated 14,955 lives and could have saved an additional 2,549 people if they had been wearing seat belts.
Seat belts have been proven to be one of the best ways to save your life in a crash. Yet many still don't buckle up. Worse still, not wearing a seat belt is a habit that will pass on to impressionable youth, who in turn will think it's safe to not buckle up.
Distracted driving is one of the fastest growing safety issues on the roads today. Distracted drivers aren't just a threat to themselves: they're a danger to everyone else on the road. The national distracted driving effort focuses on ways to change the behavior of drivers through legislation, enforcement, public awareness, and education.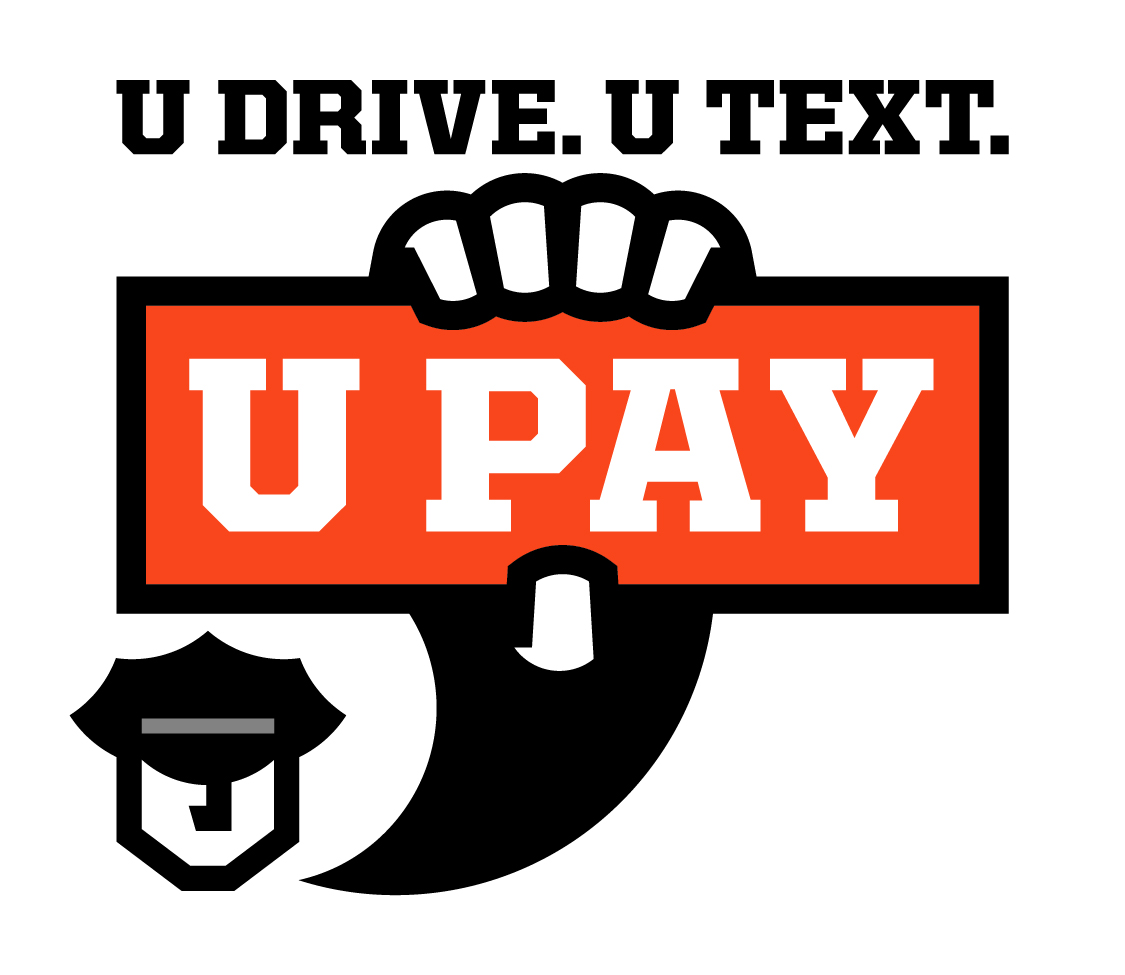 2022 U drive. u text. u pay. campaign (Photo)
2022-03-31 15:47:46
Roseburg, OR — The Roseburg Police Department is teaming up with the U.S. Department of Transportation's National Highway Traffic Safety Administration (NHTSA) for the national U Drive. U Text. U Pay. high-visibility enforcement effort. From April 7-11, 2022, law enforcement officers from across the country will work together to enforce texting and distracted driving laws to make our roads safer for all road users.
According to NHTSA, between 2012 and 2019, 26,004 people died in crashes involving a distracted driver. While fatalities from motor vehicle crashes decreased slightly from 2018, distraction-related fatalities increased by 10%. NHTSA also reported that the number of deaths linked to driver distraction was 3,142 nationwide, or almost 9% of all fatalities, in 2019. This represents a 10% increase over the year 2018, or 284 more fatalities. The distraction figure was the largest increase in causes of traffic deaths reported for 2019.
Millennials and Generation Z are the most distracted drivers, often using their cell phones to talk, text, and scroll through social media while behind the wheel. According to NHTSA research from 2017, young drivers 16 to 24 years old have been observed using handheld electronic devices while driving at higher rates than older drivers have since 2007. In 2019, 9% of people killed in teen (15-19) driving crashes died when the teen drivers were distracted at the time of the crash.
Distracted driving has become a leading cause of vehicle crashes on our nation's roads, and much of this distraction is attributed to texting while driving. People know texting and driving is dangerous and often illegal, but they selfishly give themselves a personal exemption to do it anyway, and this behavior unfairly puts others at risk. Beginning April 7, if you text and drive, you will pay.
Violating Oregon's distracted-driving laws can be costly. In Oregon, your first conviction for operating a motor vehicle while using a mobile electronic device (ORS 811.507) is a Class B traffic violation. The second conviction within a 10-year period is a Class A traffic violation and the person's third conviction within 10-years preceding the date of the current conviction is a Class B Misdemeanor.
Many drivers are guilty of a "double standard" when it comes to distracted driving. In its 2018 Traffic Safety Culture Index, the AAA Foundation reported that while nearly 96% of drivers believed it was very or extremely dangerous to read a text or email while driving, 4 out of 10 drivers admitted to doing so within the previous 30 days.
Drive Safe Every Trip
The Roseburg Police Department and NHTSA urge drivers to put their phones away when behind the wheel. If you need to text, pull over and do not drive while doing so. If you are the driver, follow these steps for a safe driving experience:
• If you are expecting a text message or need to send one, pull over and park your car in a safe location. Once you are safely off the road and parked, it is safe to text.
• Ask your passenger to be your "designated texter." Allow them access to your phone to respond to calls or messages.
• Do not engage in social media scrolling or messaging while driving.
• Cell phone use is habit-forming. Struggling to not text and drive? Activate your phone's "Do Not Disturb" feature, or put your phone in the trunk, glove box, or back seat of your vehicle until you arrive at your destination.
Texting while driving is dangerous and illegal. Break the cycle. Remember: U Drive. U Text. U Pay. For more information, visit https://www.nhtsa.gov/campaign/distracted-driving.
Fatal crash on Diamond Lake Boulevard, Roseburg
2022-03-15 10:47:58
On March 10, 2022 at approximately 1:20 PM, the Roseburg Police Department and emergency personnel responded to the report of a pedestrian hit by a vehicle in the 2000 block of Diamond Lake Boulevard.
Preliminary investigation revealed that a black Maserati Grand Sport, operated by Jack Corson (74) of Roseburg, was traveling eastbound on Diamond Lake Boulevard and struck pedestrian Jonathan Kurtz (75) of Glide, who was walking within the lanes of travel.
Kurtz was transported to Sacred Heart at Riverbend with fatal injuries and later pronounced deceased by the Lane County M.E. Corson was not injured and remained at the scene and cooperated with law enforcement.
The Roseburg Police Department was assisted by the Roseburg Fire Department and Umpqua Valley Ambulance
Shooting Investigation
2022-03-06 18:04:52
On March 6th, 2022 at about 2:40 PM, officers with the Roseburg Police Department, Douglas County Sheriff's Office and Cow Creek Tribal Police responded to the 1500 block of SE Booth Avenue after it was reported that Savannah Gilkey was outside her residence, unclothed, screaming and shooting a firearm.
Officers on scene attempted to make contact with Gilkey when she pointed a pistol at them, then shot the pistol several times into the air.
Gilkey was able to get to her vehicle and leave when she was stopped at a roadblock. Gilkey complied with commands and was taken into custody without further incident. There is no known ongoing threat to the public.
Shooting investigation
2022-01-07 09:19:44
On January 6, 2022 at about 7:30 PM, officers with the Roseburg Police Department, Sutherlin Police Department and Douglas County Sheriff's Office responded to a reported shooting in the 2000 block of NW Stewart Parkway. The investigation revealed the incident stemmed from a conflict with two individuals who appear to be known to each other and there is no known ongoing threat to the public. The involved victim sustained minor, non-life threatening injuries and the suspect has been taken into custody. The investigation is still active and more information will be released when available.
Shooting Investigation
2021-12-29 12:49:28
On December 28, 2021 at approximately 6:30 PM, Roseburg Police Detectives were called to assist in an officer involved shooting investigation in Drain, Oregon. During an initial investigation by another law enforcement agency, a male suspect was shot and fled the area with a female associate. A subsequent search of the area conducted by numerous agencies resulted in the capture of both suspects. The male was transported to a local medical facility where he received medical treatment. The Douglas County Major Crimes Team continues to investigate and there is no known ongoing threat to the public.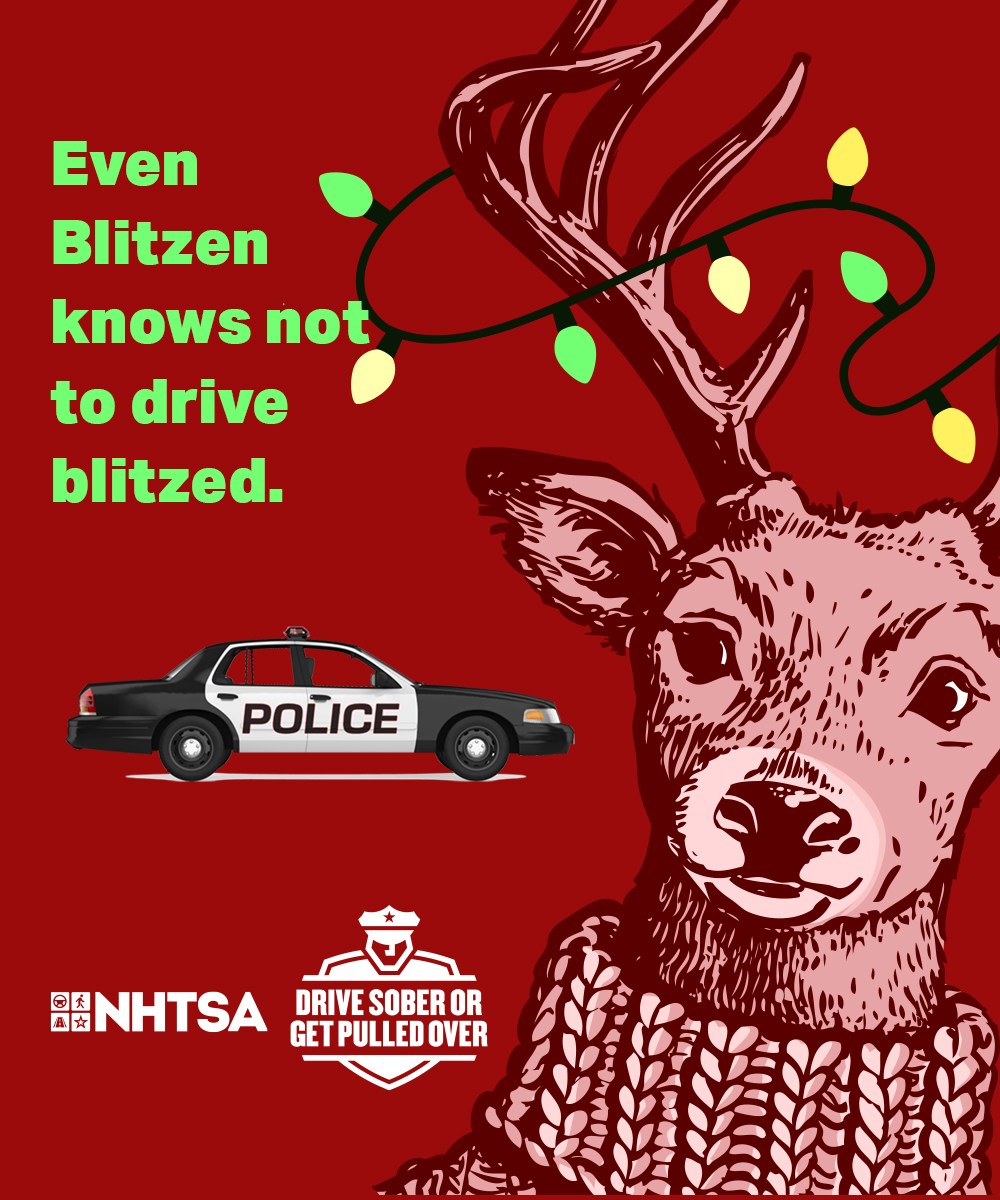 Give the gift of holiday safety: Driver sober or get pulled over (Photo)
2021-12-15 10:40:24
Roseburg, Ore. — This holiday season, the Roseburg Police Department is partnering with the U.S. Department of Transportation's National Highway Traffic Safety Administration (NHTSA) to share the message about the dangers of drunk driving. The Roseburg Police Department and NHTSA want all drivers to remember this lifesaving message: Drive Sober or Get Pulled Over. In support of the law enforcement community's dedication to protecting the lives of residents in their communities, you will see local law enforcement officers working together December 15, 2021, through January 1, 2022, to take drunk drivers off the roads. These expanded efforts to protect against impaired driving will be conducted in a fair and equitable way.

According to NHTSA, 10,142 people were killed in drunk-driving crashes in 2019, accounting for nearly one-third of traffic crash fatalities. On average, more than 10,000 people were killed each year from 2015 to 2019 — one person was killed in a drunk-driving crash every 52 minutes in 2019. This is why the Roseburg Police Department is working with NHTSA to remind drivers that drunk driving is not only illegal, it is a matter of life and death. As you head out to the holiday festivities, remember: Drive Sober or Get Pulled Over.

It's important that drivers act responsibly, and that includes refraining from impaired driving. The holidays are a special time of year for most, and the Roseburg Police Department wants our community members to enjoy this season. We need commitment from our drivers that they'll keep the roads free of drunk drivers so that everyone can have a safe holiday. This is a campaign to get the message out that drunk driving is illegal and it takes lives. Help us put an end to this senseless behavior.

During the month of December 2019, 837 people lost their lives in traffic crashes involving a drunk driver. During the Christmas and New Year's Day holiday periods in 2019 alone, there were more drunk-driving-related fatalities (210) than during any other holiday period that year. These fatalities are preventable, and drivers must remember that driving impaired by any substance — alcohol or other drugs — is deadly, illegal, and selfish behavior.
The Roseburg Police Department and NHTSA are reminding citizens of the many resources available to get them home safely. Drunk driving is not acceptable behavior, so it is essential to plan a sober ride home before you ever leave for the party. There are too many resources to get you home safely. There are just no excuses for drunk driving.

If you're the designated driver, make sure you keep that promise of safety to yourself and your passengers. Stay hydrated with water and other non-alcoholic beverages. Support other designated drivers, too. It can be a long night, but people are counting on you, not to mention the other drivers, passengers, and pedestrians on the streets. Take the role of designated driver seriously — people are relying on you.

CELEBRATE WITH A PLAN
The Roseburg Police Department recommends these safe alternatives to drinking and driving:

Remember that it is never okay to drink and drive. Even if you've had only one alcoholic beverage, designate a sober driver or plan to use public transportation or a ride service to get home safely.

If you see a drunk driver on the road, contact 9-1-1

Do you have a friend who is about to drink and drive? Take the keys away and make arrangements to get your friend home safely.

For more information about the 2021 Holiday Season Drive Sober or Get Pulled Over campaign, visit https://www.nhtsa.gov/risky-driving/drunk-driving.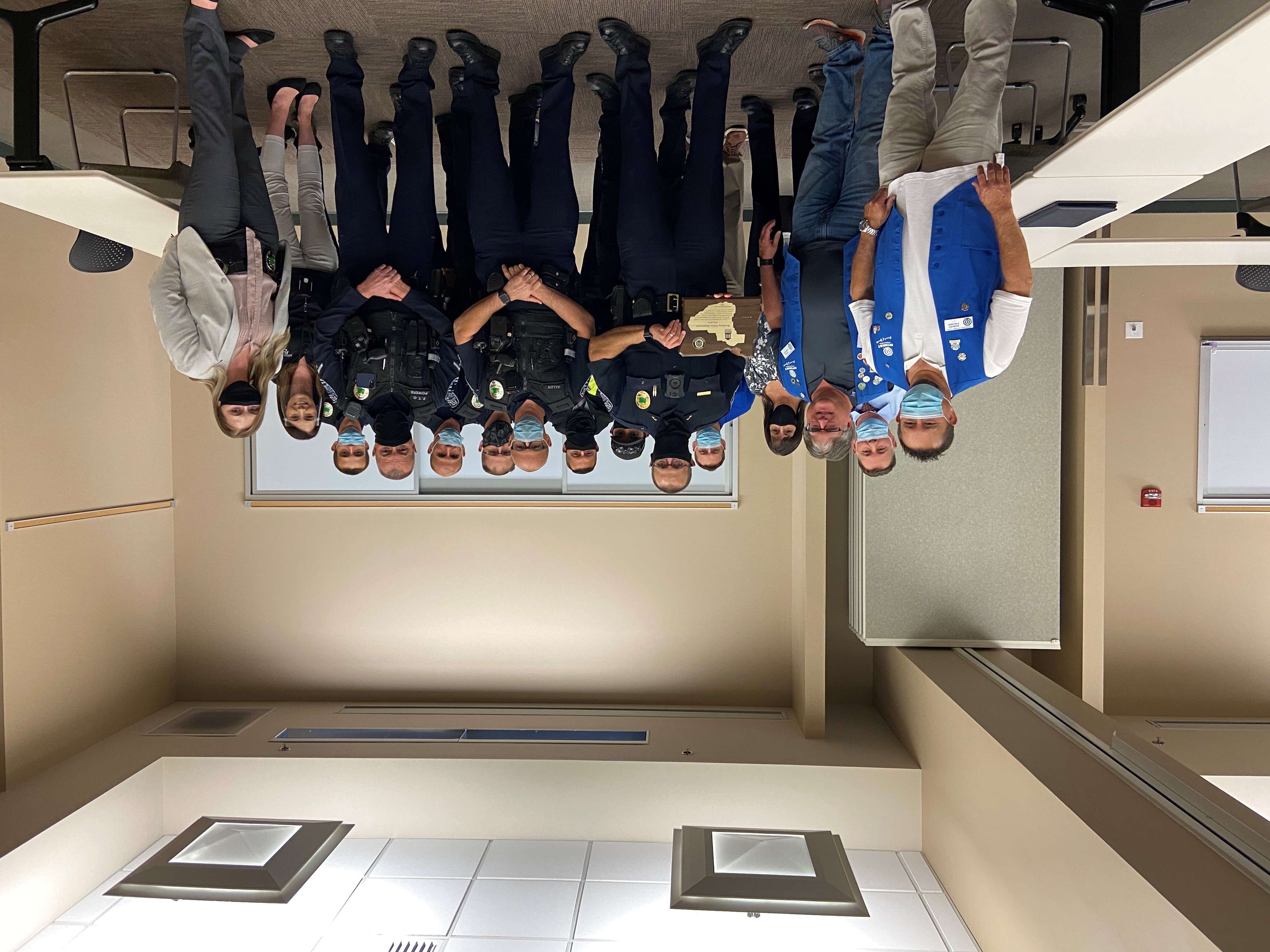 roseburg optimist club honors police department's efforts (Photo)
2021-10-14 16:45:14
ROSEBURG, OR – The Roseburg Optimist Club on Thursday, Oct. 14, recognized the Roseburg Police Department's efforts to protect and safeguard lives and property.

On Thursday, Oct. 14, 2021, Roseburg Optimist Club President Peter Sudduth visited the Roseburg Public Safety Center and presented a plaque to the Roseburg Police Department that reads:

"In recognition and appreciation for the actions, activities and service by the entirety of your department in an unprecedented and uncertain time in Douglas County. We honor your efforts in safeguarding lives and property while providing a safe and healthy community for all to visit, live and thrive in."

For the past 45 years, the Roseburg Optimist Club has honored local law enforcement with an annual Respect for Law banquet held every February. Normally, local agencies choose a law enforcement employee of the year for special recognition at this banquet.

Due to the pandemic, the 2021 banquet was cancelled.

Roseburg Police Chief Gary Klopfenstein thanked the club for the plaque and recognition.

"The Roseburg Optimist Club unwaveringly supports local Law Enforcement, and we look forward to being able to attend their banquet again, hopefully next February," Chief Klopfenstein said.
roseburg police officers rescue drowning woman
2021-09-29 13:59:09
ROSEBURG, OR – Roseburg Police officers rescued a drowning woman from the South Umpqua River early Wednesday morning.

Police were called to the bank of the river near Stewart Parkway bridge by a Roseburg man, identified as James Smith, who alerted Douglas County Emergency Communications at 3:56 a.m. Wednesday that his female friend got in trouble as the pair tried to swim in the river. The man got out of the water and called 9-1-1 to help Brittany Rose Shepherd, 24, of Roseburg.

The man told emergency dispatchers Shepherd was struggling to tread water and unable to make it back to shore, and he was unable to help her.

Roseburg Police officers, along with Roseburg Fire Department fire personnel, responded to the report of a female in distress in the South Umpqua River near Stewart Park.

Roseburg Police Sgergeant Jeff Eichenbusch, Officer Dawson Batsch and Officer Brandon Halter arrived on scene and found the woman was out near the middle of the river treading water -- gasping, exhausted and unable to get back to shore.

Without hesitation, Officers Batsch and Halter quickly removed their duty gear – guns, radios, badges, belts, vests, etc. -- and jumped into the river to rescue her.

As they got into the river, Shepherd was going under water. Without their quick actions, she likely would have drowned, according to Sergeant Eichenbusch.

Officer Batsch, who served previously as a lifeguard, swam quickly out to Shepherd and used his lifeguard training and experience to grab her and swim her back to shore.

Shepherd was treated at the scene by medical personnel and transported by ambulance to Mercy Medical Center for further treatment. She was expected to be treated and released.

Alcohol was believed to be a factor in the incident.
stabbing and sexual assault investigation
2021-09-21 17:17:05
On September 21, 2021 at approximately 1:10 PM, officers and detectives with the Roseburg Police Department responded to the area of 508 NE Winchester Street regarding a reported stabbing and attempted rape. When officers arrived, they found a 60 year old Roseburg woman was injured due to a stab wound; the injured woman was transported to Mercy Medical Center for non-life threatening injuries. The suspect in this case, 31 year old Brandon Kittleson, was located nearby and contacted by law enforcement.

During the subsequent investigation, detectives charged Kittleson with Attempted Rape 1, Assault 2 and Harassment. Kittleson was lodged at Douglas County Corrections on those charges.

The suspect and victim did not appear to be known to each other.
shooting investigation
2021-09-10 15:53:41
On September 9th, 2021 at about 8:00 PM, officers with the Roseburg Police Department responded to the 1300 block of SE Magnolia Street after it was reported John Kliestik (39) was attempting to light his parent's home on fire while they were inside the residence.

Officers on scene verified there were fires inside the residence and attempted to make contact with the occupants of the residence and make the scene safe. The officers were confronted by Kliestik, who presented an imminent threat to his parents and to the officers, resulting in an officer involved shooting; one officer discharged their firearm, striking Kliestik in the leg.

The officers were able to secure Kliestik, render aid, and extinguish the fires within the home. Roseburg Fire Department and ambulance services responded and provided further medical care to Kliestik, whom was transported to Mercy Medical Center and is being treated for non-life threatening injuries.

The Douglas County Major Crimes Team was activated and members of the Douglas County Sheriff's Office, District Attorney's Office, and the Oregon State Police began an investigation into the officer involved shooting. The names of the involved officers are not being released at this time.

Detectives from the Roseburg Police are conducting a separate criminal investigation of Kliestik's action(s) leading up to the shooting.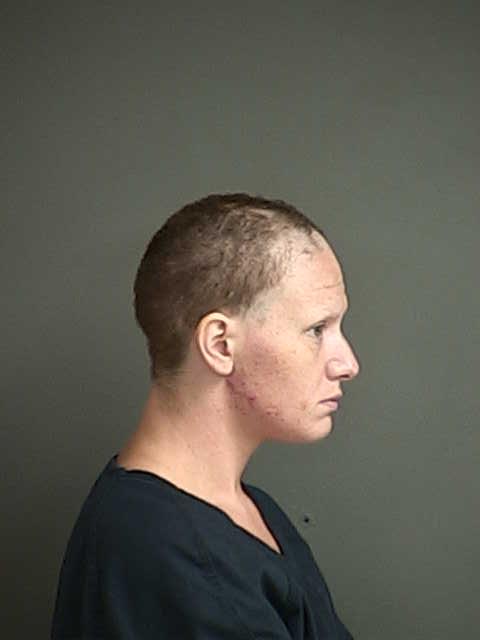 UPDATE: Roseburg Bank Robbery (Photo)
2021-09-10 11:41:14
UPDATE 09/10/2021. Amanda Wydur was arrested yesterday in Tualatin, OR and is currently in custody at the Douglas County Jail where she has been charged with Theft in the First Degree and Robbery in the Second Degree.
UPDATE 07/22/21 11:30 AM
The Roseburg Police Department is seeking the publics' assistance with locating 29-year-old Amanda Wydur, as investigation has established her as the suspect in this case. Amanda is known to wear wigs and attempt to change and/or disguise her appearance.
The attached photos of Amanda are recent as of July of 2021. If you have seen Amanda or have any information about this case, please email the Roseburg Police Department at rpd.mailbox@cityofroseburg.org, or call our tip line at 541 492-6794.
ORIGINAL RELEASE 07/20/21 5:07 PM
On July 20th, 2021, at approximately 10:41 AM, Roseburg Police responded to US Bank (619 SE Main St, Roseburg, Oregon) for a report of a robbery. It was reported that a female entered the bank and provided the teller with a note demanding money; no weapons were displayed. The female suspect left on foot with an undisclosed amount of money. After the suspect left, US Bank went into lockdown until police arrived. Roseburg patrol units and detectives flooded the area to investigate. As this is an active investigation, no further details will be released at this time. Anyone with information about this crime is encouraged to call the Roseburg Police Department tip line at 541 492-6794.
Stabbing Investigation
2021-09-01 14:35:36
On September 1, 2021 at approximately 12:39 AM, the Roseburg Police Department responded to the area of the Duck Pond at 1039 NW Garden Valley Blvd. regarding a reported stabbing. When officers arrived, they found a 29 year old Roseburg man was injured due to a stab wound. The injured male was transported to Mercy Medical Center and later transferred to Emmanuel Legacy Medical Center in Portland, Oregon for further treatment. A suspect in this case, a 28 year old Roseburg man, was identified and contacted by law enforcement. Investigators found the victim and suspect know each other. Roseburg Police Detectives responded to assist and are continuing to investigate the matter along with assistance from the Douglas County District Attorney's Office. At this time, there is no known ongoing threat to the general public.
Fatal Motor Vehicle Accident
2021-08-30 13:11:48
On Friday, August 27, 2021 at approximately 9:32 P.M. The Roseburg Police Department and Roseburg Fire Department responded to a reported vehicle versus motorcycle collision at NE Stephens and NE Garden Valley.

The investigation into the incident found that a 2019 Toyota Tacoma, attempted to turn Westbound onto Garden Valley from Stephens against an alleged red light, in front of a 2002 Harley Davidson motorcycle traveling southbound on NE Stephens. The vehicles collided inside the intersection. The rider of the motorcycle, Ryan James Gould (35) of Roseburg, was reportedly unresponsive following the collision, and CPR efforts were made by a citizen and the Fire Department. Gould was transported to Mercy Medical Center by ambulance, where he later succumbed to his injuries. The driver of the Tacoma was identified as Adrienne Michelle Mathis (35) of Roseburg.

The investigation is ongoing, but at this time there are no indications that impairment was a factor in the incident.