Alerts
stabbing and sexual assault investigation
2021-09-21 17:17:05
On September 21, 2021 at approximately 1:10 PM, officers and detectives with the Roseburg Police Department responded to the area of 508 NE Winchester Street regarding a reported stabbing and attempted rape. When officers arrived, they found a 60 year old Roseburg woman was injured due to a stab wound; the injured woman was transported to Mercy Medical Center for non-life threatening injuries. The suspect in this case, 31 year old Brandon Kittleson, was located nearby and contacted by law enforcement.

During the subsequent investigation, detectives charged Kittleson with Attempted Rape 1, Assault 2 and Harassment. Kittleson was lodged at Douglas County Corrections on those charges.

The suspect and victim did not appear to be known to each other.
shooting investigation
2021-09-10 15:53:41
On September 9th, 2021 at about 8:00 PM, officers with the Roseburg Police Department responded to the 1300 block of SE Magnolia Street after it was reported John Kliestik (39) was attempting to light his parent's home on fire while they were inside the residence.

Officers on scene verified there were fires inside the residence and attempted to make contact with the occupants of the residence and make the scene safe. The officers were confronted by Kliestik, who presented an imminent threat to his parents and to the officers, resulting in an officer involved shooting; one officer discharged their firearm, striking Kliestik in the leg.

The officers were able to secure Kliestik, render aid, and extinguish the fires within the home. Roseburg Fire Department and ambulance services responded and provided further medical care to Kliestik, whom was transported to Mercy Medical Center and is being treated for non-life threatening injuries.

The Douglas County Major Crimes Team was activated and members of the Douglas County Sheriff's Office, District Attorney's Office, and the Oregon State Police began an investigation into the officer involved shooting. The names of the involved officers are not being released at this time.

Detectives from the Roseburg Police are conducting a separate criminal investigation of Kliestik's action(s) leading up to the shooting.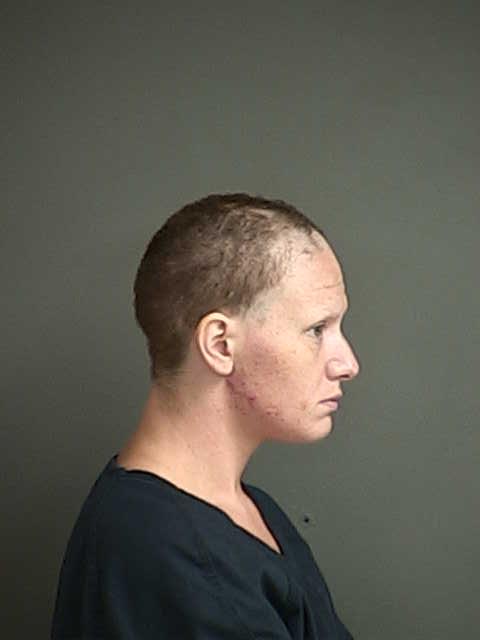 UPDATE: Roseburg Bank Robbery (Photo)
2021-09-10 11:41:14
UPDATE 09/10/2021. Amanda Wydur was arrested yesterday in Tualatin, OR and is currently in custody at the Douglas County Jail where she has been charged with Theft in the First Degree and Robbery in the Second Degree.
UPDATE 07/22/21 11:30 AM
The Roseburg Police Department is seeking the publics' assistance with locating 29-year-old Amanda Wydur, as investigation has established her as the suspect in this case. Amanda is known to wear wigs and attempt to change and/or disguise her appearance.
The attached photos of Amanda are recent as of July of 2021. If you have seen Amanda or have any information about this case, please email the Roseburg Police Department at rpd.mailbox@cityofroseburg.org, or call our tip line at 541 492-6794.
ORIGINAL RELEASE 07/20/21 5:07 PM
On July 20th, 2021, at approximately 10:41 AM, Roseburg Police responded to US Bank (619 SE Main St, Roseburg, Oregon) for a report of a robbery. It was reported that a female entered the bank and provided the teller with a note demanding money; no weapons were displayed. The female suspect left on foot with an undisclosed amount of money. After the suspect left, US Bank went into lockdown until police arrived. Roseburg patrol units and detectives flooded the area to investigate. As this is an active investigation, no further details will be released at this time. Anyone with information about this crime is encouraged to call the Roseburg Police Department tip line at 541 492-6794.
Stabbing Investigation
2021-09-01 14:35:36
On September 1, 2021 at approximately 12:39 AM, the Roseburg Police Department responded to the area of the Duck Pond at 1039 NW Garden Valley Blvd. regarding a reported stabbing. When officers arrived, they found a 29 year old Roseburg man was injured due to a stab wound. The injured male was transported to Mercy Medical Center and later transferred to Emmanuel Legacy Medical Center in Portland, Oregon for further treatment. A suspect in this case, a 28 year old Roseburg man, was identified and contacted by law enforcement. Investigators found the victim and suspect know each other. Roseburg Police Detectives responded to assist and are continuing to investigate the matter along with assistance from the Douglas County District Attorney's Office. At this time, there is no known ongoing threat to the general public.
Fatal Motor Vehicle Accident
2021-08-30 13:11:48
On Friday, August 27, 2021 at approximately 9:32 P.M. The Roseburg Police Department and Roseburg Fire Department responded to a reported vehicle versus motorcycle collision at NE Stephens and NE Garden Valley.

The investigation into the incident found that a 2019 Toyota Tacoma, attempted to turn Westbound onto Garden Valley from Stephens against an alleged red light, in front of a 2002 Harley Davidson motorcycle traveling southbound on NE Stephens. The vehicles collided inside the intersection. The rider of the motorcycle, Ryan James Gould (35) of Roseburg, was reportedly unresponsive following the collision, and CPR efforts were made by a citizen and the Fire Department. Gould was transported to Mercy Medical Center by ambulance, where he later succumbed to his injuries. The driver of the Tacoma was identified as Adrienne Michelle Mathis (35) of Roseburg.

The investigation is ongoing, but at this time there are no indications that impairment was a factor in the incident.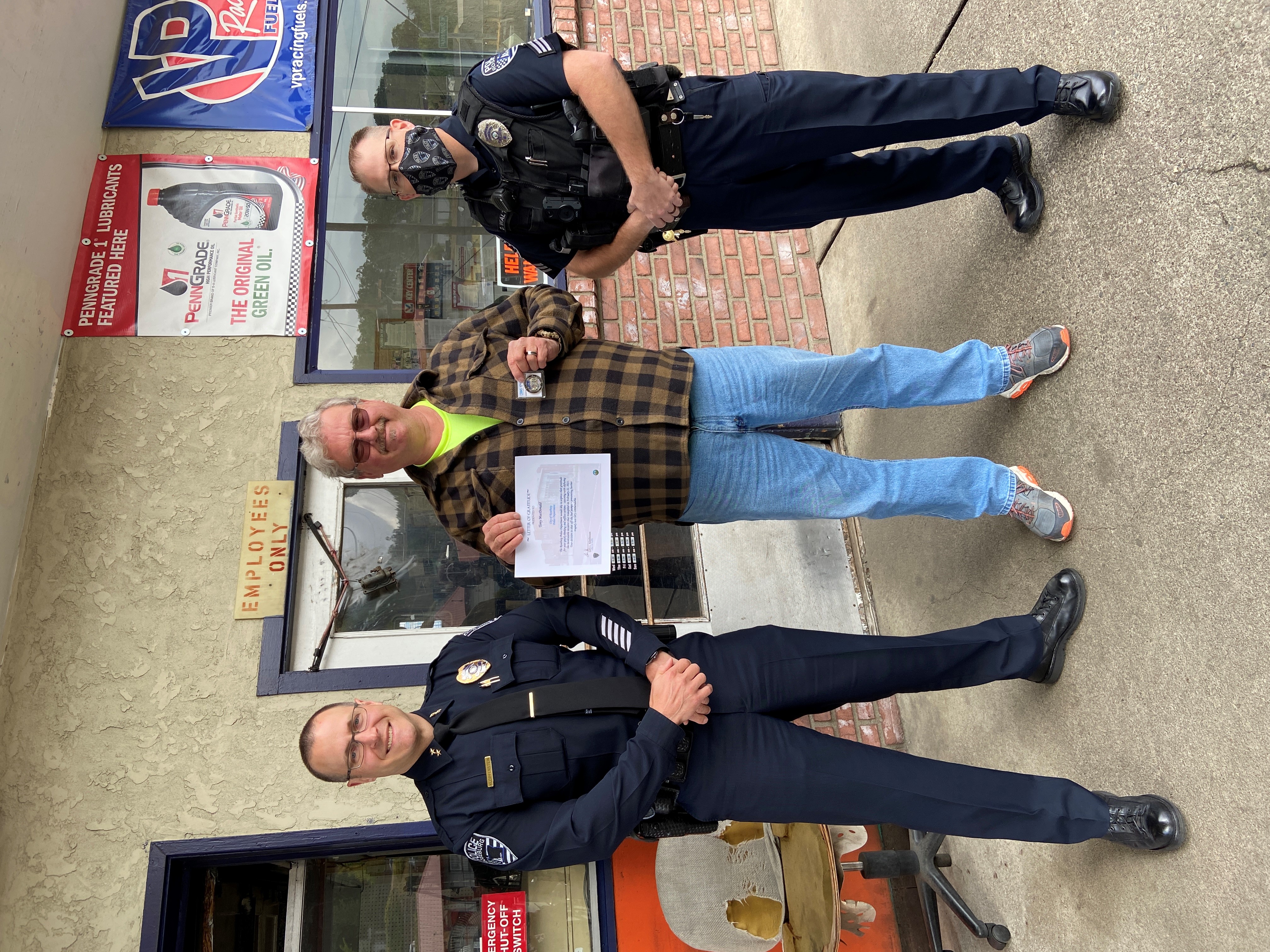 Roseburg Police Chief Gary Klopfenstein awards Sergeant Douglas Walton with a Medal of Honor! (Photo)
2021-08-16 12:49:04
On February 22, 2021 at 2:56 pm, Roseburg Police Officers responded to a report of a shooting at the Budget 16 Motel, at 1067 NE Stephens. Off duty Patrol Sergeant Doug Walton was across the street at the OK's Auto Supply gas station getting fuel for his personal vehicle. Upon witnessing the shooting, Sgt. Walton immediately called to report the incident. Sgt. Walton remained on the phone and provided updated information that was shared with responding Law Enforcement.

The investigation later revealed Spring Mack and Jessica Ashley both sustained serious gunshot injuries. Michael Benson was pronounced deceased at the scene and it was determined he succumbed to a gunshot wound.

Sgt. Walton observed Devin McNamara fleeing the motel parking lot, armed with a handgun but seemingly out of ammunition. Sgt. Walton observed McNamara flee to a nearby residence and then return, armed with two rifles that he pointed at passing motor vehicles. McNamara then entered Sgt. Walton's pickup and another vehicle at the gas station. Sgt. Walton continued to provide Douglas County Emergency Communications with updated information.

After exiting the second vehicle, McNamara was no longer in possession of the rifles. McNamara made his way to the fuel pumps where he grabbed a pump nozzle and began to release gasoline. Fortunately, an employee at OK's Auto Supply, Tony MacDonald, recognized what McNamara was doing and shut off the emergency fuel switch.

When the opportunity presented itself, Sgt. Walton tackled McNamara to the ground and kept him physically restrained until Patrol Officers arrived and took him into custody.

Throughout this chaotic event, Sgt. Walton exercised excellent judgement and decision-making. Sgt. Walton was the first to report the incident to on-duty police, and he did so while communicating to those around him what was happening and helping them remain safe. He followed department procedure and remained a "professional witness" until he recognized an opportunity to bravely detain McNamara. "Sgt. Walton's actions during this incident were heroic, and very likely saved lives; his selfless actions showed outstanding and exemplary courage to uphold the very oath he swore upon, to protect and serve others," said Chief Klopfenstein.

Chief Klopfenstein additionally met with Tony MacDonald and presented him with a Letter of Gratitude and a department challenge coin for his actions.
crosswalk safety grant
2021-08-16 11:32:04
UPDATE-

That dates for this event have been moved to September 20th and 27th.


September 13th and 20th, 2021, the Roseburg Police Department will have Officers on duty who will be conducting pedestrian safety events around crosswalk areas in the City of Roseburg to enforce laws regarding pedestrian safety. These events are made possible through a grant from the Oregon Department of Transportation and Oregon Impact.

The goal of this event is to reduce pedestrian injuries and fatalities and to remind drivers to be cautious when approaching crosswalks, and to yield to pedestrians who are utilizing those crossing areas. According to statistics provided by the Oregon Department of Transportation, pedestrians accounted for an average of 14% of traffic fatalities from 2008 through 2010 in Oregon. For 2008-2010, an average of 660 pedestrians were injured and 51 killed in motor vehicle crashes. Oregon's streets and highways are busy -- roadways must be shared by drivers and pedestrians alike. The majority of driver errors in motor vehicle / pedestrian crashes are a failure of drivers to yield to the pedestrian. And half of the pedestrians who are struck by vehicles are hit while they are in a crosswalk. Pedestrians and motorists both share in the responsibility of pedestrian safety. However, under Oregon law, drivers have specific responsibilities.

When turning at a traffic signal, drivers must:
* Stop and remain stopped for pedestrians until they have cleared the lane into which your vehicle is turning and at least 6 feet of the next lane.

At any other crosswalks - whether marked with paint or unmarked - drivers must:
* Stop and remain stopped for pedestrians until they have cleared the lane in which you are traveling (or into which you are turning) and the next lane.
* Stop and remain stopped for students as you are directed by a crossing guard.
* Stop and remain stopped for a blind pedestrian using a white cane or a guide dog until the pedestrian is completely across the roadway.

Safety Tips

* Remember, under Oregon law there is a crosswalk at every intersection.
* Do not pass a vehicle stopped at a crosswalk. A stopped car may be a clue that a pedestrian is crossing. When stopping for a crosswalk on a multi-lane road, you should stop about 30 feet before the crosswalk so you don't block visibility to a driver in a second lane.
* When stopping at an intersection, do not block the crosswalk. This forces pedestrians to go around your vehicle and puts them in a dangerous situation.
* Watch for pedestrians, especially children, when exiting driveways or when backing out of parking spaces in parking lots.
* Pedestrians move at different speeds. Be alert for children who may suddenly dart into the street. Be patient with older adults who take extra time to cross the street.
* Around taverns and bars, be alert for people with slowed reaction times or impaired judgment.
* Be alert for people or animals during low-light conditions, especially in areas where they are likely to cross the road, or you might not see them until it is too late to stop.
Nationwide test of the emergency alert system (eas)
2021-08-09 15:10:34
FEMA and the FCC will conduct a nationwide test of the Emergency Alert System (EAS) and Wireless Emergency Alerts (WEA) starting at 11:20 a.m. PT Wednesday, August 11.
Test messages will be sent to TVs and radios, as well as to cell phones that have opted in to receive these tests from the nation's public alert and warning system, according to a FEMA press release.
The test is meant to ensure that the EAS and WEA systems continue to be an effective way to warn the public about emergencies, especially national emergencies. The tool is also used locally to warn the public about dangerous weather, missing children and other critical situations through alerts on cell phones.
Periodic testing of the system helps to assess the operational readiness of the system and identify need for improvement, according to the press release.
If the Aug. 11 test is canceled due to widespread severe weather or other significant events, a back-up testing date has been scheduled for Wednesday, Aug. 25.
The EAS portion of the test is scheduled to last about one minute and will be conducted with the participation of radio and television broadcasters, cable systems, satellite radio and television providers and wireline video providers.
Anyone who's opted in to get test messages on their cell phone should get the message only once. Cell phone test messages will be in English or Spanish. Cell phones must be switched on, within range of an active cell tower and using a wireless provider that participates in WEA.
The cell phone message will read, "THIS IS A TEST of the National Wireless Emergency Alert System. No action is needed," or in Spanish, "ESTA ES UNA PRUEBA del Sistema Nacional de Alerta de Emergencia. No se necesita acción."
In 2007, FEMA began modernizing the nation's public alert and warning system by integrating new technologies into the existing alert systems. The new system, known as the Integrated Public Alert and Warning System (IPAWS), became operational in 2011, according to the press release.
Today, IPAWS supports nearly 1,600 state, local, tribal, territorial and federal users through a standardized message format.
IPAWS enables authorities such as emergency managers, police and fire departments to send the same alert and warning message over multiple communication pathways at the same time to citizens who may be in harm's way, helping to save lives.
For more information on FEMA's IPAWS, go to www.fema.gov/ipaws. For more preparedness information, go to www.ready.gov.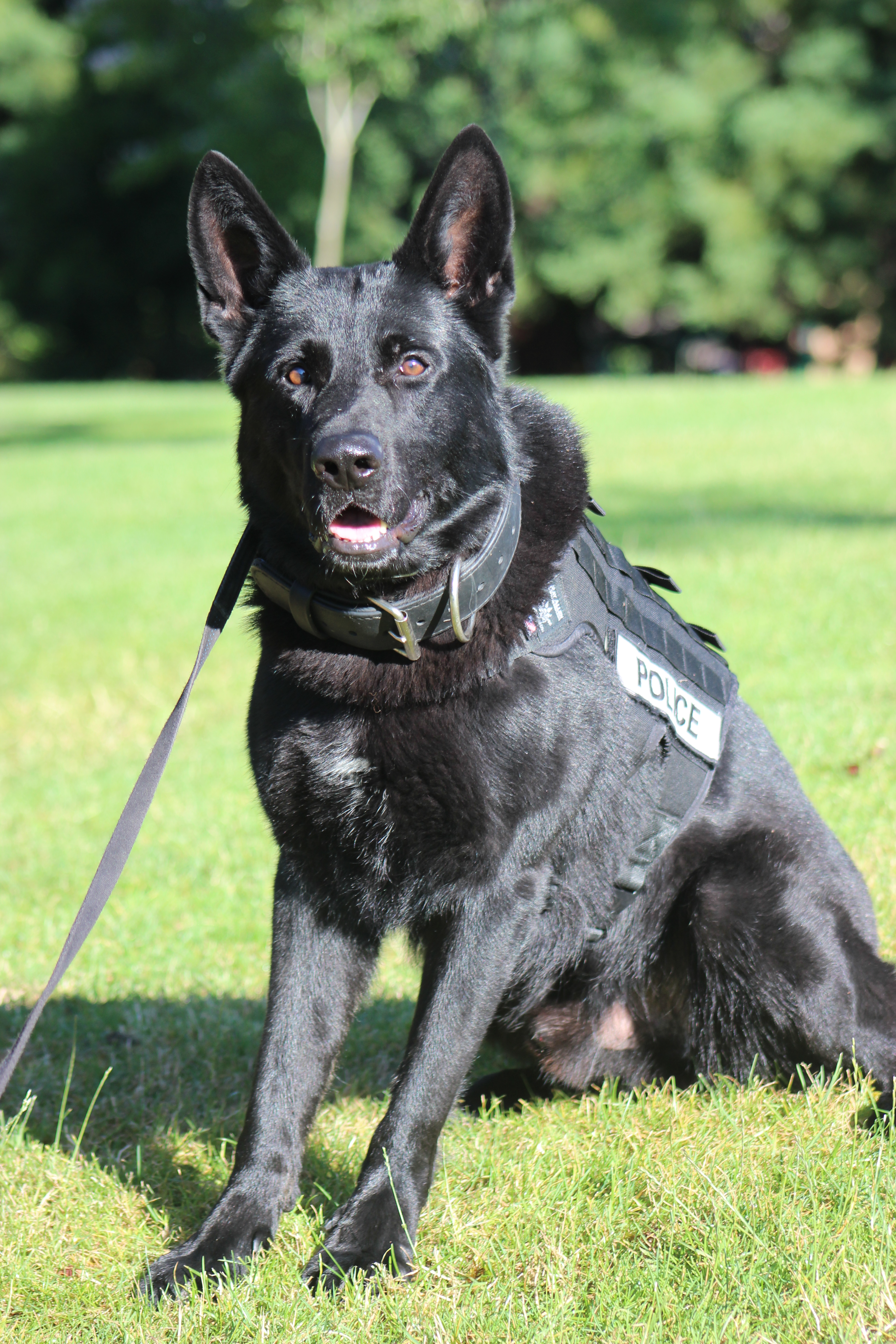 K9 Axel tracks Suspects Fleeing from Stolen vehicle (Photo)
2021-08-02 10:49:21
On Saturday, July 31st, 2021 Roseburg Police K9 Axel was used to assist officers in locating suspects that had fled from a stolen vehicle at the intersection of Marlene Drive and Newton Creek Road. A juvenile male was driving the stolen vehicle and abandoned the vehicle in the middle of Marlene Drive after passing a marked patrol vehicle heading the opposite direction. The juvenile driver and juvenile passenger fled from the car on foot, and a perimeter was setup to start a K9 track.

K9 Axel was deployed and tracked the juvenile males to the 1500 block of Newton Creek Road, where they were contacted. The juvenile male driver was detained and ultimately arrested for Unauthorized Use of a Vehicle.
Traffic Enforcement Patrols
2021-07-15 15:37:18
During July through September the Roseburg Police Department will have some extra patrols out working traffic enforcement, with a specific focus on safety belt use, distracted driving and speeding. These focused patrols are made available due to grants received from Oregon Impact and the Oregon Department of Transportation.
In 2017 alone, seat belts saved an estimated 14,955 lives and could have saved an additional 2,549 people if they had been wearing seat belts.
Seat belts have been proven to be one of the best ways to save your life in a crash. Yet many still don't buckle up. Worse still, not wearing a seat belt is a habit that will pass on to impressionable youth, who in turn will think it's safe to not buckle up.
Distracted driving is one of the fastest growing safety issues on the roads today. Distracted drivers aren't just a threat to themselves: they're a danger to everyone else on the road. The national distracted driving effort focuses on ways to change the behavior of drivers through legislation, enforcement, public awareness, and education.

Man arrested on numerous theft charges related to local car break-ins (Photo)
2020-10-26 16:13:41
On Monday, October 26th, 2020 just before 0830 A.M., Roseburg Police Officers went to the Howard Johnson motel in Roseburg to attempt to arrest Trask Austin Phelps. Phelps' probation officer called and reported he received information Phelps was at the motel, and Phelps had an active warrant for his arrest.
When Officers arrived and tried contacting Phelps at the room, he tried going out the back window. As he was emerging from the window, an officer could see Phelps was holding a handgun in each hand. The officer challenged Phelps, and tried to Tase him but the Taser missed, and Phelps retreated back into the room. Phelps then ran out the front door, but the officers on that side no longer saw him carrying any firearms. A foot pursuit ensued through several yards and businesses in the area and Phelps was eventually caught hiding under a shed on Neuner Street. Officers challenged Phelps at gunpoint, and he gave up and was arrested without further incident.
During the investigation, officers learned the two guns Phelps was holding were reported stolen from local car break-ins in the Harvard area during the past week. Officers were able to locate numerous other pieces of stolen property that linked Phelps to several other local car break-ins.
Trask Austin Phelps, 35 years of age from Roseburg, was lodged at Douglas County Corrections on the following charges: Unauthorized Entry Into a Motor Vehicle X 5, Felon in Possession of a Firearm X 2, Theft I X 2, Theft II, Theft III, and on an Oregon State Parole Board warrant. Roseburg Police Detectives are continuing the investigation and are currently applying for a search warrant in anticipation of recovering more stolen property.
Safety Grant Stats
2020-10-05 16:39:52
During the months of August and September the Roseburg Police Department participated in traffic safety enforcement that specifically focused on safety belt use, distracted driving, and child safety restraint use. These focused patrols were made possible through traffic safety grant funds. The following are statistics from those focused patrols:
22 citations were issued for driving while suspended
64 citations for failing to use a safety belt
48 citations for distracted driving (texting or using cell phone while driving)
6 people were arrested
Roseburg Man arrested on sexual assault charges
2020-09-28 11:33:06
Approximately two weeks ago Roseburg Police Detectives began working a sexual assault investigation that allegedly occurred in Roseburg several years ago. This investigation began when detectives were contacted by law enforcement officials from another state, where an alleged victim disclosed the previous abuse.
During the subsequent investigation detectives charged 62 year-old Roseburg resident Lawrence Walter Jackson with Sodomy in the First Degree and five counts of Sexual Abuse in the First Degree. Jackson was lodged at Douglas County Corrections on those charges.
The victim in this case was a minor child who was known to the suspect.
duii enforcement patrols
2020-08-18 11:00:06
Roseburg Police Officers will be participating in a traffic safety campaign focusing on DUII enforcement during August and September. There will be additional Officers working shifts to specifically target DUII drivers. This enforcement campaign was made possible through a grant received from Oregon Impact and the Oregon Department of Transportation. The Roseburg Police Department along with the Oregon Department of Transportation encourages all drivers to plan ahead, and follow these tips:

* Even one drink can impair your judgment and increase the risk of getting arrested for driving drunk--or worse, the risk of having a crash while driving.
* If you will be drinking, do not plan on driving. Plan ahead; designate a sober driver before the party begins.
* If you have been drinking, do not drive. Call a taxi, phone a sober friend or family member or use public transportation.
* Be responsible. If someone you know is drinking, do not let that person get behind the wheel.
* If you see an impaired driver on the road, contact law enforcement. Your actions may save someone's life, and inaction could cost a life.

Remember, it is never safe to drink and drive: Drive Sober or Get Pulled Over.
Suspect arrested on kidnapping charge
2020-07-14 12:22:57
Approximately one week ago the Roseburg Police Department investigated a report of a missing teenager from the Roseburg area. During the subsequent follow up, investigators learned the teenager was previously involved in online contact with a male who was suspected to be from southern California. This online contact was initiated through social media sites.
The male was later identified as 26 year old Travis Smith of Los Angeles, California. Information obtained during the investigation led investigators to believe Smith came to Roseburg to meet the teenager. Over the next two days investigators from the Roseburg Police Department, FBI, and Las Angeles Police Department worked tirelessly to locate Smith. The National Center for Missing and Exploited Children (NCMEC) also provided assistance in this case.
On Saturday, July 11th, Smith was located in Los Angeles, in the company of the missing teenager. The teenager was taken into protective custody, and Smith was arrested.
On Monday, July 13th, Smith was charged in the United States District Court with the following:
Kidnapping
Enticement of a Minor to Engage in Criminal Sexual Activity
Transportation with Intent to Engage in Criminal Sexual Activity With a Minor and Travel with Intent to Engage in Illicit Sexual Conduct With a Minor
The U.S. Attorney's Office in the Central District of California is prosecuting this case.